If misery really does love company, then it's very lonely indeed these days.
President Lyndon Johnson's staff invented the so-called misery index in the 1960s as a back-of-the-envelope way to measure the health of the economy and the overall happiness of the electorate.
The index is calculated by adding the unemployment rate to the inflation rate.
It's not perfect and hardly foolproof, but if that simple sum spikes due to rising prices and growing joblessness, you can bet people will be unhappy (and the president's job will be in danger).
Right now, the misery index is at a 50-year low, as you can see in the chart below.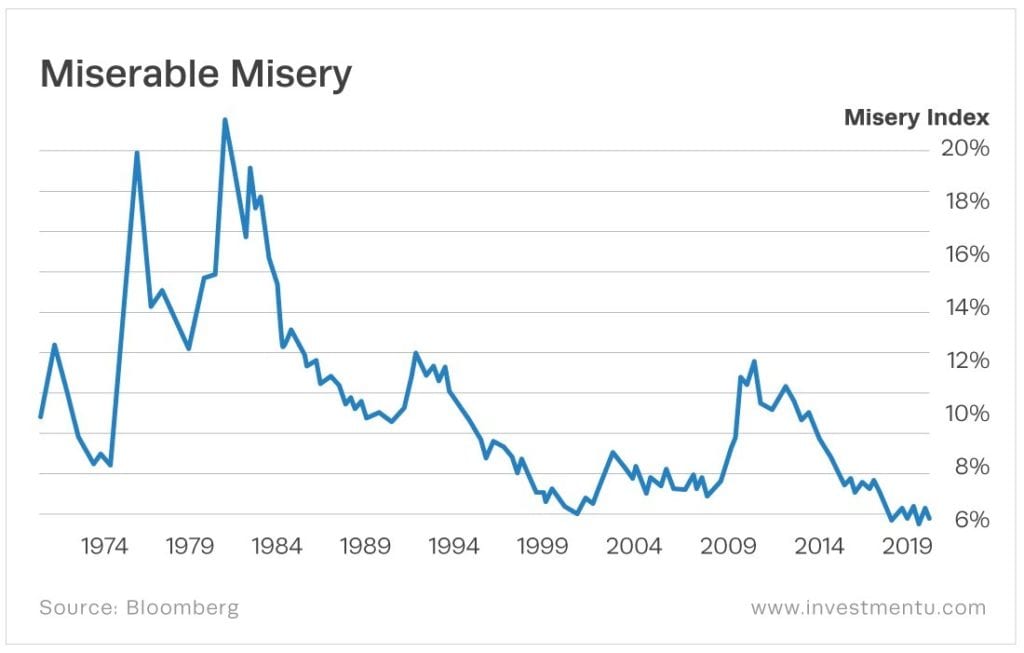 The November jobs report, which the Labor Department released last Friday, pushed the level of economic misery even lower.
The economy added 266,000 additional jobs last month, far more than economists expected. And the unemployment level dropped again to 3.5%, also a 50-year low.
Perhaps more important, wages are growing at a healthy clip for most American workers. Hourly pay was up 3.1% in November from a year earlier.
And inflation is nowhere to be seen – it's hovering at a very low 1.3%, well below the Federal Reserve's target of 2% or so.
Clearly, as Chief Investment Expert Alexander Green writes, capitalism (at least the U.S. flavor) is not in crisis.
Instead of joblessness and stagflation, companies are clamoring for workers, and that's driving up wages across the board.
Is Santa Claus Coming to Town?
Rising wages are good for investors, too, for a bunch of reasons.
Of course, they drive consumer spending, as consumers have more disposable income and a more optimistic view of the future. So retail stocks in particular are poised to break out.
It's not just Amazon (Nasdaq: AMZN), Walmart (NYSE: WMT) and the other big retailers, either. Fundamental Options Expert Karim Rahemtulla writes about a much smaller online retailer that's trading at a discount right now and may be on the cusp of a run higher.
Economic optimism results in more money flowing into all types of stocks, as investors expect stronger profits from companies across the spectrum.
Historically, December is the second best month for the stock market as a whole. And the November economic data may mean we're about to see a Santa Claus rally, Contributing Editor Aaron Task explains.
I'm heading to the mall right now.
Enjoy your day,
Matt
---
Matt has worked as an editorial consultant to the International Monetary Fund, the World Bank, the Economist Intelligence Unit and other global macro-institutions. He wrote about markets and economics for U.S. News & World Report, Bloomberg News and Investor's Business Daily, among other publications. He also worked for several years as head of political economy for a Financial Times-owned macroeconomic consulting firm, advising hedge funds around the world. Matt's claim to fame is that he's interviewed two U.S. presidents and has spoken with five Federal Reserve Chairs from Paul Volcker through Jerome Powell. Matt also served as The Oxford Club's Editorial Director for two years.