The turkey and stuffing leftovers are gone, and Christmas is just three weeks away!
And while the holiday shopping season this year is a short one, it's off to a very solid start.
Online sales on Black Friday were up nearly 20% from last year, while Small Business Saturday and Super Sunday sales are expected to top $7.6 billion. Analysts predicted that spending on Cyber Monday – yesterday – would be robust too.
Yet sales at physical stores – so called brick-and-mortar retailers – fell 6.2%.
Interestingly, this pattern is pretty much exactly what Trends Expert Matthew Carr predicted in October.
As expected, many retailers – including Amazon and traditional retailers Walmart and Target – are doing well due to online shopping trends.
"Everyone is pretty much crushing it," Matthew told me today.
Keep in mind that consumer spending is the largest part of the U.S. economy, accounting for about two-thirds of economic growth.
So watching the strength of consumers during these big shopping days is a good indication of the near-term health of the economy.
Fortunately, unemployment remains very low – around 3.6% – and personal income is rising, according to the latest data. That means that consumers have the means to keep the economy purring into 2020. That's very good news for workers and investors alike.
Cannabis is one industry poised to benefit from consumer strength. And marijuana sales on "Green Wednesday" – which is the day before Thanksgiving – were up 63% over average Wednesday marijuana sales, as measured by recreational sales in California, Colorado, Nevada and Washington.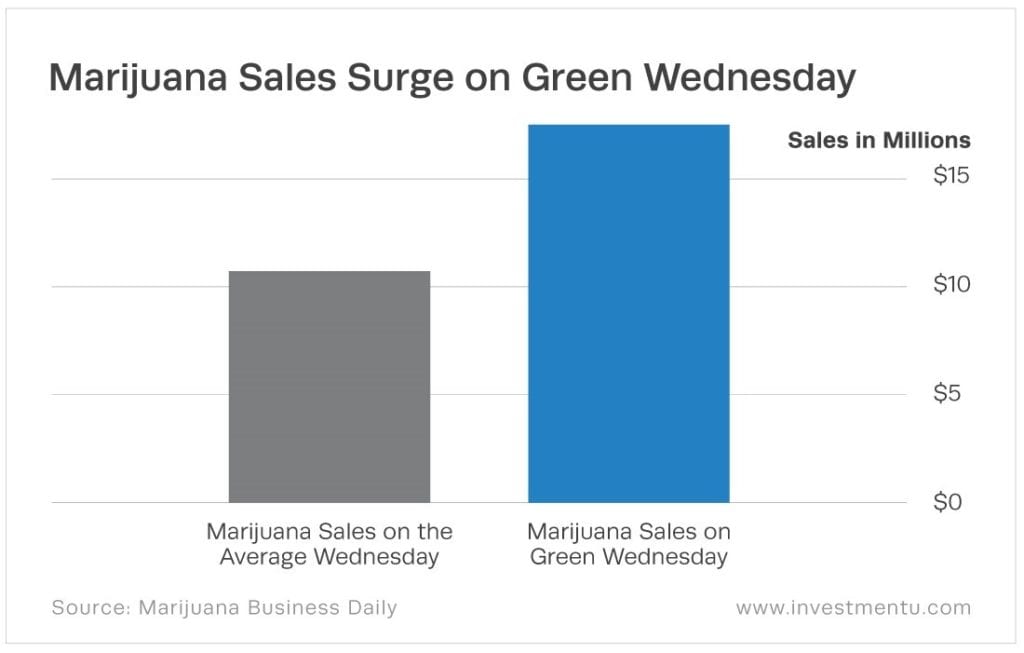 Matthew Carr watches cannabis industry trends very closely, and he recently wrote about great companies, both domestic and international.
These are investment opportunities worth looking into, whether you're hoping for a white or a green Christmas.
Enjoy your day,
Matt
---
Matt has worked as an editorial consultant to the International Monetary Fund, the World Bank, the Economist Intelligence Unit and other global macro-institutions. He wrote about markets and economics for U.S. News & World Report, Bloomberg News and Investor's Business Daily, among other publications. He also worked for several years as head of political economy for a Financial Times-owned macroeconomic consulting firm, advising hedge funds around the world. Matt's claim to fame is that he's interviewed two U.S. presidents and has spoken with five Federal Reserve Chairs from Paul Volcker through Jerome Powell. Matt also served as The Oxford Club's Editorial Director for two years.