I always looked up to Paul Volcker, the legendary Federal Reserve chief who died this week at age 92.
You couldn't help but do so. The man was 6 feet, 7 inches tall.
But seriously, Volcker, appointed to the Fed by Jimmy Carter in 1979, changed the way central bankers think… in a good way.
When he took the helm, inflation was out of control at 13%. Few knew what to do, and those who did were too cowardly to do it.
Volcker understood the insidious effects of inflation, and he took dramatic action. It didn't make him many friends.
Basically, he raised the Fed's benchmark interest rate to 20%. (Right now it stands at less than 1.75%.)
That drove all borrowing costs – mortgage rates, consumer and car loans, and business loans – through the roof. When borrowing is that expensive, people and businesses borrow less and consume less. Suddenly there is less demand for goods and services, and falling demand pushes prices – and inflation – lower.
It's the right prescription for high inflation, but, as you can imagine, it made a lot of people very angry.
Yet runaway inflation is much worse. When prices rise too quickly, businesses and consumers can't make decisions. Consumers begin hoarding goods to avoid having to buy them at much higher prices in the future. And the value of the dollar (or whatever the currency) erodes rapidly.
Those who rely on savings, like retirees, slowly go bankrupt.
Basically, Volcker had to drive the economy into a six-month recession to stop prices from rising at a rate that would have eventually ruined the economy.
It worked, as you can see in the chart below.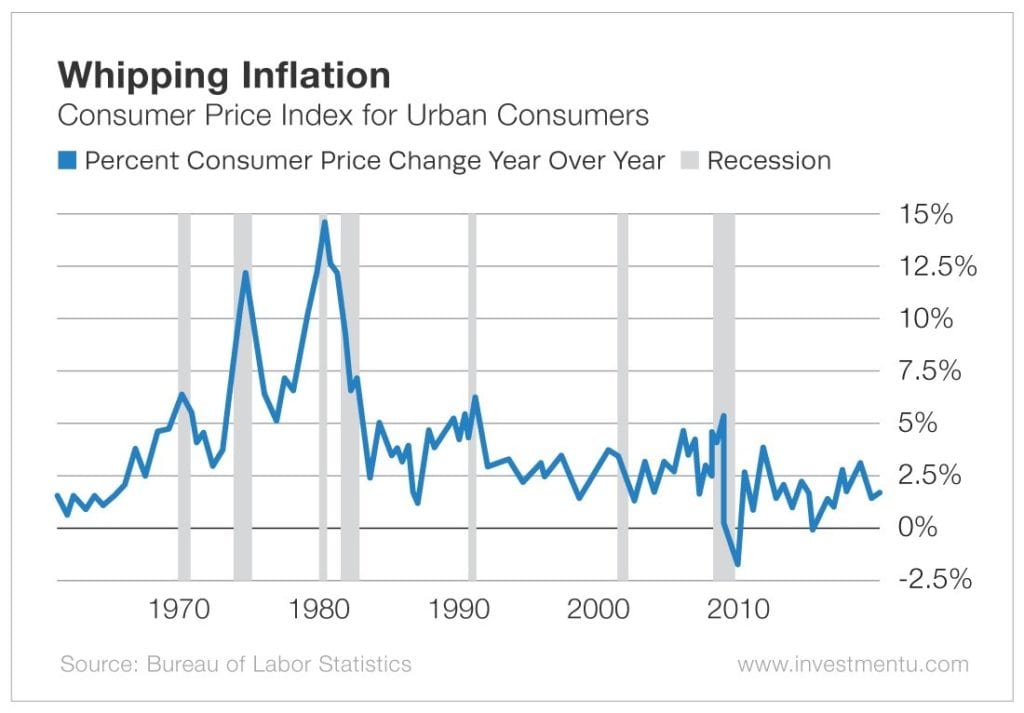 The inflation rate fell rapidly, prices stabilized and soon the economy rebounded.
Volcker chose the difficult but correct policy instead of the popular path. (ETF Expert Nicholas Vardy recently wrote about what happens when policymakers do the opposite.)
Tall Paul's tough medicine eventually brought him respect from both Democrats and Republicans. Even critics of the Fed (like Manward Press founder Andy Snyder) liked what Volcker had to say.
Ronald Reagan nominated him to a second term in 1983.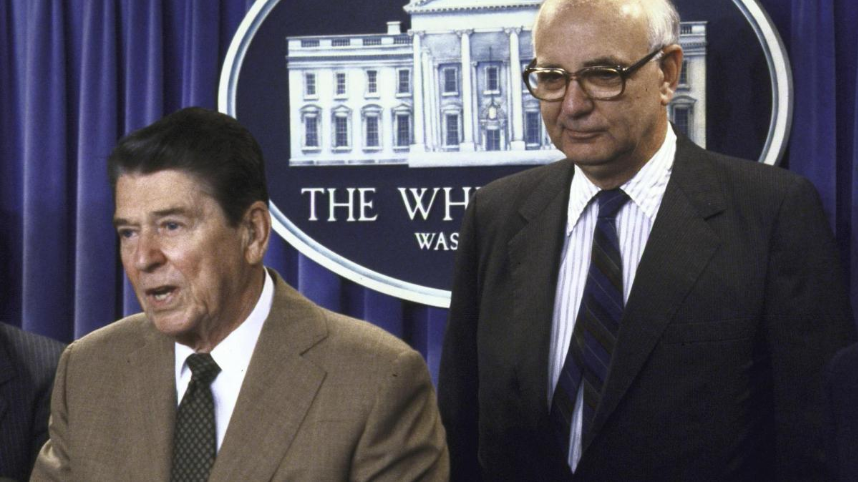 Towering figures
Inflation has remained under control – more or less – since Volcker's stint at the Fed, and we have all benefited from that.
I met Paul Volcker a few times during my time in Washington. He often had a cigar – unlit in later years – in his mouth. He was always plainspoken and insightful.
He'll be missed.
Enjoy your day,
Matt
---
Matt has worked as an editorial consultant to the International Monetary Fund, the World Bank, the Economist Intelligence Unit and other global macro-institutions. He wrote about markets and economics for U.S. News & World Report, Bloomberg News and Investor's Business Daily, among other publications. He also worked for several years as head of political economy for a Financial Times-owned macroeconomic consulting firm, advising hedge funds around the world. Matt's claim to fame is that he's interviewed two U.S. presidents and has spoken with five Federal Reserve Chairs from Paul Volcker through Jerome Powell. Matt also served as The Oxford Club's Editorial Director for two years.