The marijuana market is growing, well, like a weed. And yet, due to its federal legal status, figuring out how to invest in marijuana stocks can get a little sticky. But the effort can be worth it.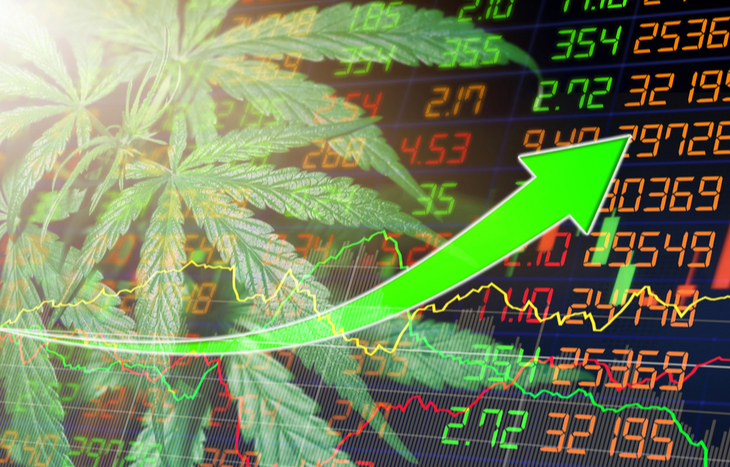 Global spending on marijuana shot up 46% in 2019. And there aren't any signs of it slowing down. Worldwide revenue from legal marijuana has been forecast to explode to $103.9 billion by 2024. That would be an astounding 853% increase in sales over the course of just six years.
So it's not surprising that savvy investors are flocking to marijuana stocks in droves. And keep in mind this is for a product that's illegal on the federal level. If marijuana is legalized, money flooding into the market could skyrocket even higher.
As it stands, 33 states and Washington, D.C., have legalized medical marijuana. In 11 states plus D.C., recreational marijuana is legal. And around the world, medical marijuana is legal in more than 40 countries and counting…
Based on this, it's safe to assume the marijuana market is nowhere near topping out. That's why marijuana stocks have the potential to be an excellent long-term investment.
But before you learn how to invest in marijuana stocks, it's important to decide how much risk you're willing to take on.
How to Evaluate Marijuana Stocks
In order to better understand how to invest in marijuana stocks, let's look at the three main categories of such stocks.
There are scores of marijuana businesses in the U.S., but they all face potential legal risks. If the Department of Justice chooses to shut down operations, they will be without much recourse.
Furthermore, banks are loath to deal with marijuana-based businesses due to federal restrictions. This leaves them without the ability to navigate traditional services. But they don't all face an equal amount of risk…
First, there are the product and service providers. This includes companies like Scotts Miracle-Gro (NYSE: SMG). Scotts' subsidiary Hawthorne Gardening Company is one of the largest distributors of hydroponic marijuana cultivation products. And this arm of the company (like the industry as a whole) has seen incredible growth. Hawthorne recently revised its growth predictions and is expecting a 50% increase in sales growth year over year.


.


Businesses in this category are more insulated from increased regulation. But they're also exposed to the possibility of positive upswing.


.

Next are marijuana biotech firms. This includes a wide array of companies experimenting with different uses of cannabinoids. Biotech labs large and small have been dedicating research and development to find new uses for medicinal marijuana.


.


On the large side, AbbVie (Nasdaq: ABBV) has already brought its synthetic marijuana drug Marinol to the market. This drug treats chemotherapy-induced nausea.


.


On the smaller side, companies like CannaPowder (OTC: CAPD) and Cara Therapeutics (Nasdaq: CARA) are also developing marijuana-based treatments for various maladies. Larger firms like AbbVie don't need to worry about major changes in marijuana regulation. But smaller ones focusing efforts on marijuana could face cash flow issues if regulations change for the worse. And that can be very damaging for a company's stock price.


.

Last, there are the straightforward growers and retailers. As of this writing, there are no U.S.-based growers or retailers on major stock exchanges, though some are on over-the-counter exchanges. But there are quite a few outfits based in Canada (where marijuana is legal) on major exchanges.


.


This includes some big names like Tilray (Nasdaq: TLRY), which recently reported 20% in revenue growth on the year… Canopy Growth Corp. (NYSE: CGC), which received a $4 billion investment from Corona beer-maker Constellation Brands… and Cronos Group (Nasdaq: CRON), which received a $1.8 billion investment from the tobacco giant Altria.


.


These companies have all of their eggs in the marijuana basket. That means should regulations quickly change, these companies are most at risk for downturns. But they're also the ones most likely to benefit from increased legalization.
How to Invest in Marijuana Stocks
Once you've evaluated how much risk you're willing to take on, investing in marijuana stocks is rather straightforward. First, set up a brokerage account. Some brokerages offer the ability to invest commission-free. Others charge a small fee per trade. But for the most part, they all offer very similar services.
Fidelity, E-Trade, Ally Invest, Vanguard, Robinhood and TD Ameritrade are all excellent commission-free brokerages (if you're looking for a place to start). But they don't all offer the ability to trade in penny stocks. So if you're looking to invest in over-the-counter (OTC) stocks, it's best to double-check before opening an account.
The benefit to having access to OTC trading is it can give you exposure to American marijuana outfits. This includes companies like Supreme Cannabis Co. (OTC: SPRWF). As of right now, American marijuana-focused businesses are not allowed to be traded on the major exchanges like the NYSE or Nasdaq.
But a word of caution: Companies that trade OTC aren't required to file financial statements. This can make it much more difficult to evaluate a company's health and growth potential. But there is a key metric worth checking out.
Marijuana growers and sellers closely monitor the "all-in" cost of goods sold per gram. This is the total cost it takes to produce marijuana. And the more efficient the company is at lowering costs, the more competitive the company will be.
Now, once you've got your potential investment decided and your brokerage account picked out, the rest is easy. You'll need to deposit funds into your account, pick out the stocks you'd like to invest in and choose how many shares you'd like. Then all you have to do is submit your order.
The Bottom Line
Now, just because you know how to invest in marijuana stocks doesn't necessarily mean you should. It really boils down to your personal risk tolerance. Some conservative investors refuse them altogether. As with any investment though, a bigger risk can lead to a bigger reward. But if things don't go according to plan, it can also wipe out your portfolio.
If you're not ready to expose your portfolio to this much risk and volatility, there are plenty of other investment opportunities to consider. To receive our free daily e-letter packed with opportunities to grow your wealth, sign up below.
---