With ghouls and goblins about to take to the streets today, my colleagues and I at Investment U have been talking about our irrational fears.
Mine is the Chesapeake Bay Bridge.
Measuring at 4.3-miles long, it crosses the Chesapeake Bay and connects us here in the Baltimore-Washington area to the Delmarva Peninsula and the Atlantic Ocean.
And it makes traveling to these vacation spots a fraught, terrifying experience for acrophobes like me (who fear heights) – every single summer.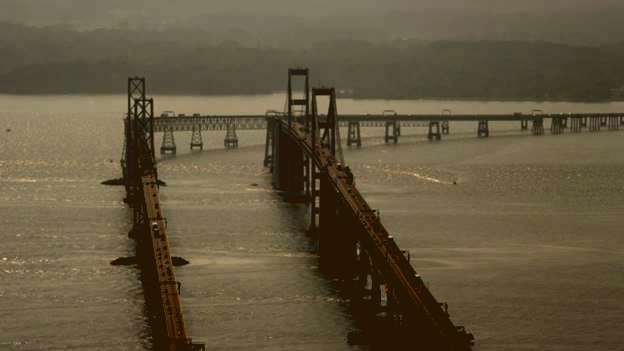 This winding snake of a bridge builds – oh so slowly and terrifyingly – to a height of 200 feet above the Bay, with nothing between me and a watery grave but some lousy Jersey barriers.
And occasionally the cruel overseers of this monstrosity will open one span to two-way traffic, subjecting drivers to oncoming cars on the left and the possibility of a brutal drop and certain death on the right.
It's like Halloween in July!
But of course, the Bay Bridge is in fact extremely safe. More than 25 million vehicles cross it every year and only twice in its 61-year history has one plunged off.
This irrational fear reminds me of my first foray into investing.
It seemed there were dangers lurking left and right that could instantly rob me of my hard-earned savings and plunge me into a financial abyss.
And in fact, such dangers do exist. Luckily, our Investment U experts are ever vigilant.
This week, Bond Expert Steve McDonald warns us away from a recent bond offering that may prove to be a dangerous trap for investors. Certain bonds are too good to be true, Steve explains.
And ETF Expert Nicholas Vardy cautions investors about the sudden lure of commodity investing, and how it is – for the moment at least – to be resisted.
But our experts regularly offer investing ideas that are not scary at all – in fact, they're often low-risk, high-reward opportunities.
And there are lessons along the way that help us investors tame the monsters in our minds.
The Zurich Axioms might sound like a Gothic horror tale, but in reality, it's "an influential, life-changing book on speculation, winning and wealth creation," according to Technical Options Expert Bryan Bottarelli. And it contains the oddest trading advice you'll ever receive, he says.
Very reassuring. Now if only they could offer me some advice about crossing the Bay Bridge…
Happy Halloween!
Matt
---
Matt has worked as an editorial consultant to the International Monetary Fund, the World Bank, the Economist Intelligence Unit and other global macro-institutions. He wrote about markets and economics for U.S. News & World Report, Bloomberg News and Investor's Business Daily, among other publications. He also worked for several years as head of political economy for a Financial Times-owned macroeconomic consulting firm, advising hedge funds around the world. Matt's claim to fame is that he's interviewed two U.S. presidents and has spoken with five Federal Reserve Chairs from Paul Volcker through Jerome Powell. Matt also served as The Oxford Club's Editorial Director for two years.