It pays to be an optimist.
That's certainly true in the workplace. Research shows that people with upbeat dispositions tend to find employment easier and get promoted more frequently.
And it makes sense. Do you want to spend eight hours a day around gloomy doomsayers? I know I don't.
I frequently tell my two sons that, while you have to be competent to get hired, you also have to be someone who others want to work with.
But how does optimism play into the stock market?
Well, there's really one question that underlies about 75% of everything discussed on the mainstream money media outlets these days: Are investors currently too optimistic?
And – because fear sells, apparently – the conclusion most of the time is yes, investors have an overly rosy vision of the economy and the world. So, stocks are overpriced.
Don't believe it.
The doom-and-gloom set have a terrible track record, writes ETF Expert Nicholas Vardy. In fact, human ingenuity – whether it's finding more efficient farming methods or better ways to create energy – most often relegates apocalyptic predictions to history's dustbin.
In fact, Nicholas is betting on a fourth quarter rally in the stock market. And that's a bold prediction, considering that the S&P 500 Index, which follows the 500 largest U.S. stocks and is a barometer for the broader stock market, just hit an all-time high.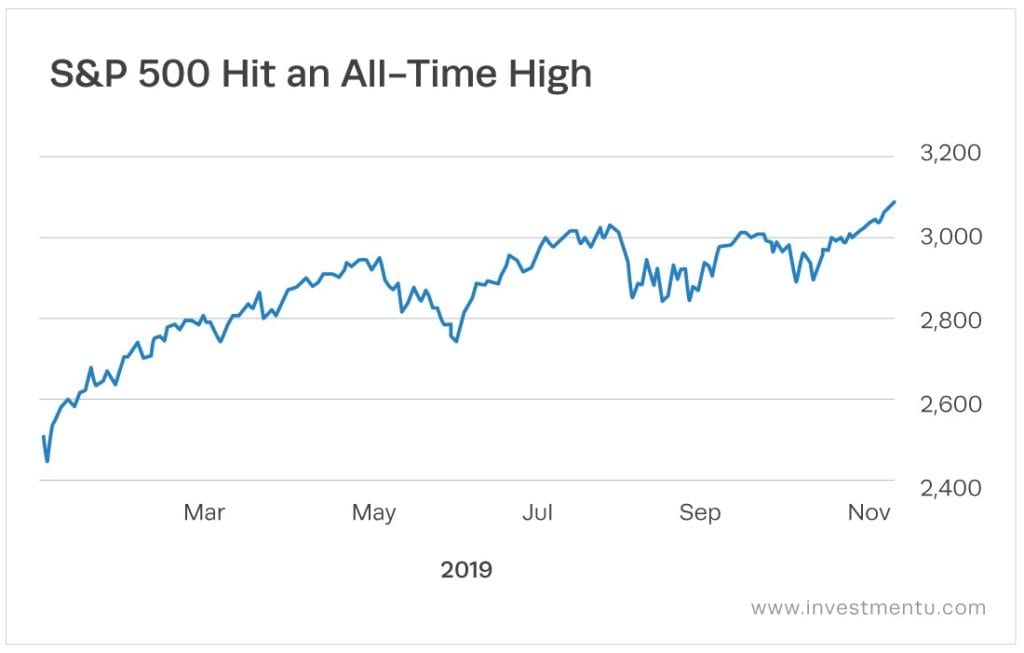 The S&P is up more than 22% for the year.
There's no doubt that stocks are pricey right now. Market analysts determine whether stocks are cheap or expensive by comparing their prices with their profits, or earnings. And currently, the average ratio of S&P stock prices to their earnings is around 30, compared with a historical average of about 17.
But if you believe innovation – finding new ways to create wealth and raise living standards – will continue, that higher ratio may make complete sense.
And energy – which we all value highly, whether we realize it or not – is an area ripe for innovation, according Energy Expert David Fessler. Always the optimist – with an incredibly upbeat disposition! – Dave has written a book about the upcoming energy revolution, which I highly recommend.
No matter what's happening in the economy, there are always innovations taking place and opportunities lurking. You may, in fact, be wearing just such an opportunity on your feet right now, according to Technical Options Expert Bryan Bottarelli.
It's one that could leave a market optimist walking on sunshine!
Enjoy your day,
Matt
---
Matt has worked as an editorial consultant to the International Monetary Fund, the World Bank, the Economist Intelligence Unit and other global macro-institutions. He wrote about markets and economics for U.S. News & World Report, Bloomberg News and Investor's Business Daily, among other publications. He also worked for several years as head of political economy for a Financial Times-owned macroeconomic consulting firm, advising hedge funds around the world. Matt's claim to fame is that he's interviewed two U.S. presidents and has spoken with five Federal Reserve Chairs from Paul Volcker through Jerome Powell. Matt also served as The Oxford Club's Editorial Director for two years.