Risk is on!
The CNN Fear & Greed Index has moved dramatically from fear to greed over the past week, indicating a growing appetite for risk among investors.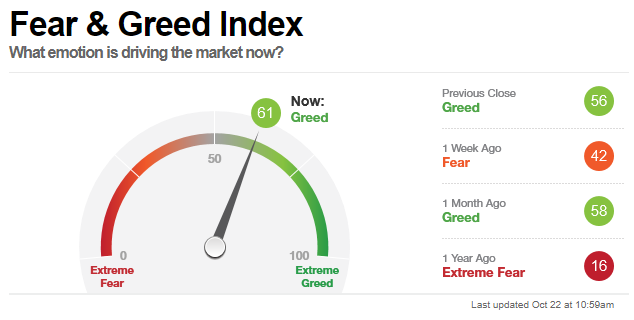 That's driven the S&P 500 up 3.22% in just two weeks.
Market analysts cite various reasons for the sudden surge in risk appetite. These include the recent encouraging news about U.S.-China trade negotiations, a potential Brexit deal and solid corporate earnings.
If you're an investor, this spike in risk-seeking can be a good thing. As investors flock to riskier assets like equities, they drive up the prices of the stocks in your portfolio.
Unfortunately, however, risk has been "on" far too long for many critical investors.
The International Monetary Fund (IMF) issued a report this month warning that very low interest rates around the world have driven pension funds and insurance companies to embrace what can only be called foolhardy investment strategies.
Pension funds, insurance companies and asset managers need to achieve certain returns in order to fulfill promises to pensioners and investors. Yet, "Very low rates are prompting [these] investors to search for yield and take on riskier and more illiquid assets to generate targeted returns," according to the IMF report.
So, while central banks around the globe have been embracing ultra-low rates to boost growth – or keep the growth gravy train on the tracks, as it were – they're also forcing institutional investors into some very risky positions.
Those risky positions include investments in emerging markets, or low- and middle-income countries. Assets in these countries often can deliver very attractive returns compared with, say, the returns of investments in the U.S. or Europe. But the risks they entail are also very high – and highly unpredictable.
Chile – until recently a bastion of stability in Latin America, with the region's highest-rated debt – is now experiencing mass protests and looting. The chaos was prompted by – of all things! – an increase in subway fares, although commentators say it's more broadly about inequality. The violence sent Chilean stocks plummeting 4.6% this week.
Argentina, a recent favorite of institutional investors, Investors have fled the country's assets as a result.
Emerging markets are the types of investments many big funds – pensions and otherwise – have poured into.
When and if things go south for these investments, the consequences could be ugly for the entire global financial system.
"Loose financial conditions come at a cost," say IMF officials. "They encourage investors to take more chances in a quest for higher returns, so risks to financial stability and growth remain high in the medium term."
What's it all mean for ordinary investors like us?
Well, bubbles burst eventually, no matter how much central banks try to further inflate them. When they do burst, everybody in our connected world can feel the impact.
That's probably why some investors are already thinking defensively. The Invesco Defensive Equity ETF is up 24% for the year versus the S&P's 19% gain.
ETF Strategist Nicholas Vardy suggests looking to utilities if things start heading down. "They tend to do well in market pullbacks, as they are low risk and pay income," Nicholas states.
It's something to consider… just in case.
Good investing,
Matt
---
Matt has worked as an editorial consultant to the International Monetary Fund, the World Bank, the Economist Intelligence Unit and other global macro-institutions. He wrote about markets and economics for U.S. News & World Report, Bloomberg News and Investor's Business Daily, among other publications. He also worked for several years as head of political economy for a Financial Times-owned macroeconomic consulting firm, advising hedge funds around the world. Matt's claim to fame is that he's interviewed two U.S. presidents and has spoken with five Federal Reserve Chairs from Paul Volcker through Jerome Powell. Matt also served as The Oxford Club's Editorial Director for two years.