Because CBD is widely known for its powerful pain-relieving effects, many people want to find the best CBD cream for pain. The market has exploded over the past year and there are a lot of options out there. CBD creams have become extremely popular because, unlike an oral supplement, a topical solution goes right where you need it most. CBD lotions, creams and salves can be applied directly to your skin at the source of your discomfort.
But if you're going to use a topical, we suggest you find a product that doesn't include just hemp extract. Look for one that has other proven pain-relieving ingredients so that you get the best results possible – and the most bang for your buck.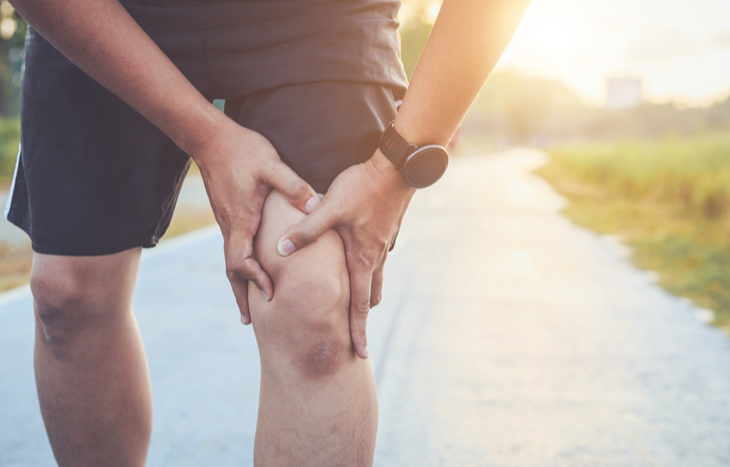 What Is CBD, Anyway? And What Can It Do?
For starters, you should understand what CBD is and where it comes from. CBD is one of the 100+ cannabinoids found in the cannabis plant.
You might already know tetrahydrocannabinol, or THC. It's the cannabinoid responsible for the euphoric "high" feeling most people think of when it comes to marijuana. THC does possess some health benefits on its own. But the fact that it gets you "high" has created some understandable concerns – and regulatory roadblocks. But CBD, or cannabidiol, is different.
Like THC, it is linked to many health-protective effects. But it works a bit differently and – most importantly – can't get you high. The growing body of research surrounding CBD is fascinating.
A review of decades' worth of studies found that CBD is effective not only in pain relief but also as can help with mood and sleep.
As a topical agent, CBD has also proven to have powerful pain-relieving properties.
Types of CBD Products
With so many products – and so many types of products – out there, it can be intimidating getting started with CBD. Some folks swear by gummies. Others have a favorite capsule that they take every day. It all depends on what your individual goals are.
Don't fret, though. With just a bit of know-how, you can quickly determine what options make the most sense for you.
To learn more about the best CBD cream for pain and other symptoms, check out this video from Manward Press. In it, we outline the important differences between hemp creams, pills, seeds and more.
Click here or watch below.
Where to Buy CBD Cream for Pain
As we mentioned, the CBD market is exploding. Swelling demand has made it so you can find CBD practically anywhere.
All around the country, stores that specialize in CBD have begun to pop up. You can find CBD gummies, powders, lotions and tinctures at sports nutrition stores, supermarkets like Whole Foods, pharmacies like CVS and Walgreens, and even at the checkout counter when you buy gas.
If you're serious about giving CBD a try, you should consider working with medical professionals who can guide you and help you reach your best health. Talk to your doctor and ask if there are any products or specific manufacturers they'd recommend.
And if CBD isn't their forte, see if they can recommend a colleague who's more knowledgeable in the space. Working with the right doctor, you'll be able to determine specific forms, dosages and even cannabinoid ratios to optimize your health.
Best CBD Product for Pain
The passage of the 2018 Farm Bill ushered in a massive wave of hemp products that aim to tackle everyday health issues. Many of those are infused with nutrients and other natural ingredients that focus on repairing dry or damaged skin.
And while there are hundreds of products out there, our top pick for the Best CBD Cream for Pain is…
If you're looking for pain relief in the form of CBD cream, we recommend Pro Restore CBD+. It's fast-acting and all natural. Pro Restore CBD+ is also doctor-recommended, 100% THC-free and at 4 oz. is extremely portable. It also smells fantastic.

Features:
Superior pain relief thanks to phytocannabinoid-rich hemp oil (CBD)
Natural moisturizing thanks to authentically sourced, high-grade New Zealand Manuka honey
And a long-lasting remedy that dives into your joints thanks to organic camphor oil.

To learn more about how Pro Restore CBD+ can be used for pain relief, visit the website here.

The Biggest Benefits Are Still to Come
Now that the 2018 Farm Bill has passed, we should see a lot more human trials confirming what natural health fans have known for a long time…
CBD is a safe and powerful way to optimize your health. Even high daily doses of CBD – up to 1,500 milligrams – have been taken with no significant side effects.
If you want to learn more about the benefits of CBD, and what's happening in Washington to make it even more available to the masses, sign up for Manward Press' free e-letter, Practical Health Today.
Big things are happening in the world of cannabis and CBD. You don't want to miss it.
Using topical CBD creams to treat sore or painful areas can produce excellent effects. As we stated earlier, if you are unsure about which CBD cream is best to treat your pain, please consult your doctor.
---