Investing in Uranium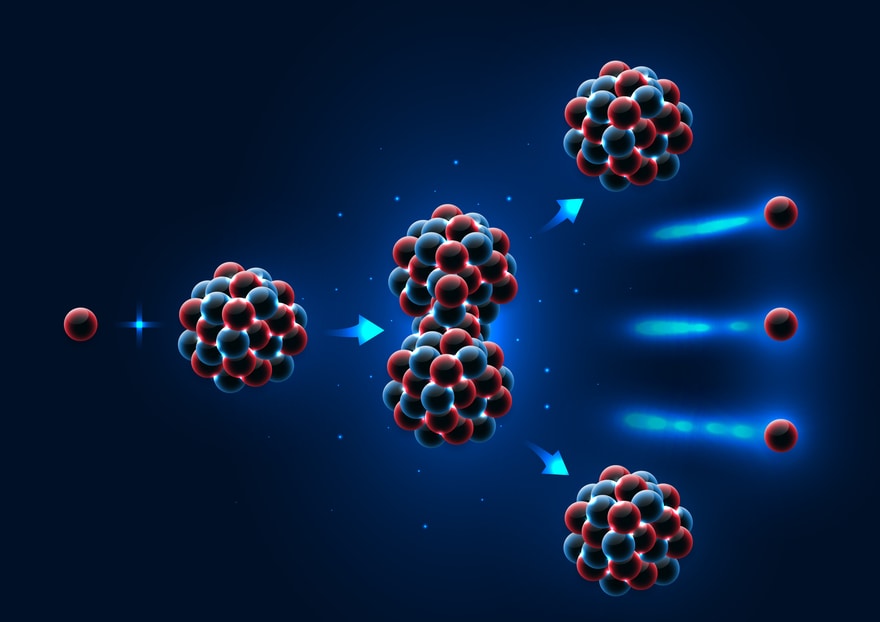 Three Reasons to Invest in Uranium Now, Before Prices "Go Nuclear"
An Investment U White Paper Report
by Mike Kapsch, Investment U Research
It's no secret uranium prices have plummeted since the Great Recession and Japan's Fukushima disaster. In 2007, a pound of U3O8 was worth as much as $136. By mid-February 2013, the same amount was selling for just $43.88.
Yet of all the places you could invest this year, I'd say one of the best investment opportunities will be the nuclear industry… especially in miners that export uranium to China. Why?
The reason is two-fold. Despite all the controversy surrounding it, global demand for yellowcake and nuclear energy is actually higher today than it was before Japan's nuclear meltdown in 2011. And when it comes to China, there's simply no other country like it, expanding as much, or as quickly, into nuclear energy.
China's Yellowcake Motive
Within the next 10 to 15 years, China is set to surpass the United States as the largest uranium-consuming nation in the world.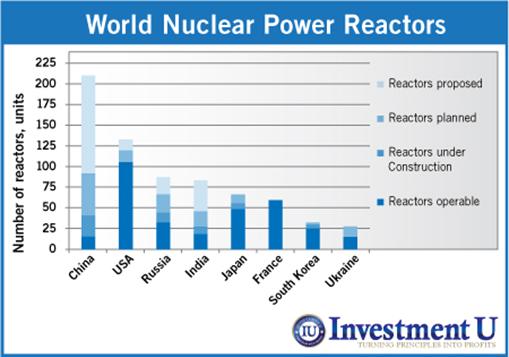 As Mining.com reported, "As of November 2012, China had 15 operating reactors (11.9 GWe of installed capacity) and 26 reactors were under construction (27.6 GWe). That amounts to about 42% of reactors under construction worldwide. Additionally, 51 reactors were planned (57.5 GWe) with their building due to start within three years, and many more than 100 units are proposed, which are likely to be commissioned before 2030."
As you can see from the chart above, the United States currently has just over 100 operating nuclear reactors. Before 2030, China plans to more than double that figure.
If we assume the average nuclear reactor costs around $4 billion to construct and that China will follow through constructing its proposed reactors, this energy build-out could be upwards of $708 billion. It's a massive undertaking, the likes of which have never occurred before in the nuclear industry.
But the reason it's happening isn't all good.
China is the most polluted country in the world. In Beijing, air pollution is so bad it hit hazardous levels 20 days in January. Other reports state you can actually see the pollution from outer space. Things are so bad, in fact, residents in Beijing right now can receive $19,000 in government subsidies when they purchase an electric vehicle.
Considering China uses nearly as much coal each year as the rest of the world combined, it makes sense that air pollution there is becoming its greatest health threat. Inevitably, China isn't investing in nuclear energy because it wants to but because it has to.
It may not be great news for the nation. But for investors, this scenario creates a number of opportunities to potentially make money as China works to reduce its pollution levels.
A Blend of Risk and Reward
There are three reasons I especially like uranium miners who export to China.
China's uranium imports are steadily increasing. In 2010 alone, they more than tripled. By 2020, the World Nuclear Association predicts that number will increase another 15%. Around 95% of China's uranium imports are from Kazakhstan, Namibia, Australia and Uzbekistan. But starting next year, even Canada is preparing to export uranium to China for the first time ever.
Unlike other commodities, like rare earth metals, China does not have a monopoly over the uranium market. Around the globe, the biggest reserves by country are in Kazakhstan, Canada and Australia.
Canadian and Australian miners, such as Cameco (NYSE: CCJ) and BHP Billiton (NYSE: BHP), are free to operate how and where they please. They aren't subject to the same restrictions uranium miners in China are bound to. Namely, they're not tools of the government. They're diversified, experienced companies that operate all over the world.
Only time will tell if 2013 will be a banner year for uranium prices and miners. But things are heading in the right direction.
Shares of CCJ and BHP were up 18% and 8% between the end of 2012 and the beginning of 2013 alone. Not to mention, the spot price of uranium was up over $2 between October 2012 and February 2013.
There are likely plenty more gains up ahead for investing in uranium.
And right now is an opportune time to get ready for the ride.