Dividend penny stocks seem to be a dream come true.
Penny stocks are great by themselves. Add dividends into the mix, and you could be making regular income. While watching your penny stocks with the potential to grow into lots of money.
Of course, there are drawbacks to these wonderful stocks. Penny stocks are volatile. This means they can increase your money dramatically and quickly.
No, that's not the bad part.
The bad part is that their volatility also means they can drop just as quickly and just as dramatically. You can lose your investment in a matter of hours or even minutes.
So, it's especially important to do your homework on these stocks. Don't invest more than you're willing to say goodbye to. (Which, in my opinion, would be gone anyways if you were spending it on something like a chair or other possessions.)
It's also important to know beforehand when you are going to get out of a stock, and when you're going to wait. For me, it helps to set a rule of a set number of years. I'll tell myself that I won't touch the stock until 3-5 years goes by. Then, and only then, can I start thinking about taking the funds out. This helps me relax and lose a LOT less money from short-term volatility.
Another popular trading technique is to set stop losses. You can learn about stop loss orders with that link. Here at Investment U, we provide a lot of investor education resources.
For another thing to watch for with dividend penny stocks… find out the reason the company is paying dividends. Usually, a business will offer dividends to reward shareholders and entice people to buy the stock.
You want to make sure the business that's offering dividends is growing and healthy before you buy.
Otherwise, you could end up with a stock that is paying you an unsustainable 12% dividend yield (which is a LOT). But if it's declining in value, your investment is growing smaller and smaller. That defeats the purpose of investing.
Just watch your back, investigate the company, and you'll be fine. It helps to diversify your portfolio as well.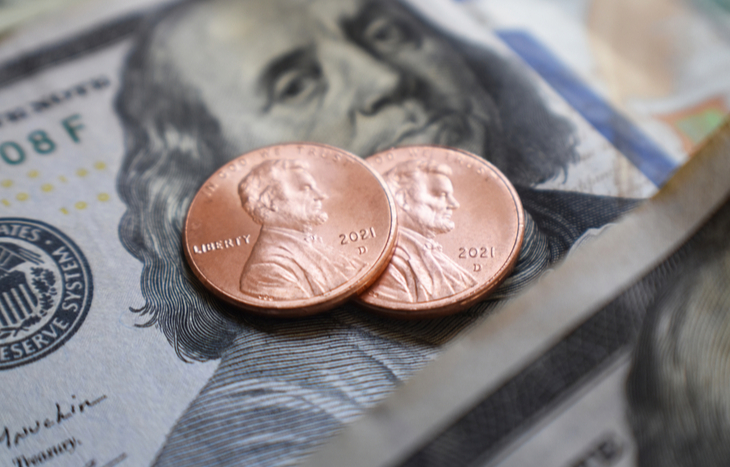 Best Dividend Penny Stocks
Chesapeake Granite Wash (OTC: CHKR)
MFA Financial (NYSE: MFA)
Presidio Property Trust (Nasdaq: SQFT)
Gold Resource (NYSE: GORO)
Great Elm Capital Corp (Nasdaq: GECC)
Highway Holdings Ltd (Nasdaq: HIHO)
Pangaea Logistics Solutions Ltd (Nasdaq: PANL)
Dividend Penny Stocks to Buy
Chesapeake Granite Wash
Chesapeake's HQ is in Houston, Texas. But it owns royalty interests in Washita County, Oklahoma. These royalty interests are for oil and gas.
It has a market cap of around $30 million. And revenue, net income and net profit margin are all moving up from last year. For June 2021, net profit sits at 92%. That is a huge profit margin. It's up year over year by 18%.
Chesapeake's stock was listed in 2011 and was high back then. The all-time high was at $29.62. It has come back down to Earth at less than $1. The bear's been hibernating for some years. But recently, it looks like it's going to pick up its head again and turn back into a bull.
If you're unfamiliar with these terms, they're common in investing. Check out this article on bullish vs. bearish stocks. Also, one last note on Chesapeake… its dividend bounces around but the recent yield comes in around 10%.
MFA Financial
Throughout the life of MFA's stock, it's had its ups and downs. But it's remained consistent around the same prices. MFA has a long history, listing back in 1998.
At the beginning of April 2020, it hit an all-time low of $1.09. This stock plunged. It's coming back up and now might be a great time to buy, while it is still correcting up.
Its June 2021 quarterly revenue and net income are down, while its net profit margin is up by 68%. This is one of the top dividend penny stocks with a yield of around 8.3%. The dividend payout bounces a bit but it's been climbing recently.
Presidio Property Trust
Presidio is a real estate company that likes to find hidden gems. The company looks for properties with unique features or are out of the mainstream.
There's a growing interest in finding something unique to live in. Plus, more and more people can afford large spectacles. This company could have some big growth ahead.
For the quarter of June 2021, Presidio reported revenue down by over 20%. It also reported net income up by 144% and net profit margin of 18%. Those are great numbers.
Presidio's market cap sits at around $38 million and has an annual dividend yield of roughly 8%.
Gold Resource
Gold Resource's stock peaked back in 2011 and has since had many new lows. It seems to still be going down, so it would be smart to watch this stock. When you can look at its stock chart for "all time" and see it picking up again, that is a good time to buy in.
This price action makes it one of the best penny dividend stocks. It might bounce back up in the months ahead.
Gold Resource's revenue and net income are both up by well over 100%. The company's market cap sits at around $120 million and it offers a dividend yield of around 2.5%.
Great Elm Capital Corp
Great Elm Capital is a business development company that invests in mid-market companies.
Great Elm's dividend yield is over 10%. The company's stock has been falling for a while. But it hit an all-time low in April of 2020. It corrected back up. It might be coming up again soon. It might be wise to watch Great Elm's stock to see what happens.
Highway Holdings Ltd
Highway Holdings produces electronic parts and assemblies. It's headquartered in Hong Kong and has a market cap of $15 million.
The stock has had some recent growth from a low price in 2019. It appears it might be heading down soon. But that's a good thing if you wait and buy in on a low price.
The company behind this dividend penny stock is seeing some good financial movements. Its June 2021 quarterly revenue is up 46% year over year. Net income is up by close to 250% and net profit margin is up by 200% from last year, too.
Highway Holdings offers a dividend yield of around 4%.
Pangaea Logistics Solutions Ltd
Revenue, net income and net profit margin are all up for Pangaea. Revenue is up by over 100%, net income is up by over 500%, and net profit margin is up by over 200%.
Pangaea is a global logistics company. It provides seaborne dry bulk transport services through a fleet of ships. It's in the industrial services industry, and the transportation and logistics sub-industry.
The dividend yield for Pangaea is around 3%.
Final Thoughts on Dividend Penny Stocks
Dividend penny stocks excite me. Some of them have such enormous potential to grow up and "play with the big boys." And, on top of it, you receive a regular payout for believing in the company.
Of course, a good investment takes much more than just "believing" it will make returns. Do your due diligence. Check the history, leadership, financial history and other aspects of the company.
It helps to make a checklist of all the things the company needs to qualify as one of your investments.
If you're looking for expert insight, consider signing up for Wealthy Retirement. It's a free e-letter that's packed with investing tips and tricks. You'll hear directly from Marc Lichtenfeld. He literally wrote the book on getting rich with dividends and has helped tens of thousands of readers.
---
Vanessa Adelman graduated with an Interdisciplinary degree. She majored in Entrepreneurship, Painting, Music and Film. Shortly after, she received a copywriting mentorship with Mark Morgan Ford. Then, she earned her AWAI Verification. Now, Vanessa freelances in the financial direct response industry. She's been investing since 2016. In her free time, she enjoys books about money and wealth. She loves being with her boyfriend, hunting, fishing and going on outdoor adventures.