First it was the exporters. Then the manufacturers.
Are investors the next victims of President Trump's drawn-out trade war with China?
In September the Institute for Supply Management's export index printed its lowest reading since March 2009, a solid indication that U.S. exports continue to fall off. Many respondents to the survey cited trade issues as the primary reason.
And manufacturing activity in the U.S. fell in September to its lowest level in a decade, according to the Institute. "Global trade remains the most significant issue" behind that drop, the report said.
So far, investors have suffered indirectly from this trade war-induced economic softness. The Dow fell 344 points last Tuesday after the manufacturing and export numbers were released. And stocks continued their descent the next day, with the Dow dropping another 494 points, or almost 2%. That's 838 points – or more than 3.1% – in just two days!
But brace yourself, investors, because it might get worse.
The trade war is suddenly poised to hit investors directly.
How?
Capital controls.
The White House, looking for new leverage in this battle with China, is apparently mulling over restrictions on both U.S. citizens investing in Chinese companies and Chinese investors looking to put money into U.S. firms.
That could involve delisting Chinese companies from U.S. stock exchanges.
Think about Alibaba Group, the world's largest retailer and e-commerce firm that now lists on the New York Stock Exchange. Or JD, another massive Chinese online retailer that lists on the Nasdaq. Or New Oriental Education, a Chinese education company that also trades on the New York Stock Exchange. Chief Investment Strategist Alexander Green has recommended all three stocks in the past.
Here are their price movements year to date.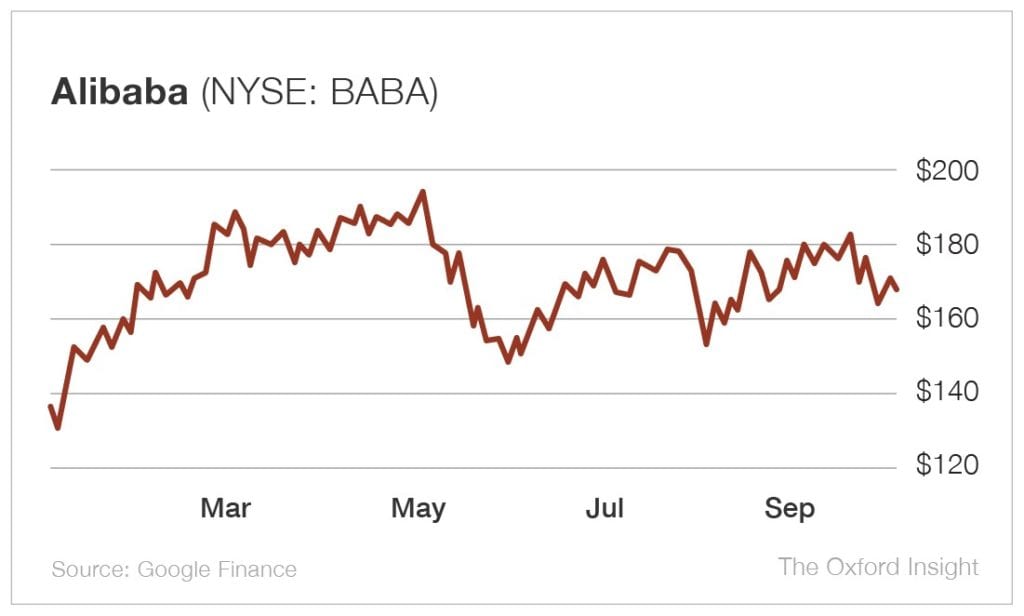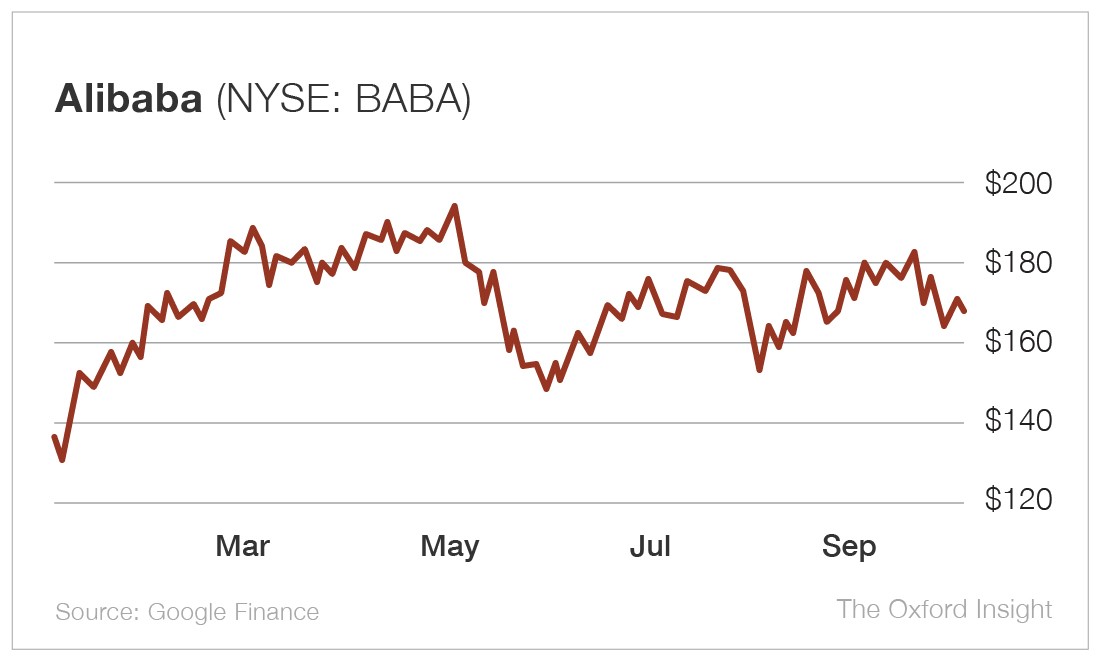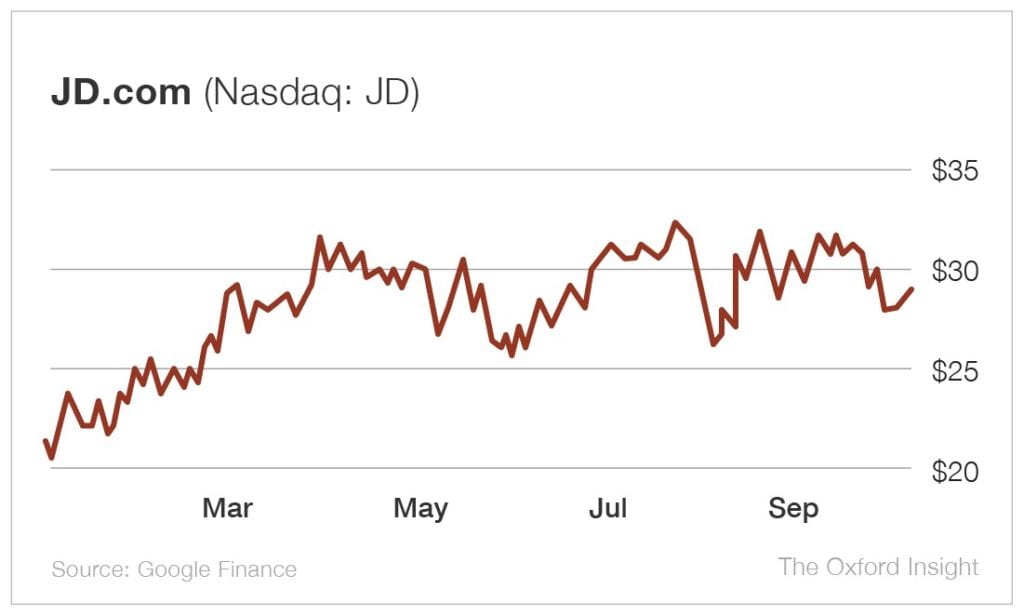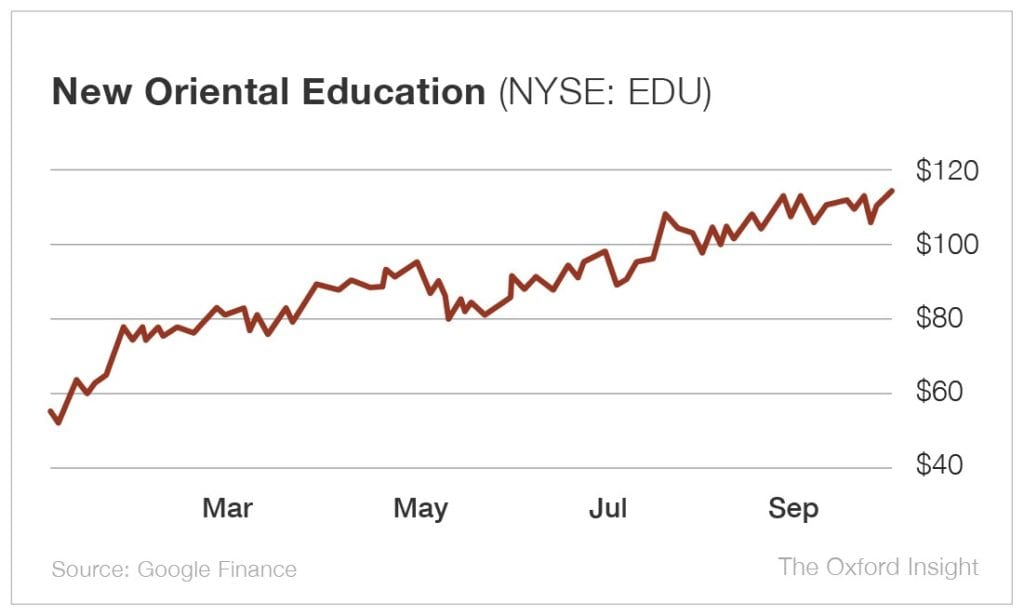 All three stocks are up for the year. Alibaba is up 20%. JD is up 33%. And New Oriental Education has more than doubled since January 1.
In fact, there are currently seven open Chinese stock positions in Oxford Club portfolios.
As an investor, do you want the opportunity – let's call it the freedom – to invest in those kinds of companies?
Or how about the other 156 Chinese companies listed on the three largest U.S. stock exchanges, with a combined market cap of some $1.2 trillion?
It's a certainty that there will be many, many more Chinese opportunities for global investors going forward. Keep in mind that China is expected to overtake the U.S. as the biggest consumer market on the globe this year.
"Being barred – in the Land of the Free – from investing in public companies in the world's fastest-growing major economy makes no sense," Alex wrote last week. "And if Chinese businesses and citizens can't invest here, they will take their hard-earned capital elsewhere. The world is full of attractive opportunities."
Keep in mind that the number of stock market opportunities for U.S. investors is already in free fall. The stock market is shrinking, a topic CEO and Executive Publisher Julia Guth has written about in the past. There were more than 8,000 companies listed on U.S. exchanges in the mid-1990s. As of last year, that number had plummeted to less than 4,400.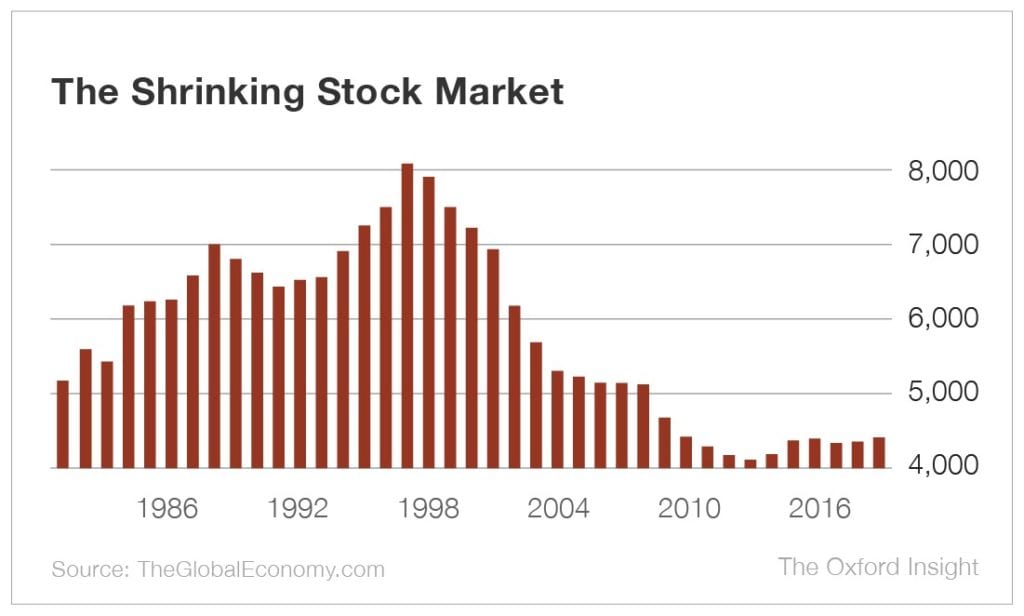 Barring foreign firms from listing here will only accelerate that trend, giving investors still fewer choices.
Chinese stocks today have a collective market cap of around $6 trillion in a $13.4 trillion economy, while U.S. stocks have a market cap of about $30 trillion in a $20.5 trillion economy.
"China will close that gap over time," says ETF Strategist Nicholas Vardy. "And that makes Chinese stocks a vital part of every investor's long-term portfolio. It also means that any government restrictions that limit Americans' access to Chinese stocks is a lousy idea."
I couldn't have said it better than Nicholas. A lousy idea indeed.
Good investing,
Matt
---
Matt has worked as an editorial consultant to the International Monetary Fund, the World Bank, the Economist Intelligence Unit and other global macro-institutions. He wrote about markets and economics for U.S. News & World Report, Bloomberg News and Investor's Business Daily, among other publications. He also worked for several years as head of political economy for a Financial Times-owned macroeconomic consulting firm, advising hedge funds around the world. Matt's claim to fame is that he's interviewed two U.S. presidents and has spoken with five Federal Reserve Chairs from Paul Volcker through Jerome Powell. Matt also served as The Oxford Club's Editorial Director for two years.