A Starbucks stock forecast is at hand. It's opened all its stores again, and revenue has increased from last year big-time. This helps with making predictions going forward.
I've been to Starbucks once. It was great! But I'm not quite sure why some people are so addicted.
Maybe it's the wide variety and highly customizable nature of drinks. Plus, it offers some little treats and things on the side.
Maybe it's the culture. Starbucks definitely aims to attract a specific crowd.
Maybe people are just plain addicted to coffee.
Either way, Starbucks obviously knows what it's doing.
Starbucks (Nasdaq: SBUX) represents the second wave of American coffee culture. It is the world's largest coffeehouse chain.
And in early 2020, Starbucks closed over 400 locations. But instead of saying "due to coronavirus" and sitting on its hands, the company's executives took action.
They moved to a "to-go" model. They expanded more into curbside, walk-up windows and drive-throughs. This has helped the company continue to grow…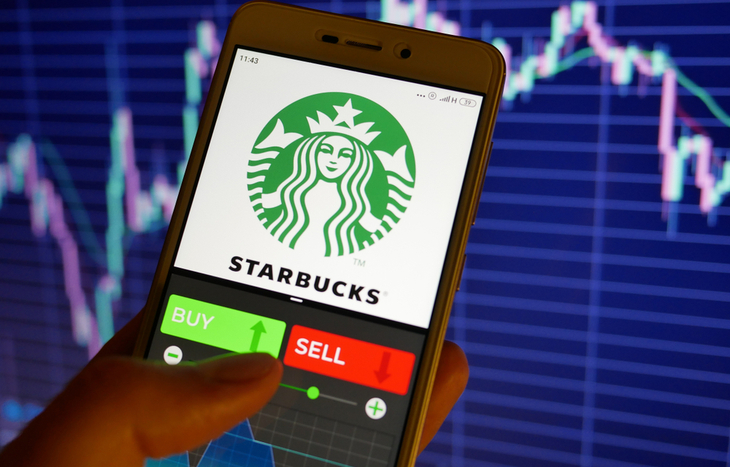 Starbucks Stock Forecast Starting With Finances
Starbucks' Q3 is up from last year's Q3 by a huge amount. Revenue reached $7.5 billion and is up by 78%. Net income comes in close to $1.2 billion and is up by 270%.
Net profit margin for Q3 was above 15%! Starbucks had a record Q3 this year. The company's market cap sits at around $130 billion, and revenue per employee is close to $70,000.
Starbucks Stock Observations
It's been a bumpy ride but SBUX has been climbing since its listing in 1992. More recently, there was a big drop at the beginning of April 2020. This drop coincides with its announcement of the closing of most of its locations. Since then, though, it has climbed much higher. It has gone from about $60 in April 2020 to around $110 at the time of writing this. That's an 80% increase in a span of 17 months.
Starbucks has a high P/E ratio of 46, which makes it look overvalued. Not great. But that is reasonable considering the big recent increase in stock price.
Also, the stock is correcting down a bit from July's high. So, if the short-term trend continues, the Starbucks stock forecast could point to better buying opportunities soon.
Starbucks Stock Leadership
Starbucks' leadership looks phenomenal. Each one of the directors on the board comes from a large chain or multinational company. Ulta Beauty, Apple and Nike are a few of these companies. All the executives leading the company are successful in their field, too.
The CEO, Kevin Johnson, worked for Microsoft, and was CEO of Juniper Networks for five years. He even advised presidents Bush and Obama for a short time.
The senior vice president, Chris Fallon, has led global supply chain planning initiatives for Fortune 500 companies. Some of these companies include Chico's, Motorola and Baxter International.
The entire long page of leaders on the Starbucks website each has tons of great experience behind them like this. And this strong leadership helps when coming up with a Starbucks stock forecast…
Starbucks News
Starbucks is offered free coffee on National Coffee Day. And it's celebrating 50 years in business on Sept 29th.
SBUX was in 63 hedge fund portfolios at the end of Q2 2021. The record high for this number is 68.
In other news, Starbucks partnered up with Walt Disney to offer a vintage set of pins at Starbucks Disney World. Also, in Hong Kong, the company raised prices by 5% to keep up with rising coffee bean costs.
The coffee market is growing and here are a few more top coffee stocks to consider. You'll find some coffee fun facts in that article as well.
Starbucks Stock Predictions
According to Statista, the coffee market is worth $436 billion. It has a compound annual growth rate (CAGR) of 8.28%. And by 2025, 84% of spending in the Coffee segment will be out-of-home consumption (restaurants, bars, etc).
According to CNN Business, the consensus among 34 polled investment analysts is to buy Starbucks stock.
Wall Street Zen also ranks it as a buy. It gives price predictions for 2022 at $145 for a high, $126 for a median, and $104 for a low.
The Motley Fool recently compared Starbucks and Chipotle stocks. It ended up recommending Starbucks over Chipotle.
For another Starbucks stock forecast, Zacks ranks Starbucks as a hold. It also gives it an A for Growth, but a D for Value and F for Momentum.
Is Starbucks Stock a Good Buy Now?
With Starbucks opening more convenient options for its customers, I expect revenues to grow. The market for coffee is expanding. Coffee has an addictive nature, and Starbucks is a premium brand already.
I don't think Starbucks will be leaving the market anytime soon. It has great leadership, and the financials to back it up. It continues to grow its company and stock in a lucrative industry.
Also, I forgot to mention that it pays dividends to stockholders. The dividend yield for Starbucks is 1.6%.
As far as growth beyond what the increasing market will do for it? It's solid there, too.
The leadership knew what they were doing when they took some time to close and work on themselves. They seized the opportunity COVID gave them to make things much more convenient for their customers. People are focused on convenience nowadays. And they are reaching a higher volume of customers and higher profits this way.
SBUX focuses on the future. Although, it might not be the perfect time to buy Starbucks' stock right now. It might be wise to wait a bit and see what it does.
The stock is high right now and has a high P/E ratio to show that, too. But you don't have to look at the P/E ratio to see that. You can see that just by looking at the stock itself. Starbucks stock is quite high, but it is also coming down from that high.
SBUX Prediction and New Opportunities
Here is one thing to keep in mind… a company that has succeeded in the past will likely continue to succeed in the future. Especially a company of this size, massive scale and influence.
It might be good to watch the stock. See if it comes down some more. More than likely, it will. It is correcting right now. Recovering from an all-time high. But before long, keep your eye out for some upward movement. It will more than likely come back up again. And that could be a great buying opportunity.
If you're looking for even better stocks right now, sign up for Wealthy Retirement. It's a free e-letter that's packed with tips and tricks. You'll hear directly from investing experts such as Marc Lichtenfeld. He's written a bestselling book on getting rich with dividends.
---
Vanessa Adelman graduated with an Interdisciplinary degree. She majored in Entrepreneurship, Painting, Music and Film. Shortly after, she received a copywriting mentorship with Mark Morgan Ford. Then, she earned her AWAI Verification. Now, Vanessa freelances in the financial direct response industry. She's been investing since 2016. In her free time, she enjoys books about money and wealth. She loves being with her boyfriend, hunting, fishing and going on outdoor adventures.