The world's demand for digital content keeps climbing. We're producing more data than ever before, and I've kept a close eye on this trend. I've researched hundreds of companies and have come up with this list of the best 5G stocks. Some of them are semiconductor stocks as well. These companies are investing billions into 5G technologies and other innovation.
I'll highlight each of these tech stocks below. The companies are working on some unique projects. But before we get to that, let's look at the larger 5G trends. You'll get a much better picture of why this is a high-growth industry. One that might produce huge returns for investors…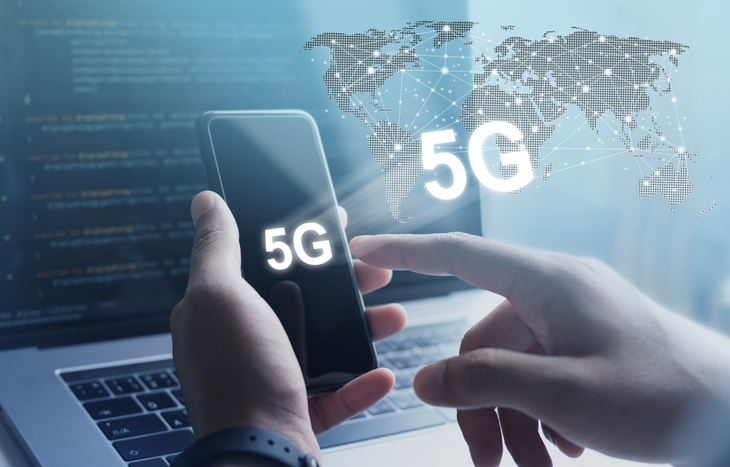 Why Invest in 5G Stocks?
The world is producing and consuming massive amounts of data. With a smartphone, you now have access to more information than the entire Library of Congress. It's hard to do an apples-to-apples comparison, but I saw these headlines about 10 years ago.
Over the past decade, technology has continued to march forward at an impressive rate. As a result, tech stocks have dominated the market. They now make up roughly 25% of the total S&P 500. And this will likely climb higher with the internet of things (IoT).
Cisco estimates there will be 29.3 billion connected devices by 2023. That's up from 18.4 billion in 2018. A large piece of this growth will come from machine-to-machine (M2M) connections. The share of M2M connections will grow from 33% in 2018 to 50% by 2023.
This is a huge opportunity for the best 5G stocks to invest in. Most of these devices will be collecting and moving more data. For example, autonomous vehicles will rely heavily on image processing. In the not-too-distant future, these cars will dominate our roads.
On top of that, consumer devices are moving toward higher-end video streaming. And this requires more data. Overall, these powerful trends are creating compelling investing opportunities…
Best 5G Stocks to Watch
Here's a list of the best 5G stocks to consider. And the last five on this list are focused on the semiconductor industry.
Verizon (NYSE: VZ)
Nokia (NYSE: NOK)
Ericsson (Nasdaq: ERIC)
Ciena (NYSE: CIEN)
American Tower Corp. (NYSE: AMT)
Qualcomm (Nasdaq: QCOM)
Intel (Nasdaq: INTC)
Marvell Technology (Nasdaq: MRVL)
Broadcom (Nasdaq: AVGO)
Skyworks Solutions (Nasdaq: SWKS)
Verizon comes in at the top of the list due to its cheap valuation. It also has a long history of rewarding shareholders. And to stay competitive, Verizon is investing heavily in 5G and other technologies…
Verizon reported capital expenditures of almost $68 billion in 2021. By 2024 and beyond, Verizon expects more than 250 million people to have access to its 5G Ultra-Wideband service.
Nokia has honed in on mobile networks, infrastructure, cloud and services. The company has continued to innovate well beyond its old Nokia phones.
Nokia has announced more than 3,000 5G patent declarations. On top of that, the company has 165 commercial 5G deals and 66 live 5G operator networks. Nokia isn't as consumer-facing as it used to be… but these developments make it one of the top 5G companies to invest in.
Ericsson is a Swedish telecom giant that was the first to bring 5G to four continents. The company is at the forefront of 5G, the IoT, edge computing and cloud infrastructure.
Ericsson works with providers all around the world. It has 143 commercial 5G agreements and 92 live networks. Going forward, these numbers should climb higher. This is definitely a top 5G stock if you're looking for international exposure.
Ciena is one of the smaller 5G stocks on this list, but it has great growth potential. It's an American telecom networking company. It provides optical connectivity.
To handle faster connections, the entire telecom network needs to improve. Ciena is providing a simpler and automated approach for 5G. For example, Ciena's 5168 Router is purpose-built for 5G networks.
American Tower Corporation is a 5G stock with a slightly different structure. It's a real estate investment trust (REIT). One benefit of this structure is that REITs are required to pay dividends.
American Tower has a huge portfolio that's ready for 5G growth. It has more than 42,000 towers in prime locations. And its 5G partnerships will likely expand in the years ahead. This is one of the best 5G stocks for investors looking for passive income.
5G Semiconductor Stocks
Qualcomm is a wireless technologies company with vital 5G patents. This, along with the rest of its portfolio, makes it one of the best 5G stocks to watch.
To maintain its lead in the semiconductor industry, Qualcomm has developed flagship 5G solutions. The Qualcomm® Snapdragon™ X65 is designed to achieve up to 10 Gbps in downlink peak data rates.
Intel is a household name when it comes to semiconductors. To maintain its lead, it's also become one of the top 5G stocks. And overall, it's a top tech stock for many reasons.
On the 5G side, Intel is expanding its 5G network infrastructure offerings in a $25 billion market. For example, Intel is launching the Intel Atom P5900 platform. This is the first Intel architecture-based 10nm SoC for wireless base stations.
Marvell Technology develops semiconductors solutions. Its products and services are helping connect more devices and people around the world, making it one of the top 5G companies to invest in.
Marvell has launched breakthrough end-to-end solutions for 5G infrastructure deployments. Its 5G Ready portfolio is an order of magnitude better in terms of performance, power efficiency and overall implementation. That's versus unoptimized field programmable pre-5G architectures.
Broadcom is another giant in the semiconductor industry. It develops a wide range of semiconductor and infrastructure software solutions. And it's easily one of the best 5G stocks to watch going forward…
Broadcom announced the completion of its 5G switching portfolio a few years ago. It was designed to enable the deployment of end-to-end networks onto a standard, Ethernet-based infrastructure. And Broadcom continues to innovate with 5G technologies.
Skyworks Solutions manufactures semiconductors for use in radio frequency and mobile systems. Skyworks is another global company that's helping to expand 5G wireless technologies.
A few years ago, Skyworks launched a suite of custom waveguide circulators for 5G. Its mini circulators are available in 7 mm and 10 mm packages. This company continues to help lead the 5G industry forward.
Investing Beyond 5G Stocks
Investing in tech stocks has led to some big returns. And these 5G stocks might show even higher returns in the years ahead. With this list of stocks, you get a good mix of investing in 5G technologies.
Although, there are many other tech trends and investing opportunities to consider. For example, check out these EV charging station stocks and these quantum computing stocks. Or continue exploring our other free research…
---