The best biotech penny stocks can be easier to find than other penny stocks. That's because the biotech industry is constantly growing and snapping up new developments.
Every time a new product or pill comes out, it's able to target a specific niche. These can be life-saving products.
The medical field also has high barriers to entry. It's such an in-depth field. Usually only seasoned doctors, specialists and researchers can pinpoint the problems and come up with solutions. Because of this, there's usually a solid company behind these products, technologies and pills.
Below are some biotech penny stocks to check out and watch. Although, keep in mind that penny stocks are volatile, even those in the biotech world.
This can be a good thing, but can also be bad. Volatility means the stock price rises and falls quickly and has major highs and major lows. If you have money in these, the stocks will take it for a ride. You can make a lot of money with penny stocks, yes. But you can also lose it all. So, be careful about what you invest in.
Make sure the company has solid financials. Make sure it has good leadership who knows what they're doing. And check the stock prices. What is it doing now? What has it done in the past? What does that say about its future moves?
Do your due diligence. Make a checklist and check off the things you need in a company before investing in anything. But do this especially for volatile investments like penny stocks.
Best Biotech Penny Stocks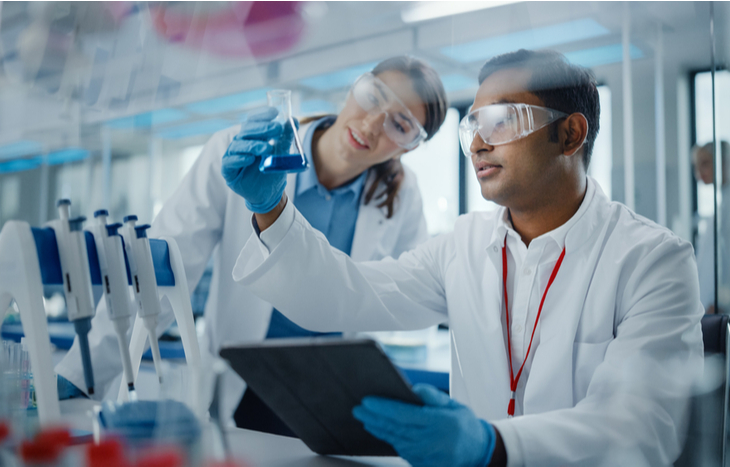 iBio Inc. (NYSE: IBIO)
Rewalk Robotics Ltd. (Nasdaq: RWLK)
BIO-key International Inc. (Nasdaq: BKYI)
Histogen Inc. (Nasdaq: HSTO)
Vascular Biogenics Ltd. (Nasdaq: VBLT)
Entera Bio Ltd. (Nasdaq: ENTX)
Diffusion Pharmaceuticals Inc. (Nasdaq: DFFN)
Voyager Therapeutics Inc. (Nasdaq: VYGR)
Asensus Surgical Inc. (NYSE: ASXC)
With this list, I've narrowed down some of the best biotech penny stocks to watch. This can be a great starting point for further research. Let's now take a closer look at tracking down winning stocks…
How to Find the Best Biotech Penny Stocks
When looking for biotech penny stocks, it helps to use a stock screener. This way you can narrow down which stocks show up. And you don't have to weed through them all looking for the perfect one (that would take months).
Use the industry filter to get it down to the biotech industry. You also might need to use "sub-industry." Then use the price filter. Set it to "less than" and set the number anywhere from $5 and under.
You'll still have quite a few search results.
Many stock screeners have more in-depth filter tools as well. Things like "Changes in Volume and Ownership" and "Trailing P/E Ratio."
Some more understandable ones might be "Gross Profit," "Unlevered Free Cash Flow" and "Gross Profit Margin."
Do a search on what numbers are favorable for each of the filters you apply. Then enter those or better numbers into the filter. There are some useful metrics for the best biotech penny stocks as well. Once you get it down to a few results, it's time to dig a bit.
Pick a company and look at its stock chart. What has it done in the past? Does that point to future growth? Or a decline?
Have there been any large spikes in volume lately? Why?
Look at the company's website. Is it professional-looking? What product or service does the company offer? Is that offering revolutionary and useful to the industry?
Look at the leadership, which is usually found on the website. Do the leaders have experience in their current positions? If not, what previous experience do they have that will help them succeed? If you come across people who have come from large, well-known companies, it's wonderful. A proven track record of success can be more promising going forward.
Those fast-growing companies like Apple or Amazon (or even some lesser known than these) have a different mindset. The workplace is different from many other "slow- moving" companies. They're constantly innovating and coming up with the next great thing to get the company on the right track and make bigger profits.
And especially in the beginning stages of a company, growing sales is key to surviving and thriving.
Also look at any recent news. Major developments, agreements, new contracts with large companies, change in leadership and client acquisition can be great signs of a healthy company. It means the company is active, and taking steps to better the organization.
Will the Best Biotech Penny Stocks Make You Rich?
It depends. Those are probably not the words you wanted to read, but it's true. And it largely depends on your skill level. If you have more experience with penny stocks, obviously, you might have an easier time making some big moolah for yourself.
Penny stocks can make you rich if you put in the time and money, and aren't lazy about it. Gain some experience and knowledge, read up on how to invest, and take the time to learn. This process is important and as mentioned, risky. There'll be losses along the way.
Nonetheless, the best biotech penny stocks have a better likelihood for big returns. They can be more practical and useful. And they have a high barrier to entry. That means the biotech companies that are around might have a greater likelihood to succeed. Sometimes they'll be bought out by a larger company. Or (if they're just a terrible company), shrivel and die.
Start small with any investing. Especially penny stocks. Work your way up to larger and larger investments. But make sure you're making profits on your previous investments, too.
A great way to ease into stock investing is this… Make a list of stocks you want to check out, like the one above. Do your due diligence like you are going to invest in some or one of them. Then, narrow it down to one or two of the best.
Circle the ones you chose, and write down the current stock price.
Come back a few months later and see what it has done. Where has the price gone? Up or down? Why did it do that? What would you have done differently? Apply what you learned next time you do this or invest actual funds.
This helps you learn how to invest before you actually put your money on the line. Here are some stock trading simulators as well.
New Opportunities to Invest
The best biotech penny stocks can bring major rewards. Although, they can be a double-edged sword. Ease into things if you don't know what to do. Keep an eye on the stocks above and invest if you think things are going well for the companies.
If you're looking for even better investing opportunities, sign up for Trade of the Day below. It's a free e-letter that's packed with trading tips and insight. You'll hear directly from trading experts on some of the latest opportunities.
---
Vanessa Adelman graduated with an Interdisciplinary degree. She majored in Entrepreneurship, Painting, Music and Film. Shortly after, she received a copywriting mentorship with Mark Morgan Ford. Then, she earned her AWAI Verification. Now, Vanessa freelances in the financial direct response industry. She's been investing since 2016. In her free time, she enjoys books about money and wealth. She loves being with her boyfriend, hunting, fishing and going on outdoor adventures.