Biotech penny stocks can be a great investment. Especially if you want big gains in an industry that doesn't seem stop growing.
Biotech is a strong industry by itself. It is constantly looking for new solutions to the endless problems in the health world. And that's even more necessary when it comes to hospitals and surgeries. We'll do anything to save the life of a loved one… Or better our own.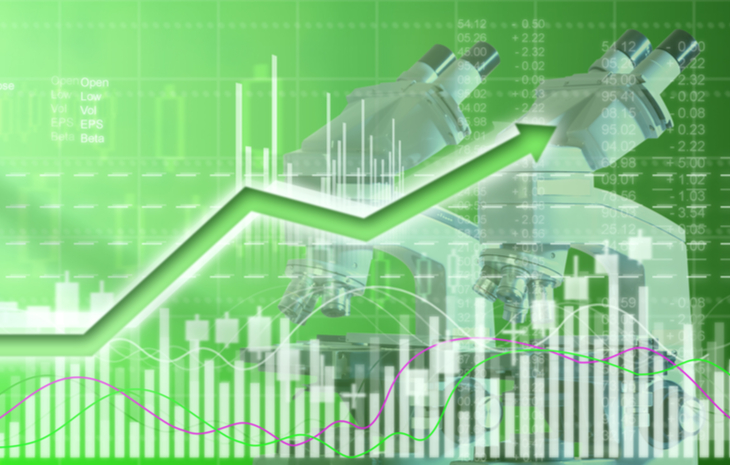 As for penny stocks, they provide massive potential to make money. Do your due diligence. Find good companies with strong leadership or an incredibly useful product. Or even a young company with a promising therapy pipeline. Once you find some good ones and invest, it's possible to make lots of money.
That being said, penny stocks are very volatile. This means you can gain a lot. It also means it's possible to lose your entire investment. And sometimes, you can lose it in days or minutes. They are an inherently risky investment.
If you're not okay with losing your investment, penny stocks might not be a good fit for you.
However, if you want to invest in penny stocks, educate yourself. Learn how to do due diligence. Protect your investment dollars through diversification. This helps because if one of the stocks in your portfolio is a dud, it won't bring down your entire portfolio.
Usually, even if you do a little due diligence, you won't lose your money. But companies are very complex creatures. It only takes one little thing for the stock to take a dive, taking your money down with it. So do your homework… Even on these companies that I'm laying out for you.
Best Biotech Penny Stocks
Seelos Therapeutics (Nasdaq: SEEL)
NanoVibronix Inc. (Nasdaq: NAOV)
ReShape Lifesciences Inc. (Nasdaq: RSLS)
Soligenix Inc. (Nasdaq: SNGX)
Transcode Therapeutics (Nasdaq: RNAZ)
Citius Pharmaceuticals (Nasdaq: CTXR)
electroCore (Nasdaq: ECOR)
Biotech Penny Stocks to Buy
Seelos Therapeutics
Seelos Therapeutics is a clinical stage company in the biopharmaceutical world. It's focused on developing therapies for disorders of the central nervous system. It also focuses on finding treatments and cures for rare diseases.
Its stock seems to be picking up again after a long, sleepy bear run. From 2000 – when the stock peaked at around $100K a share – to now, it's been all downhill. It fell all the way down to less than a dollar, sometimes trading around $0.50. But from January of 2021 to the now, it's seemingly broke that bear cycle. In April of 2021 it saw a high of $6.25.
At the time of writing this, it's trading just over $2. So, it's still much higher than it has been in years. Even after a downward correction. And now, it looks like Seelos may be entering a bull run. While it's still very speculative, Seelos is still one of the more compelling biotech penny stocks.
NanoVibronix Inc.
NanoVibronix has some nice looking Q2 2021 financials. Revenue was up by 18.22% compared to last year's Q2. Net income was up by 85.38%. And net profit margin was up by 87.63%.
This stock seems to be making a comeback from a long bear run as well. In September of 2020, prices were very low at $0.60. But, the bear seemed to be slowing from its downward momentum. That's the first step to becoming a bull.
Then, it broke out and went up in February to $1.47. It came back down, then spiked to $3.10 at the end of August. Right now, it's in a downward correction. But it's still trading at $1.64 as I write this. So, it's definitely broken its long bear run.
NanoVibronix produces ultrasound technology that sends acoustic waves. These waves repair tissues and help decrease tissue formed from catheter infections. While this is a rather niche area to specialize in, its strong financials make this one of the stronger biotech penny stocks on the market right now.
ReShape Lifesciences Inc.
ReShape had a good increase in net profit margin compared to last year's Q2. It's increased by 47.78%. Although it is still down by 110% overall, that's a good step forward.
This is another stock that has been in a bear run for a long time. Recently though, it's had a nice little spike. And it merged with Obalon Therapeutics in June. So that could be prescription for some gains in its stock price.
ReShape is a company that specializes in weight-loss solutions. Its website features a unique product. It is a pill you swallow. Inside, there's a balloon that is gas-filled. And blows up in your stomach. It's the first and only one of its kind.
They also offer a vest and a lap band to help with weight loss. As we all know, the U.S. isn't the skinniest nation. The alarm on the obesity epidemic has been sounding off for years. If ReShape can capture some of the diet-craze market share, this could be the most explosive biotech penny stock on the list.
Soligenix Inc.
Soligenix is a late-stage biopharma company. It specializes in developing and commercializing solutions for rare diseases in unmet markets. These include lymphoma and Crohn's disease.
Soligenix's stock has been flat for quite some time. But, this stock has mixed reviews and predictions. And it's targeting cancer and other rare diseases. Not only that, but it's coming up with solutions for them.
This is more of a long-term hold if you want to see gains. The stock could be coming up. But the stock chart itself isn't showing major buy signs. However, it could start delivering returns in the future. And if the lymphoma therapy gets out of Phase 3 trials and hits the market soon, this might no be one of the biotech penny stocks for long.
Transcode Therapeutics
Transcode is another stock that's only been on the market for a few months. It listed in July. Then, it had its little downward correction that most companies see when first listing stock. But it's already had a small price spike from $2.43 to $3.66 in September. This came on the heels of news that net income was up from last year by 2,278.42% for Q2.
Transcode is using RNA oncology to address cancer. It's created a commercialization pipeline that strives to gets products to the market quickly. And it's using the decades of medical expertise and financial knowledge it has on staff to do this. Keep in mind, this is a relatively new company. Most of the therapies in its pipeline are still in the preclinical stage. But if any of them find rapid success, Transcode could find itself lifted right out of penny stock contention.
Citius Pharmaceuticals
Citius is another stock that has been in a sleepy bear mode for years. In June of 2021 though, it saw a nice little spike in price. This happened after it raised and broke the bear cycle.
That being said, its price has corrected. But it is still much higher than it was before the rise. For me, this is a buy signal. This shows that it's getting ready to pop up again… Or at least rise slowly some more.
Citius focuses on commercializing critical care products. Some of the therapies in its pipeline include anti-infectives in cancer care. Also, stem cell therapy and an unusual prescription products. It's bioabsorbable antimicrobial wrap has the potential to be the first FDA-approved product to prevent infections for those dealing with post-mastectomy breast implants. While there is no direct timeline on approval, if and when this hits the market, this could be a major catalyst for this biotech penny stock.
electroCore
electroCore specializes in treating one nerve in the human body: the vagus nerve. This is the longest cranial nerve in the body. It interacts with the heart, lungs and digestive tract.
When that nerve is stimulated, it can help heal various conditions. And because the vagus nerve touches so many different areas, there are near endless conditions electroCore's product can treat. It's working on therapies to treat or prevent stroke, Parkinson's disease and post traumatic stress disorder to name a few. So the potential market for its treatments are huge.
electroCore allows patients to self-administer low doses using their product, too. Those already on the market can help treat respiratory and airway diseases and gut issues. It also treats neurological issues, cluster headaches and migraines. There's a lot to be excited about in electroCore's pipeline. And that makes this one of the biotech penny stocks to definitely keep an eye on.
 The Final Word on These Biotech Penny Stocks to Buy
The biotech industry is rife with potential. And these biotech penny stocks are just the tip of the scalpel. If you'd like to learn about more investment opportunities in the healthcare industry and beyond, we suggest signing up for Wealthy Retirement. In this free e-letter, investment expert Marc Lichtenfeld helps his readers uncover hidden gems in the biotech industry. And all you have to do is enter your email address in the box below to get started.
---
Vanessa Adelman graduated with an Interdisciplinary degree. She majored in Entrepreneurship, Painting, Music and Film. Shortly after, she received a copywriting mentorship with Mark Morgan Ford. Then, she earned her AWAI Verification. Now, Vanessa freelances in the financial direct response industry. She's been investing since 2016. In her free time, she enjoys books about money and wealth. She loves being with her boyfriend, hunting, fishing and going on outdoor adventures.