Sometimes it helps to look in "greener pastures" for investments. Canada is rich in minerals and energy resources. So it makes sense that the Canadian stock market houses some of the largest natural resource companies in the world. We are going a little smaller, though, to target some Canadian penny stocks.
Below are some of the best Canadian penny stocks to buy. Although, first a warning about penny stocks… They're volatile. And tha can work in your favor. But it can also work against you.
You can gain a lot of money. You can also lose your entire investment, sometimes in a matter of minutes.
When you invest in a penny stock, it is imperative that you do your due diligence and don't risk more than you're willing to lose. Find companies that have good financial backgrounds, great leadership and are in a growing market. Or a market that's profitable.
And this is a personal preference, but I like to set long-term investment goals. So, when I invest in a stock, I'll make a rule that I'm not allowed to take out funds until my investment turns three years old.
Sometimes I use different numbers, but you get the point. Without further ado, let's dive into the penny stock opportunities…
Best Canadian Penny Stocks to Buy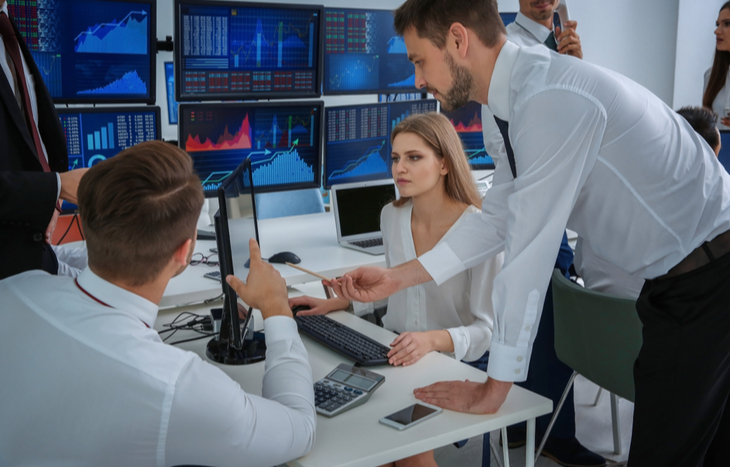 CloudMd Software & Services Inc (OTC: DOCRF)
5N Plus Inc. (TSE: VNP)
Drone Delivery Canada Corp (OTC: TAKOF)
High Tide Inc. (Nasdaq: HITI)
Ventripoint Diagnostics Ltd. (OTC: VPTDF)
NameSilo Technologies Corp. (OTC: URLOF)
Kodiak Copper Corp. (OTC: KDKCF)
BTB Real Estate Investment Trust (TSE: BTB.UN)
HIVE Blockchain Technologies Ltd. (Nasdaq: HIVE)
B2Gold Corp. (NYSE: BTG)
Canadian Penny Stocks to Invest In
CloudMd Software & Services Inc.
CloudMd stock has been dropping over the past month. It's recovering from an all-time high. Although, it may turn back into a bull run and now might be a great time to buy CloudMd.
It's a small company that offers virtual medical care solutions. These include general medical advice and telemedicine services.
5N Plus Inc.
5N Plus stock is on a long-term bear run, but seems to be coming back up and breaking the cycle. It has a high P/E ratio of above 60.
But, its financial information looks good for fiscal Q2 2021. Compared to last year's Q2, revenue is up by 16% and net income is up by 23%.
Drone Delivery Canada Corp.
Drone delivery is "taking off" (pun intended). Big companies like Amazon are getting in on the action. Although, Drone Delivery Canada has a bit of a head start. It was founded in 2011 and listed in 2012.
Since then, this Canadian penny stock has climbed from about $0.28 to as high as $2.00. Although, it has come back down a bit to around $0.70 today. This is great for investors because it creates better buying opportunities.
High Tide Inc.
High Tide is a cannabis company. It focuses on providing retailers with wholesale stock products. But it also offers some retail products as well.
It's a new company and its stock hit an all-time high earlier this year above $13. Since, it's corrected and trades closer to $6 today.
If you're looking for more marijuana investing opportunities, check out this recent article that answers the question… will marijuana stocks go back up?
Ventripoint Diagnostics Ltd.
Ventripoint stock has climbed a lot over the past year. It's emerging from a long-term bear pattern. This recent trend makes it one of the best Canadian penny stocks to buy. If it continues, investors should see some big returns.
Ventripoint is a diagnostic tool that takes images of the heart. It has the capability of an MRI, but no MRI is needed.
NameSilo Technologies Corp.
NameSilo Tech offers website products. It's an accredited domain name registry company. It offers web hosting, domains, SSL certificates and other web products.
It's a small company, with a market cap below $20 million Canadian dollars. It's trading volume is also low, similar to some of the other Canadian penny stocks on this list. That means it might be more challenging to buy and sell. Nonetheless, the stock is trading at a low point and it might be a good time to invest.
Kodiak Copper Corp.
Kodiak stock has been volatile since it first listed in 2015. It's seen some big ups and downs and most recently, it's been trending down. And this presents a better entry point for investors if a reversal happens soon.
Kodiak's has many copper mines in Canada and the U.S. It even owns a diamond mine, which it's working on developing further. As commodity prices have climbed, this has benefited the resources company.
BTB Real Estate Investment Trust
If you don't know what a REIT (real estate investment trust) is, it's a company that buys, sells and holds real estate. They also might do the same with real estate stocks.
As one of the best Canadian penny stocks, it owns 65 commercial, office and industrial properties in eastern Canada. The total property owned comes to a total of 5.4 million square feet and $924 million in assets.
HIVE Blockchain Technologies Ltd.
HIVE is the first publicly traded crypto mining company. It strives to HODL their earnings, and thrives on 100% green power. This means it uses hydroelectric, solar, wind or a combination.
The company mines for Bitcoin and Ethereum. This makes it one of the more unique Canadian penny stocks to consider buying. Although, be very careful if you plan to invest in this company.
There is a disclaimer on its website that gives a warning. There are scammers trying to impersonate this company on stock exchanges. The warning says they appear to be offering financial services. HIVE is NOT a financial services provider.
If you're looking for better crypto investing opportunities, check out these cheap cryptos to buy now.
B2Gold Corp.
B2Gold is a mining company that owns mines in many different nations. It's a larger company with a market cap above $5 billion Canadian dollars. But its shares trade before $5.
Over the long-term stock has climbed higher with a couple large bull runs. It's all-time high happened recently in mid-to-late 2020. It peaked close at around $7 per share. With the recent correction, it might be smart to watch this stock and wait for a better buying opportunity.
How to Invest in Canadian Penny Stocks
Some Canadian penny stocks are listed on U.S. exchanges. But if they aren't, you can open an account with different brokerages. Some have access to Canadian exchanges such as the Toronto Stock Exchange (TSX). And you might also want to hire a Canadian broker.
TSX market is dominant in the financial services sector, energy and materials. It's also one of the largest stock exchanges in the world. So, you're bound to find many great companies listed there.
If you're looking for even better investing opportunities, sign up for Trade of the Day below. It's a free e-letter that's packed with tips and tricks. You'll hear directly from trading experts about the latest opportunities.
---
Vanessa Adelman graduated with an Interdisciplinary degree. She majored in Entrepreneurship, Painting, Music and Film. Shortly after, she received a copywriting mentorship with Mark Morgan Ford. Then, she earned her AWAI Verification. Now, Vanessa freelances in the financial direct response industry. She's been investing since 2016. In her free time, she enjoys books about money and wealth. She loves being with her boyfriend, hunting, fishing and going on outdoor adventures.