When day trading penny stocks, they're bought and sold within the same day. Penny stocks are any stock that currently trades for $5 or below.
When looking for penny stocks for day trading, make sure you consider the health of the company. And the industry, for that matter. Investigate the leadership and profitability. See if there is any relevant news around the stock.
Further down this post, I've come up with a few penny stocks that have potential to be good for day traders.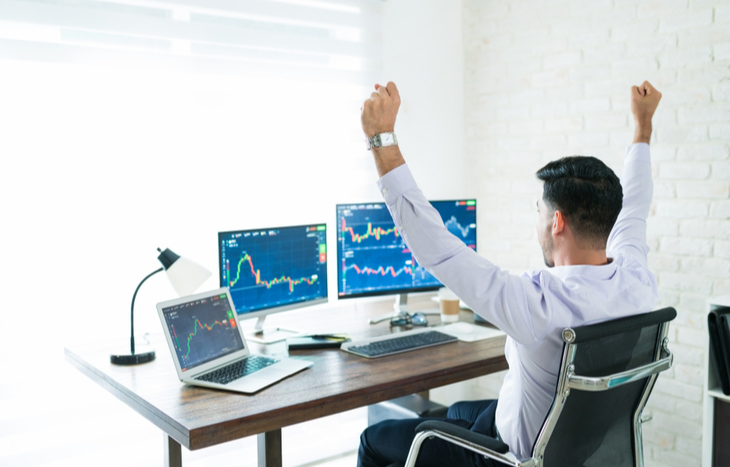 Is Day Trading Penny Stocks Worth It?
It depends on how long you've been trading. It also depends on how patient you are.
Persistence, passion and hunger are also great to have when day trading penny stocks.
It's widely accepted that when you first start out trading, you're going to lose money. In fact, it's sort of a rite of passage for a beginning trader. But once you get past those first few months of disappointment, you're in the club.
That's why it's smart to only use a little money at first. You can cut your losses while you learn the ropes.
Then, when you start to have some success, you can slowly increase the amount you trade with. There are people who have made it big with only $1,500.
They started small and failed fast. Then, they began to have success. So, they kept their trading allowance to that pool they were slowly accumulating.
So, is day trading penny stocks worth it?
Well, penny stocks are much more likely to bring you higher, intraday gains.
Stocks with large market caps and stock prices are slow moving. They are stable, and usually offer nice returns for long-term investors. And don't get me wrong, they are a great stronghold to keep your portfolio stable. In fact, I would recommend investing in these types of stocks first. Before you even think about day trading.
A motto I live by is "Secure, Comfortable, Rich." It works sort of like Maslow's Hierarchy of Needs. First, get your basic needs met. Then, give yourself a little extra to become comfortable. Then, after those two are met, you can explore more options.
So, get those secure and comfortable stocks in your portfolio. Then you can start looking into day trading penny stocks.
Long story short, yes. Day trading penny stocks can be worth it. But, you must be patient and persistent.
How to Get Started Day Trading Penny Stocks
Use a small amount of money to learn with. Otherwise, you might be forced to quit. You might not be able to afford to keep trading if you use large amounts of money at first. And if you decide it might not be for you, that's okay. You'll find something better.
If you commit to it, that's what it is. A commitment. A long-term decision. Don't give up.
Like I said, use a small amount of money at first. Get a good education researching online. Soak everything up. Learn and fail fast.
Use your little nest egg to get many lessons out of each failure. And always pay attention to the quality of the industry and company. Don't ever discount that.
An Important Warning for Day Trading Penny Stocks
Day trading is very risky. You will lose money on some trades. If you aren't prepared to lose money, then it would be wise to accept that fact before you start. Many people trade for a long time and never see a net profit.
It's important that you don't use a large amount of money at first. Start slow and learn the ropes. Make little profits. Then, when you are consistently doing well, you can ramp it up. Here's a useful position size calculator.
Also, penny stocks are very volatile. This means you can lose a lot of money fast. You can make money quick, too. But you need to know how to find good companies that are growing.
Day Trading Penny Stocks to Buy
CooTek (Cayman) Inc. (NYSE: CTK)
OceanPal Inc. (Nasdaq: OP)
NuZee, Inc. (Nasdaq: NUZE) 
Best Penny Stocks to Day Trade
CooTek
Not to be confused with CookTek, CooTek (Cayman) is a business that develops apps and software. It's created a blue light filter app and a virtual assistant. It's been named as a top developer. And it's received recognition by Google Play. TouchPal, one of their apps, got Google Play's Best Apps of 2015 award.
OceanPal
This day trading penny stock was listed in 2021. It's headquartered in Greece, and is a very new company. Offering worldwide shipping services, it only has three ships. But, they are high quality.
Plus, the company has leadership that's experienced in shipping and finance. With all the demand for overseas products, it could do very well.
NuZee, Inc.
Looks like NuZee could put Keurig out of business. It offers single-serve coffee alternatives that take bulky coffeemakers out of the picture. There are pour-over options and tea bag style coffee. And it's working with different private label coffee companies.
The company puts an emphasis on keeping the Earth clean. And it's such a great concept. It makes coffee making portable, fast and ridiculously easy and cheap.
I can't wait until this day trading penny stock starts offering products for sale.
Trader vs. Investor – Which Are You?
Trading and investing are two different things…
Investing takes a long-term approach. Investors often hold stocks for over a year or even decades.
On the other hand, a trader is someone who attempts to take short-term gains through faster buying and selling of stocks. Holding times can be less than a day, a few days or even months.
There are also three different categories of trading. There's long-term trading. Which is usually a stock purchase that's held for months or closer to the one-year mark.
There's also medium-term trading, or swing trading. And that's held anywhere from a few days to a few weeks.
And then there's short-term trading, or day trading penny stocks. These are trades that are completed within the same day or within a couple days.
Each trade or investment requires its own unique amount of time. There are many different variables to profit with each stock. A few important factors include: amount of time, where the trade happens in the life of the stock, etc.
There are lots of things to think about. Plus, you may like one type of trading style over another. Whichever style you choose, you're making a big effort to take control of your finances. There are many investment styles and opportunities to consider.
---
Vanessa Adelman graduated with an Interdisciplinary degree. She majored in Entrepreneurship, Painting, Music and Film. Shortly after, she received a copywriting mentorship with Mark Morgan Ford. Then, she earned her AWAI Verification. Now, Vanessa freelances in the financial direct response industry. She's been investing since 2016. In her free time, she enjoys books about money and wealth. She loves being with her boyfriend, hunting, fishing and going on outdoor adventures.