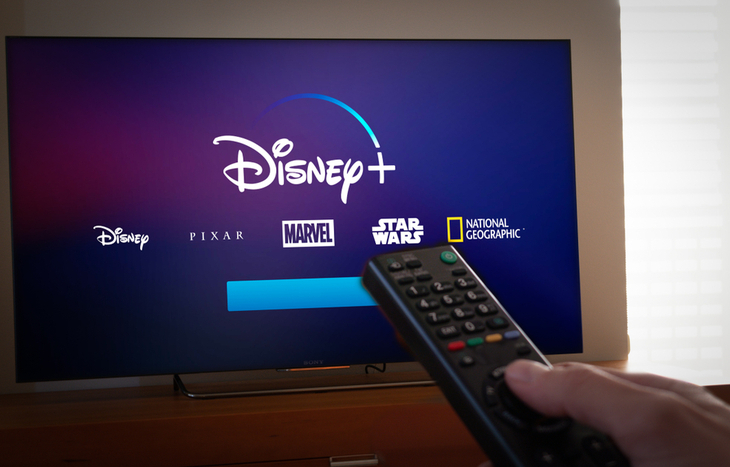 Disney+ launched today at a starting price of $6.99/month. An event that for many was long-awaited. The premier episode of the Star Wars series The Mandalorian dazzled many adoring fans. But, the launch did not go off without its problems. The familiar tune "be our guest, be our guest" was short-lived as new subscribers did in-fact put the service to the test.
Password reset issues, locked accounts and slow streaming are some of the issues noted by early adopters.
The technical issues however, did not seem to slow down the growth of Disney's stock price, which continues to show huge potential.
Disney Stock Continues to Rise
The option to bundle Hulu, ESPN and Disney+ ($12.99/mo.) opens up subscriber and earnings growth potential even more. Digital TV Research has said "Disney+ will be the biggest winner by taking its total to 101 million subscribers" by 2025.
If you are a Verizon customer, you can get the first year for free when you switch to Fios Home Internet.
The Disney+ service is available in the following countries:
The United States, Canada and the Netherlands (November 12, 2019)
Australia and New Zealand (November 19, 2019)
The United Kingdom, France, Spain, Italy, Germany and Ireland (March 31, 2020)
An increase in revenue and margins has caused the price of Disney shares to rise more than 40% since 2016. The success of the Disney+ service will certainly have a major impact on the future of Disney stock (NYSE:DIS).
In addition to their direct-to-consumer streaming service, Disney will continue to rely heavily on Cable Networks, Broadcasting, Parks, Studio Entertainment and Corporate revenue streams.
The strong growth Disney has seen is also being passed on to shareholders, most recently to the tune of a semi-annual cash dividend of $0.88 per share.
More on Disney Stock Growth and Disney+
During last Thursday's Earnings Results Webcast, Chairman and CEO Robert Iger reported "Our solid results in the fourth quarter reflect the ongoing strength of our brands and businesses". "We've spent the last few years completely transforming The Walt Disney Company to focus the resources and immense creativity across the entire company on delivering an extraordinary direct-to-consumer experience, and we're excited for the launch of Disney+ on November 12."
With more and more streaming services on the rise, investors should keep a close eye on Netflix, Amazon Prime and now Disney+. We are still early on in the streaming wars, and you might be asking "which of these stocks has the best chance to succeed?" In the words of Han Solo – "Never tell me the odds!"

To find out more about How to Invest in Stocks. or other Investment Opportunities, sign up for our Investment U E-Letter above or below.
---