A Dutch Bros IPO is coming to the market. The coffee chain announced it has confidentially filed to go public.
So will Dutch Bros be a good investment? Let's take a look…
Dutch Bros IPO: About the Business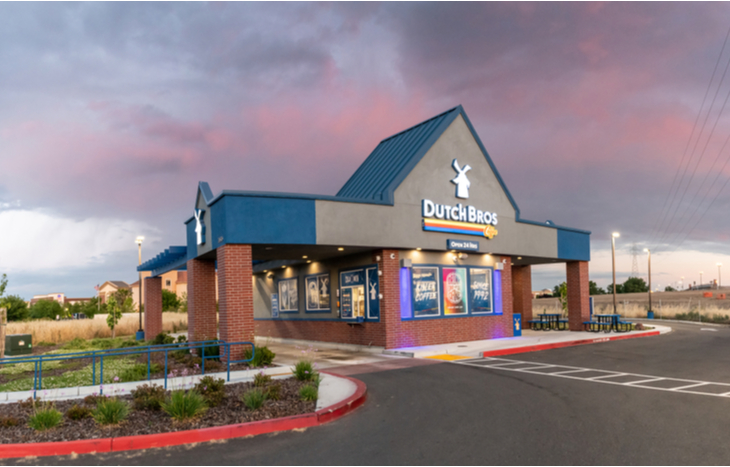 Dutch Bros was founded in 1992 by Travis and Dane Boersma. The brothers were in the family dairy business, and they were looking for a way out after industry changes. The company started as a coffee stand in 1992 in Grants Pass, Oregon…
They started with 100 pounds of beans, a double-head espresso machine, and a pushcart by the railroad tracks dispensing as many free samples as possible. By 1996, Dutch Bros had six locations and welcomed its first franchisee in 1998.
By 2009, the brothers had grown a chain of small coffee kiosks to 150 locations. Dane Boersma passed away that year from Lou Gehrig's disease. Travis continued to run the business, and it grew rapidly.
Today, Dutch Bros has over 470 locations in 11 states, ranging from Washington to Texas. At this coffee chain you can find coffees, mochas, lattes and other espresso-based variations. But the menu goes beyond coffee, offering energy drinks, smoothies and other frozen drinks. Today, Dutch Bros is the largest privately held drive-through coffee chain in the United States.
Coffee Segment Took Hardest Hit During Pandemic
Dutch Bros continued to grow despite the pandemic. The company opened 72 new locations and added 3,000 employees in 2020.
Coffee became one of the hardest-hit segments during the pandemic, as commuters opted to work from home instead of on the road. 24% of the coffee market was wiped out when industry sales plunged by $11.5 billion.
Bloomberg reported that independent coffee shop sales would decline by 12% last year. Starbucks' same-store sales were down 40% at one point. Allegra Group estimates that coffee chains will take two years to recover from the effects of the pandemic. And the Dutch Bros IPO could be a sign of the coffee segment on the road to recovery.
Dutch Bros Plans for Expansion
In 2018, Dutch Bros announced that the company sold an unspecified stake of the business to a private equity firm, TSG Consumer Products.
When talking about the future, Travis Boersma mentioned…
Our goals, mission and core values remain the same. TSG is the fuel to the fire, providing us with the intellectual capital, experience and expertise needed for Dutch Bros to continue to create memorable experiences and make a massive difference in people's lives.
At the time, Dutch Bros said it hoped that the partnership with TSG's expertise and resources would help the company grow to 800 locations in five years.
Dutch Bros IPO Filing is Confidential
Last month, the company announced that a Dutch Bros IPO was in the works. The Oregon-based company has confidentially submitted paperwork to the Securities and Exchange Commission (SEC). ​​In other words, the IPO date, price range and offer shares are unknown. Additionally, the company didn't announce a market or ticker symbol.
Citing unnamed sources, Bloomberg reported that the Dutch Bros IPO post valuation would give the company a $3 billion market value. The Oregonian reported that the valuation could make it the biggest IPO in Oregon history.
If you're interested in other investment opportunities in the industry, check out these top coffee stocks of 2021.
As always, make sure to research before you invest. IPOs can be volatile for the first few months. And share prices can change quickly. But if IPO investing interests you, check out our top recent IPOs and our IPO calendar. We update it daily to give you the latest news on upcoming and filed IPOs.
If you're looking for the latest investment opportunities, consider signing up for Liberty Through Wealth. This free e-letter is packed with market insights from leading experts.
You'll hear directly from bestselling author and investment expert Alexander Green. He's also worked as an investment advisor, research analyst and portfolio manager on Wall Street for 16 years.
---
Aimee Bohn graduated from the College of Business and Economics at Towson University. Her background in marketing research helps her uncover valuable trends. Over the past year, her primary focus has been researching IPOs and other trends.