Tech Stocks
Why FAANG Stocks Are an Investing Powerhouse
Did you hear about FAANG stocks and wonder what they are? No, it's not about investing in vampires, although that would be cool. Investing in FAANG stocks means taking a bite – sorry couldn't resist – out of some of the very best companies on the market.
What are FAANG Stocks?
The acronym "FAANG" in "FAANG stocks" represents five of the leading American technology stocks on the market:
In other words, the crème de la crème of social media, e-commerce, computer and phone hardware, streaming media, and internet search. FAANG stocks are all core areas of the modern technology sector.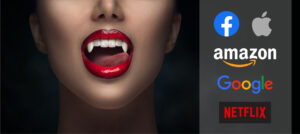 Origin of the Name "FAANG" Stocks
The moniker "FANG stocks" was originally coined by the famous Jim Cramer of the CNBC show Mad Money. He coined the term back in 2013 saying that these firms are, "totally dominant in their markets."
Originally the term excluded Apple but was amended to include it in 2017. That's when the acronym changed from FANG to FAANG.
Variations
There have been other variations of the term proposed throughout the years since Cramer's coinage. Here are some examples of these:
June of 2017: The investment banking powerhouse Goldman Sachs proposed the acronym FAAMG to represent Facebook, Amazon, Apple, Microsoft and Google.


.

October of 2017: Financial giant Bank of America suggested that chipmaker Broadcom and digital media and marketing software firm Adobe should be included in the acronym to create FAAANG stocks.


.

July of 2018: Publishing institution the Financial Times proposed MAGA – Microsoft, Apple, Google, Amazon – as a play on the success of the Trump economy.


.

August of 2018: Jim Cramer suggested that FAANG be changed to WANG – to include Walmart, Apple, Netflix and Google.
I'm rather glad that people did not change FANG stocks to WANG stocks. Though I can see the merits of including Walmart. Walmart's e-commerce business has been transformed to be a true competitor of Amazon, after all.
Advantages and Disadvantages of Investing in FAANG Stocks
It's not only the case that the FAANG stocks represent insanely famous and popular companies. It's also that they are some of the largest in the entire world. They have a combined market cap of over $4.1 trillion dollars as of this month.
Compare that with the overall U.S. stock market which is worth about $34 trillion. That's about 10% of the overall market.
Four of the FAANG stocks are included in the top 10 of the S&P 500. 
Advantages
One advantage of investing in FAANG stocks is that you get to play on some of the other most innovative technologies on the market. For example, Google is a major player in artificial intelligence and self-driving cars. And Amazon and Apple are both major players in the Internet of Things.
Other important tech trends that you can take advantage of with these stocks include streaming media, the cloud and smart home technology.
Disadvantages
There are also disadvantages that could harm FAANG stocks in the future. For example, they tend to have exposure to regulatory scrutiny.
For example, the government has been investigating whether Google has been engaged in anti-competitive business practices. And companies like Google and Facebook have also been criticized for data privacy and security concerns.
In addition, Netflix is facing increased competition in the streaming media landscape. For example, even Apple has been getting in on streaming media. And other companies like Hulu and Disney have been making major inroads.
Some analysts also suggest that FAANG stocks are currently a bubble. Therefore, they are way overpriced. Could this be the case or is the overall performance of these stocks justified?
Performance
It's easy to come to the conclusion that their incredible financial performances have justified the stock prices, though. Take a look at their stock gains over the past 10 years:
Facebook: 537%

Amazon: 1,197%

Apple: 752%

Netflix: 3,257%

Alphabet (Google): 332%
FAANG stocks have been outperforming the broader stock market over the past few months. Some of this is due to the reaching of a first-phase trade deal between the U.S. and China.
Components of the FAANG Stocks Group
Let's take a look at each individual component of the FAANG stocks group:
Facebook
Facebook – the "f" in FAANG stocks – is the world's largest social media network with 2.5 billion users. Plus, the social media stock has expanded beyond its core platform into products like the chat app WhatsApp, the image-sharing social media tool Instagram and Oculus VR virtual reality gear. So it's a true social media powerhouse.
Over the past year, the timeline titan has grown its share price from $145.70 to to around $210 for a return of approximately 44%. It's done so by posting strong year-over-year revenue growth for each quarter since December of 2018, upwards of 25%.
On the other hand, Facebook tumbled this week a bit on its quarterly earnings report. Despite bringing in $21.08 billion in additional revenue yielding an earnings per share of $2.56, net income only increased 7% year over year. As a result of increased expenses growing to $12.2 billion, the share price dropped about 15 points from yesterday's close of $223.23.
Amazon
Amazon – the first "a" in FAANG stocks – is a business-to-consumer (B2C) e-commerce juggernaut, with more than 120 million products for sale. It has over 150 million active U.S. customers. More than half of these, including this present author, pay for monthly Amazon Prime memberships. 
As a book nerd, I truly appreciate Amazon's "humble" beginnings as an online bookseller. Not only is Amazon now THE player in e-commerce, it also is a major leader in cloud computing solutions. And Amazon Web Services has been a major driver of the company's growth.
Amazon also offers online streaming media including movies and music (although I tease my friends who use Amazon over Spotify for music mercilessly), as well as consumer electronics devices like the Kindle and the Echo.
Over the past year, Amazon's share price has grown by about 17%. It is currently trading around $1,860.
Apple

Some have argued (including me) that Apple – the second "a" in FAANG stocks – isn't the innovative hub that it once was under co-founder and former CEO Steve Jobs. Nevertheless, it's still FAANG-worthy as the purveyor of everything from iPhones to iPads and iPods (I still use the latter). It's also in the businesses of streaming music, smartwatches, streaming television and more.
Despite my pessimism about Apple's innovative future, I can't deny that its stock price has been anything but electric over the past year. It climbed from a 52-week low of $160.23 by about 112% to around $325. The company is flush with cash and still in a strong position to continue its growth moving forward.
Netflix
Netflix – the "n" in FAANG stocks – has a smaller market cap than the rest of these at only around $150 billion. But its still a super Wall Street stock due to its incredible subscriber growth rate, as well as its overall industry disruption.
The company currently has more than 150 million subscribers. And the price those subscribers pay for streaming is currently between $8.99 and $15.99 per month.
Costs associated with producing original content are something to watch. But c'mon, who wouldn't shell out a lot of money to produce Henry Cavill as The Witcher?
However, over the past year, Netflix's share price has only grown by about 37%. This is great, but not as spectacular as Apple, for example.
Netflix is currently trading around $340.
Google
Google – the "G" in FAANG stocks – is the world's most popular search engine. It happens to own the second most popular one as well, which is YouTube's search engine. But it's so much more than just search engines.
Google is smart cities, biotech, self-driving cars, artificial intelligence and more.
Over the past year Google's share price has grown by about 55%. It is currently trading around $1,440. Watch for Google's earnings report on February 3 after market close to see if the search engine superstar keeps up its performance.
How to Invest in FAANG Stocks
It's easy to invest in FAANG stocks! All you need to do is use an online brokerage account like E-Trade or Robinhood and buy shares of whichever FAANG(s) you want. However, it's worth noting that these aren't cheap stocks.
Mutual funds or ETFs could be another way to go. Here are some FAANG-heavy ETFs you may want to watch:
Invesco QQQ Trust (Nasdaq: QQQ)

: 30.3% share in FAANGs

iShares Russell 1000 Growth ETF (NYSE: IWF):

20.7% share

iShares North American Tech-Multimedia Networking ETF (NYSE: IGN):

37.3% share

iShares Evolved U.S. Technology ETF (CBOE: IETC):

27.7% share
Whether you invest directly in FAANG stocks or purchase shares of a heavily weighted ETF, these are stocks you'll want to watch all year round. There's no sure thing in the stock market, but you can bet that these companies will continue to be heavy hitters for a long time to come due to their overwhelming market dominance.
To keep up with the latest info on FAANG stocks like Amazon, Apple and Google, be sure to subscribe to the Investment U daily e-letter by entering your email address in the field below. Happy investing!
---
Brian M. Reiser has a Bachelor of Science degree in Management with a concentration in finance from the School of Management at Binghamton University.
He also holds a B.A. in philosophy from Columbia University and an M.A. in philosophy from the University of South Florida.
His primary interests at Investment U include personal finance, debt, tech stocks and more.