Tech Stocks
FuboTV Stock: Live Sports & Streaming – Does It Get Any Better?
FuboTV stock is advancing after another impressive earnings. But can the sports streaming company continue its dominant growth?
It's football season again, and you know what that means. Sundays are dedicated to watching the games. Yet, this season may look different to many viewers, with over 5 million people cutting their cable subscriptions in 2020. The decision leaves fans looking for other options to watch the game. Many choosing the FuboTV (NYSE: FUBO) streaming app.
FuboTV Inc. offers streamers the chance to watch live sports, TV, and movies with over 100channels. Users can select from different plans, each offering a unique experience for the viewer.
Another 27% of cable TV subscribers plan on ending their subscription this year. Is this the opportunity FuboTV has been waiting for?
Let's take a deep dive into what FuboTV stock investors can expect from the highly anticipated sports streaming app.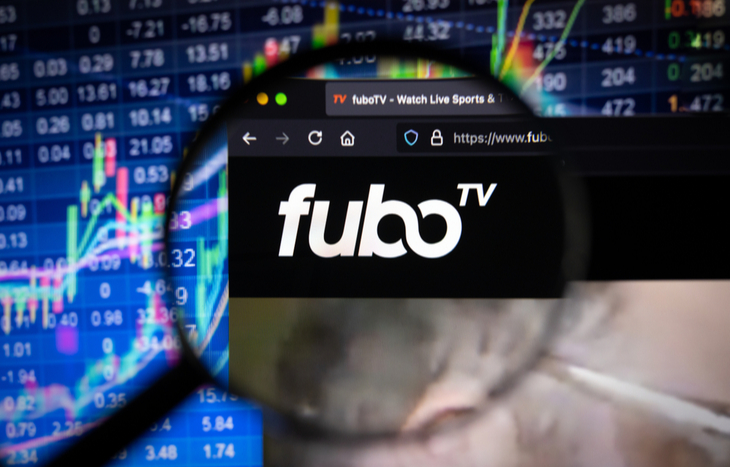 The Right Business
We all know 2020 disrupted several industries, forcing businesses to either adapt or get left behind. Not only that, it accelerated trends already developing before the pandemic.
One of the biggest trends investors noticed is the rapid transition to streaming still underway today. FUBO stock investors are hoping the company can capitalize on the growing streaming market.
FuboTV has a unique advantage over much of the competition in live sports. Not only is the streaming market set to reach nearly $843 trillion by 2027. But sports are also still the leading category for primetime TV programming. Furthermore, 90% of sports fans admitted they were willing to pay for sports programming. It sounds like a match made in heaven.
FuboTV Inc. Targets Disruptive Growth
The good news for investors is that FuboTV is on a mission to expand. In a recent interview, Fubo CEO David Gandler predicted that 40-50 million consumers will subscribe to certain streaming services in the next five years. Also he believes FuboTV can capture around a 10% share of the market. Here's what the company is doing to make that happen.
Launching Fubo Sportsbook. In January, the company announced it was buying sports betting company Vigtory. Fubo is busy using the company's technology to build its own sportsbook, launching in Q4. The move can be huge for FuboTV, with a record 45.2 million Americans planning on betting on this year's NFL season. A 36% increase from last year.
Root Sports Northwest Broadcast. The sports streaming company recently reported they would be adding some regular-season games to select customer's plans. The teams included are the Seattle Mariners (MLB), Seattle Kraken (NHL), and Portland Trailblazers (NBA). The games will be available to everyone in Washington, Oregon, Montana, Alaska, and select parts of Idaho.
Free to Play Games. Vigtory also gave them exclusive access to innovative gaming ablities. The free-to-play games platform was in testing up until now. Free-to-play games offers users the ability to stream sports, track stats, and play games on one screen.
Availability. The sports first streaming app now offers its services on VIZIO (NYSE: VZIO) SmartCast TVs. With that being said, FuboTV is now essentially available on all major streaming devices. More availability can help increase FuboTVs exposure.
All these are significant developments in FuboTVs mission to five million subscribers.
FuboTV Stock – Earnings Growth
A bright spot for Fubo stock investors is the impressive growth the company is achieving. Advancements are being made in several aspects of the business. The second-quarter earnings report is another step in the right direction for the growing company. Here are some highlights.
Record Revenue. FuboTV reported a record total revenue of $130.9 million. A 196% increase from the previous year. The company has been steadily growing its revenue since the beginning of 2020.
Subscriber Growth. When it comes to streaming companies, subscriber growth can be a helpful metric to track. In Q2, FuboTV added nearly 92,000 new paid subscribers. This brings the total number to 681,721. A 138% increase YOY.
Advertising Revenue. Strong ad revenue can give growing companies a stream of funds to boost growth. FuboTV ad revenue exploded in the second quarter to $16.5 million. A 281% growth from the previous year.
Engagement. Total engagement on the Fubo app reached a record 245 million streaming hours. Growing over 148% from the prior year.
Net Loss. Despite the strong growth experienced in Q2, the company lost $94.9 million.
Without a doubt, this quarter shows FuboTV is making the right moves to position the company for future growth. Furthermore, several key metrics are trending in the right direction. If the company keeps growing at this rate, they will soon become a household name.
FuboTV Stock Forecast – What's up Next for the Live Sports Streaming App
Lately, it seems like everything is going right for FuboTV with new partnerships, record earnings, and exciting new products on deck. FuboTV stock is up over 230% in the past year, but most of that growth came in 2020.
The stock is currently sitting just below $26 a share. With major developments progressing this year, will FuboTV stock price reflect the improvements?
Believe it or not, Fubo stock is currently trading at a discount to the lower end of the FUBO price targets. With the median price target at $42 a share, it reflects over 70% upside potential for instance. This upside can present a reasonable risk reward scenario for long-term FuboTV stock investors.
But, it's possible Fubo could slow its current pace. In that case, investors better get ready for a volatile second half of the year. With earnings coming up on Nov 12th, we should get a better idea of FuboTV's future growth potential.
Streaming is an industry set for massive growth as individuals make the switch from traditional cable. Get the latest insights on FuboTV stock and more by signing up for Trade of the Day. The free e-letter comes packed with valuable tips to help make you a more profitable investor. Sign up today!
---
Pete Johnson is an experienced financial writer and content creator who specializes in equity research and derivatives. He has over ten years of personal investing experience. Digging through 10-K forms and finding hidden gems is his favorite pastime. When Pete isn't researching stocks or writing, you can find him enjoying the outdoors or working up a sweat exercising.