Are you trying to learn how to research stocks for the first time? Or, is your current process not working for you? For better results, you have come to the right place.
This simple guide will give you a step-by-step process to help you determine which stocks are the best fit for your portfolio. By using fundamental analysis points, you will learn more about the company's financials, leadership, main competition, reputation and more.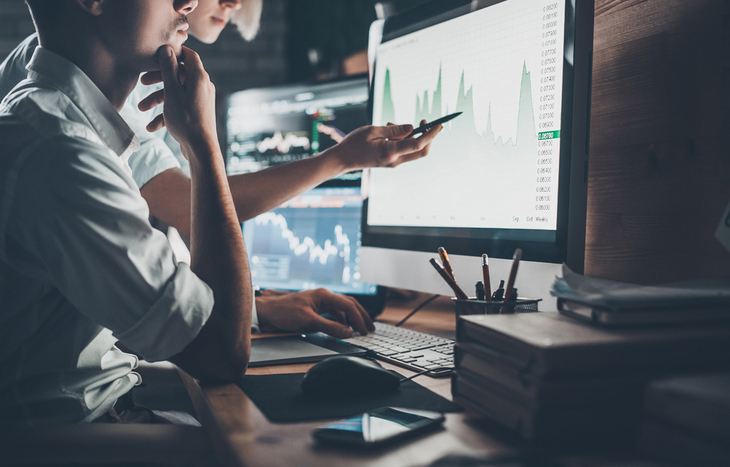 How to Research Stocks and Choose Good Investments
Doing your research can be overwhelming for anyone. Whether you have years of experience or are a younger investor, this process can be difficult. However, it's very important to understand which analysis points matter and which ones don't.
Overall, you can't determine what to invest in until you determine how much money you have to invest. This will help you decide the amount of risk you are willing to take on.
In general, a diversified mix of stocks has less risk than buying an individual stock. And day trading individual stocks is hit or miss. You can quickly reap in big returns, but you can also lose everything.
Once your budget is in place, you can learn how to research stocks that meet your specific investment strategy. This five-step guide will go over company financial reports, industry analysis, leadership and reputation. The final step is to ensure the company's values align with your own, which is integral in deciding if it's a viable stock to invest in.
1. Analyze Company Financial Reports and Results
Every publicly traded company is required to publish financial reports. This information is commonly available on the company's website under news or press releases. The company may also provide a section on their website specifically for investors.
You can also search the U.S. Securities and Exchange Commission (SEC) filing database. The SEC's mission is to protect investors while maintaining a fair, orderly and efficient market. The database includes information on each company's registration statements and periodic reports.
You can't learn how to research stocks without having a complete understanding of the company's financials. These reports provide key financial indicators that you will need to take note of. For example, these key indicators include:
Net Income: The company's revenue minus expenses, depreciation, taxes, interest and more.
Price-to-Earnings (P/E) Ratio: This is the company's current share price against its per-share earnings.
Return on Equity: You have to do a little work here. Divide the net income by the shareholders' equity and you will see how well the company is using investor money to increase profits.
Income Source: There should be a section in the financial report that gives an overview of where the company is making money.
Risk and Outlook: Each report will compare its results with past revenue. Use this data, along with current cash flow, to have a better understanding of the future outlook.
All of this data has value. But, you will have to take this data and determine its risk for your specific portfolio.
Everyone is different, and a stock that works for your portfolio may not work for someone else. This is why many investors learn how to research stocks in different ways.
2. Examine the Industry
The financial data is a great starting point. Yet, it's only one piece of the puzzle. Next, begin to research the company's industry at large.
What is the market cap within the industry? Is the industry growing or is it shrinking? Is there any outlying factors affecting the industry at this time? These are the questions you need answers to.
You should also do your research on the company's main competition. How do their financial reports compare? How do their products stack up and at what price point?
This step will give you a lot of answers. In addition, you will begin to understand where the company can improve and where it's ahead of the competition.
3. Research Company Leadership
Strong leadership is the foundation to a successful company. Without an executive team and a plan for the business, it's going to be very difficult for the company to function.
This is the step where investors also have to be investigators. Investigate the leadership team as much as you can. Learn about their experience, their resume, background, past decisions and any issues or concerns. Mark any red flags that you find for further analysis.
4. Explore Company Reputation
When learning how to research stocks, the company's reputation is often overlooked. However, outside opinions can tell you a lot about a business. Look into expert reviews of the company and scroll through a few pages of customer reviews as well.
Search the company on Google and check recent news to see if anything critical comes up. How is the company interacting with its community? Was there a recent dispute or employee layoffs? This information can give you more clarity for future expectations.
5. Compare Company Values to Your Own
You now have plenty of useful information. The final step is to determine if the company's values and ethics match your own.
Go back to the company website and learn more about their mission statement. You will also find information on the company's business practices and code of ethics.
Does their mission and code of ethics match up with the recent news reports from step four? If not, you may not want to invest in the business.
I strongly do not suggest investing in a business that you are not comfortable with yourself. Make sure the company conducts itself in a manner that aligns with your own values.
Learn How to Research Stocks Effectively
The more data you have the better investment opportunities you can find. With our experts at Investment U, you can learn more about the latest stock market trends. Sign up for our free e-letter below for daily insights into trending companies across the country.
With this step-by-step-guide, you can build a portfolio that you're proud of. In fact, learning how to research stocks is fundamental to making money in today's market.
---
Corey Mann is the Content Manager of Investment U. He has more than 10 years of experience as a journalist and content creator. Since 2012, Corey's work has been featured in major publications such as The Virginian-Pilot, The Washington Post, CNN, MSNBC and more. When Corey isn't focusing on Investment U, he enjoys traveling with his wife, going to Yankees games and spending time with his family.