Tech Stocks
IBM Stock Review: Transforming to Become a Leader in Cloud Solutions
International Business Machines Corporation, or simply known to most as IBM (NYSE: IBM), has transformed its business in a way only a few corporations could imagine. The transformation is beginning to pay off as IBM's latest earnings report hints the company is on track to continue expanding. The news has IBM stock investors excited about the company's potential to develop into several high-growth industries.
On April 6, 2020, IBM appointed Arvind Krishna to become the company's next CEO and leader for the future of the IBM brand. Krishna, former Senior Vice President for Cloud and Cognitive Software, played a pivotal role in the company's key technologies like the hybrid cloud and artificial intelligence before being appointed.
The move has already started to pay dividends to the company as IBM's hybrid cloud platform is firing on all cylinders, accelerating its growth in the latest earnings report.
What can investors in IBM stock expect next? The new CEO has the business solutions giant on the right path, and the transformation is coming together quicker than anyone could have imagined. We'll discuss what's up next for IBM's stock price in this IBM stock review.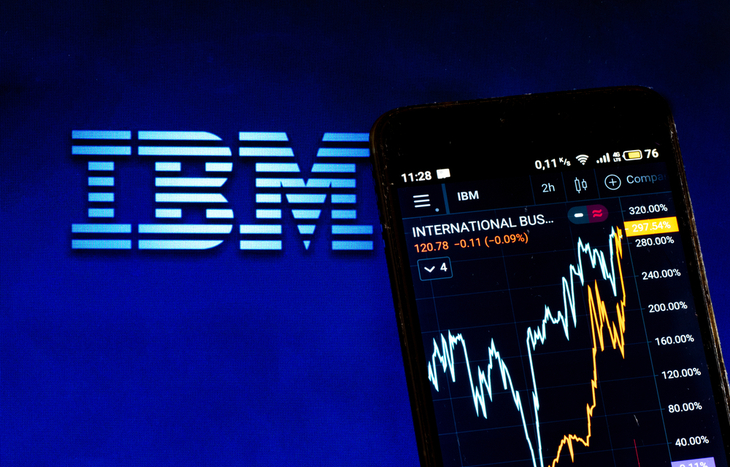 IBM's Business Breakdown
Arvind Krishna is determined to help the company become the next leader in business cloud solutions and artificial intelligence. These represent two of the most widely anticipated industries set to experience rapid growth. IBM's research sees the hybrid cloud solutions market being worth over $1 trillion alone.
With the company's acquisition of Red Hat in 2018, IBM is now seeing that vision come to life. Red Hat saw significant growth in 2020, with revenues growing 18% and the company's backlog overflowing with a record $5 billion in orders.
The second quarter was an impressive one for IBM, with growth across several key business segments and telling for the company's future. In addition, total revenue grew 3% to 18.7 billion, and the company shed over $6 billion in debt.
Cloud & Cognitive Software
IBM provides customers with an all-in-one cloud solution to help businesses cost-effectively scale their business. Some of the services include:
Data storage
Analytics
Artificial intelligence
Cloud computing
The company's innovative hybrid cloud solution is one of the company's primary revenue drivers, with cloud revenue up 29% in the quarter. Cognitive applications also grew significantly in the quarter by 12%. The growth is attributed to a higher demand for artificial intelligence solutions like customer service and machine learning applications.
Global Business Services
The company's business service segment was another bright spot in the Q2 earnings report. IBM's business solutions include:
Consulting
App management
Digital solutions
Outsourcing services
Revenue in this segment grew 11.6% to $4.3 billion, with growth in every category. Meanwhile, outsourcing solutions grew 28% and consulting services increased 16% in the quarter. IBMs consulting services can help businesses select the right products to align with the company's mission. Also, outsourcing can allow companies to grow and expand while remaining within the budget.
Global Technology Services
Technology services are becoming increasingly more essential for a business to meet the high demands of consumers. IBM's tech services include:
Tech support
Infrastructure
Cloud services
To have data stored on the cloud, you first need the hardware to set it up. This is referred to as cloud infrastructure. The segment was essentially flat for the quarter, with no significant growth or decline in revenue to note.
IBM has other segments such as Systems (-7.4%) and Global Financing (-8.6%) that are less significant in terms of revenue.
IBM Stock Recent Developments
It's an exciting time to be an IBM investor as the company aligns its corporate strategy with the future of business and technology. Here are a few updates on the company's latest progress.
Acquisitions – Several notable acquisitions have given a significant boost to IBM's core business. Most noteworthy being the red hat acquisition, allowing them to capitalize on the massive opportunity within the cloud solutions industry. Research from Gartner forecasts public cloud services to grow over 23% in 2021 to $332.3 billion.
Dividend Yield – Not only is IBM transitioning its business for optimal growth, but it also pays a rewarding dividend to investors. IBM's dividend yield is currently 4.75%, paying $1.64 quarterly.
Potential IBM Watson Health Sale – According to several sources, IBM may be searching for a buyer for its Watson Health division. The move comes as IBM is shifting its focus towards cloud computing.
Sumo Logic Collab – IBM and Sumo Logic are expanding their partnership, solidifying IBM's position in the hybrid cloud market. The partnership makes it easier for companies to grow their business with enhanced performance monitoring and security.
Analyzing IBM Stock Performance– Is It a Buy?
In conclusion, IBM has been doing a lot of things right to revamp the business. The new CEO has made it very clear the company is focusing on hybrid cloud solutions and artificial intelligence to align the business with the future of technology in the workplace. With the right acquisitions and partnerships, IBM is now positioned to capture a fair share of the growing cloud market. So does that mean IBM stock is worth buying right now?
IBM's stock price is up over 20% in the past year but has still not broken out to the all-time high price of $215.90 per share achieved in March 2013. IBM's stock price today is just over $138 and looks to be building a base for the past several years bouncing between the ranges of $110 – $160.
With IBMs latest business enhancements, it has the potential to break out and reach all-time highs. However, the value will be determined if investors buy into the new plan and if IBM can deliver on its promise.
Finally, if you enjoyed this IBM stock article, make sure to sign up for our Trade of the Day e-letter below. This free newsletter comes packed with valuable insights on some of the most exciting investment opportunities today. Join now!
---
Pete Johnson is an experienced financial writer and content creator who specializes in equity research and derivatives. He has over ten years of personal investing experience. Digging through 10-K forms and finding hidden gems is his favorite pastime. When Pete isn't researching stocks or writing, you can find him enjoying the outdoors or working up a sweat exercising.