The Kaltura IPO has hit the market. The open-source video platform began trading on July 21. Here are the details on the KLTR stock…
Kaltura IPO: The Business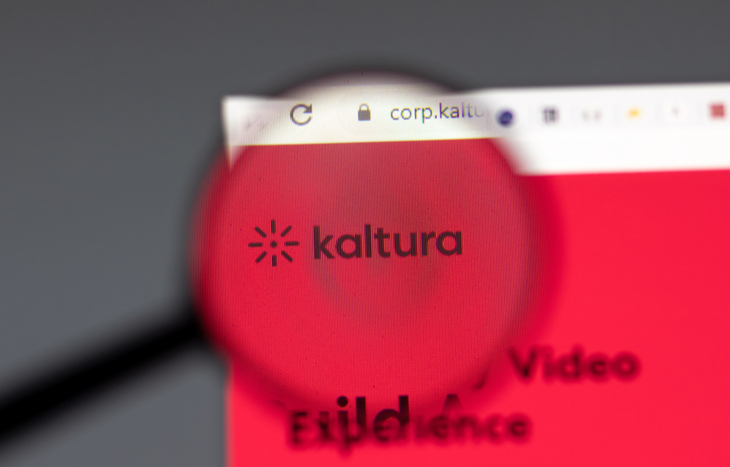 Kaltura is a New York-based video management platform that allows users to upload, manage, share, publish and stream videos.
Ron Yekutiel, Michal Tsur, Shay David and Eran Etam founded the company in 2006. And they set out with the goal of modernizing video for the consumer. As stated on the Kaltura website…
When we founded the company in 2006, we believed video was going to be a more powerful and engaging data type than text. We saw video as a way to revolutionize the way we all communicate, collaborate, work, learn, and entertain by making video a seamless, accessible part of our organizations and our lives.

More than a decade later, we strive to offer the most powerful and flexible Video Experience Cloud in the market. We make it easy to use video for any purpose, supporting organizations and people around the world as they make an impact with their media.
Kaltura's mission is to power any video experience for any organization. The company's Video Experience Cloud powers live, real-time and on-demand video products. These include video portals, town halls, webinars, and virtual events for all industries. It's used by leading brands to reach millions of users. And those users area applying it in collaboration, training, business, teaching and entertainment processes. Kaltura also provides industry-specific video solutions for enterprises, educational institutions, developers and media companies.
Now that we have gotten a glimpse into the business, let's explore some financial data for the Kaltura IPO…
Financial Data
Detailed financial information is in the prospectus. It allows investors to gain key insights into the company's finances. But here are some highlights worth noting:
The company's balance sheet data can be summarized as follows…
Revenue: The company recorded an increase in revenue. Kaltura recorded $97.3 million in revenue in 2019. At the end of 2020, Kaltura's revenue increased to $120.4 million. In just one year, that's close to a 24% increase!
Gross Profit: Kaltura's gross profit has increased over the last year. The company recorded a gross profit of $61.7 million in 2019. And $72.8 million for the year 2020 – an 18% increase.
Net Loss: The company's recorded net loss has increased. At the end of 2019, the company generated $15.6 million in net losses. But for 2020, the company's net losses rose to almost $38.7 million – an increase of 148%.
Cash: As of December 31, 2020, Kaltura reported $27.7 million in cash on hand.
Total Assets: As of December 31, 2020, Kaltura reported almost $91 million in total assets.
Kaltura's balance sheet reveals accelerating growth in terms of revenue and gross profit. But there's one problem…
In its 15 years of existence, Kaltura has never turned a profit. The company has incurred losses each year since 2006. And it doesn't look like things are improving. Year-over-year net losses are growing. In Kaltura's prospectus filing, the company stated that it may not be able to achieve profitability.
The company reported that it has an accumulated deficit of $243.2 million as of December 31, 2020. The company highlights plans to offset debt and increase revenue by growing business operations and scaling out its products and services. But the company disclosed that costs could be more than they bargained for. And they may not be able to offset expenses.
Use of Proceeds
Under the section "Use of Proceeds," Kaltura wrote…
The principal purposes of this offering are to increase our capitalization and financial flexibility, create a public market for our common stock and enable access to the public equity markets for us and our stockholders. We intend to use the net proceeds from this offering for general corporate purposes, including working capital, research and development, sales and marketing activities, general administrative matters, operating expenses and capital expenditures.
To get better insight on the company's finances and use of proceeds, you can check out the Kaltura IPO prospectus. And for those interested in KLTR stock, let's look at the details.
Kaltura IPO Details
Kaltura filed a S-1 registration statement with the Securities and Exchange Commission (SEC) on March 1. The company set its terms for the Kaltura IPO on March 23.
The Kaltura IPO priced at $10 a share, at the midpoint of their expected $9 to $11 price range. Kaltura made its debut on the Nasdaq Exchange on July 21 under the ticker KLTR. Shares opened Wednesday at $11.50 and closed at $12, up 20% from the offer price. The company raised an estimated $150 million at a $1.3 billion market cap. This made the Kaltura IPO one of the largest tech IPOs of the year.
The lead underwriters of the deal are Goldman Sachs and Bank of America. Wells Fargo Securities and Deutsche Bank are also acting as book-running managers for the offering.
As always, make sure to research before you invest. IPOs can be volatile for the first few months. But if IPO investing interests you, check out our top recent IPOs and our IPO calendar. It's updated daily to give you the latest news on upcoming and filed IPOs.
If you're looking for the latest investment opportunities, consider signing up for Liberty Through Wealth. This free e-letter is packed with market insights from leading experts. You'll hear directly from bestselling author and investment expert Alexander Green. It's one of the easiest ways to stay on top of market news out there. All you need to do is enter your email address in the box below to get started.
---
Aimee Bohn graduated from the College of Business and Economics at Towson University. Her background in marketing research helps her uncover valuable trends. Over the past year, her primary focus has been researching IPOs and other trends.