Liquified natural gas stocks have potential and a promising future. Because of lower costs than other fossil fuels, LNG has a solid long-term outlook. It also has fewer emissions from production and combustion, which make it a better choice for sustainability.
On top of this, there's a shortage. When gas and oil prices rise, so do the gas and oil stocks.
The U.S. Energy Information Administration (EIA) predicts natural gas is going to rise for the rest of 2021 and into January 2022. Then it predicts prices will begin lessening.
Below, I've compiled a list of ten liquified natural gas (LNG) stocks for you to consider investing in…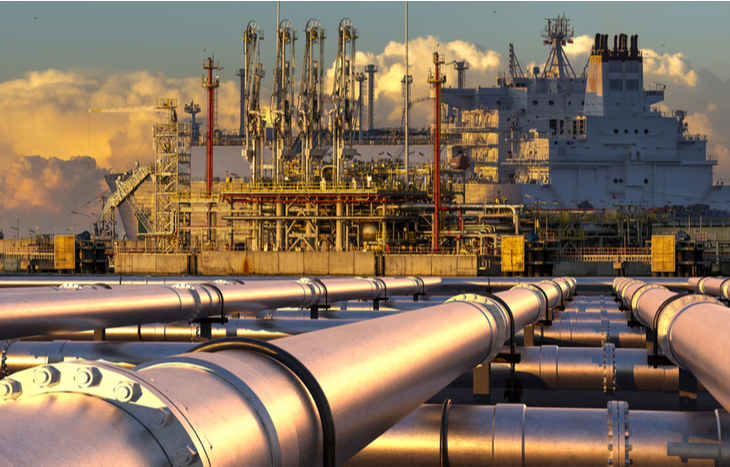 Best Liquified Natural Gas Stocks
Royal Dutch Shell PLC ADR Class A (NYSE: RDS.A)
Petronet LNG (NSE: PETRONET)
Tellurian Inc. (Nasdaq: TELL)
TotalEnergies SE (NYSE: TTE)
EQT Corp. (NYSE: EQT)
Kinder Morgan (NYSE: KMI)
Ovintiv Inc. (NYSE: OVV)
Cheniere Energy Partners LP (NYSE: CQP)
Oil and Natural Gas Corp. Ltd. (NSE: ONGC)
NextDecade Corp. (Nasdaq: NEXT)
Liquified Natural Gas Stocks to Buy
Royal Dutch Shell PLC ADR Class A
Shell, the gas station you might know well, had a big decline in March 2020. And then again in September to October 2020. Although, this oil stock is climbing again, and looks healthy.
Quarterly financials show its revenue, net income and net profit margin are up. They're up from last year's Q2. Revenue is up by over 86%. Net income is up by over 118%. Net profit margins is up by over 110%.
Shells' market cap sits at around $170 billion at the time of writing this. Also, Zacks ranks Shell Class A as a #2 (buy), and gives it an A ranking for Value.
Petronet LNG
Petronet is an Indian oil and gas company. It was created by the Indian government. And it has set up liquified natural gas imports and LNG terminals all around the country.
This liquified natural gas stock is in a slight downward trend beginning in 2020 into 2021. It's. been a bumpy ride but over the life of the stock there are large gains.
Revenue and net income are up, while net profit is down. That makes sense considering the short-term downward trend in the stock. Petronet's market cap is roughly ₹350 billion. Now might be a good time to get in, while the stock is low and on a bear correction.
Tellurian Inc.
Tellurian's HQ is in Houston, Texas. It has a focus on LNG. Its strategy is to secure low cost natural gas. Also to deliver LNG to global customers, and operate efficiently and safely.
It has a market cap of over $1.5 billion, and stock is turning into a bull from an all-time low. Much of 2020 saw the price hovering around $1. Then in 2021, it picked up to almost $4. Then a correction, and again, up to almost $5.
Quarterly revenue went up by 300.6% compared to last year. And net income and net profit margin also went up significantly compared to last year.
TotalEnergies SE
Total SE is another one of the top liquified natural gas stocks. It's multinational French oil and gas company, and was founded in 1924! Total is one of the supermajor oil companies.
Its market cap sits at around $120 billion. COVID was not nice to the stock, and it hit very low prices in 2020. These were prices this stock hasn't seen in decades.
But! That's great news for you because if you buy low, you might see bigger profits from this stock. It has been around a long time, and has been profitable for that time.
EQT Corp.
EQT's market cap is around $8 billion. It's an American energy company that deals with hydrocarbon exploration and pipeline transport. In June of 2021, EQT announced its new partnership with Cheniere. Cheniere might also a great company to invest in, as it's the largest producer of natural gas in the U.S.
EQT had a major low in February of 2020 and has been rising since then. If you're serious about buying liquified natural gas stocks, this might be a great company to invest in. You might make high returns.
Kinder Morgan
Kinder Morgan is one of North America's largest infrastructure companies. It has a market cap of around $40 billion. It specializes in owning and controlling pipelines and terminals that carry oil and gas.
Kinder's stock has been declining over the years, but many analysts still rate it as a buy. This liquified natural gas stock might have plenty of room to run higher.
Ovintiv Inc.
Ovintiv was founded in Calgary, Alberta. It was the largest energy company and largest natural gas producer in Canada. Now, it's in Denver, Colorado.
The stock has been on a decline since 2008. But, Zacks ranks Ovintiv with a #2 for buy, and an A for value, growth and momentum.
Revenue, net income and net profits are all up. Revenue saw a 142% increase compared to last year. This increase in in revenue should continue with the climb in oil and energy prices.
Cheniere Energy Partners LP
Chieniere is the largest U.S. producer of natural gas. It partnered up with EQT, mentioned above. EQT is providing this gas company with pipeline transport services.
Over all its time on the public market, Cheniere's stock looks nice and healthy. It keeps rising in recent years. It saw a dip in 2020, but it came back up. This still might be the perfect chance to seize the opportunity. Cheniere has a market cap of around $25 billion.
Oil and Natural Gas Corp. Ltd.
In Quarter 2 of 2021, Oil and Natural Gas Corp saw growth that blows my mind. Especially since it is such a large company. Ok, here it is…
Compared to last year, Oil and Natural Gas Corp had a net income increase of 4,898% and it reached ₹59.9 billion. It's net profit margin rose as well and the company has a market cap of around ₹2 trillion.
Don't get the correlation between the high rise and the market cap? You're here to learn. It's very unusual for large companies to grow so much in such little time. Usually, that's only in small market cap companies.
This company's revenue was also up 73%. The stock had a big bear in 2020, but it's rising steadily again.
NextDecade Corp.
NextDecade commits to creating a net-zero emissions future. It boasts that its LNG is the cleanest and greenest in the world. NextDecade has a pledge to use net-zero electricity from the power of the Rio Grande to pump its gas. It's currently developing a project in Texas.
NextDecade's stock seems to be rising again from a low in 2020.
Investing in Natural Gas and Beyond
Liquified natural gas stocks are predicted to rise soon from many different analysts. The EIA is predicting the price of gas to rise for the rest of 2020. Jump on a couple of these, or spread your cash over them all, and there's a chance you'll see high returns.
If you're looking for even better investing opportunities, sign up for Wealthy Retirement. It's a free e-letter that's packed with tips and tricks. You'll hear directly from investing experts that have helped tens of thousands of readers.
---
Vanessa Adelman graduated with an Interdisciplinary degree. She majored in Entrepreneurship, Painting, Music and Film. Shortly after, she received a copywriting mentorship with Mark Morgan Ford. Then, she earned her AWAI Verification. Now, Vanessa freelances in the financial direct response industry. She's been investing since 2016. In her free time, she enjoys books about money and wealth. She loves being with her boyfriend, hunting, fishing and going on outdoor adventures.