The stock market is still near its all-time high and this makes it hard to find good buying opportunities. Nonetheless, I scoured the market to find the best solar stock to buy right now. In the coming weeks and months these stocks might climb higher.
Check out the stocks I picked for you below. I'll show you some company highlights and why they might be good buys today…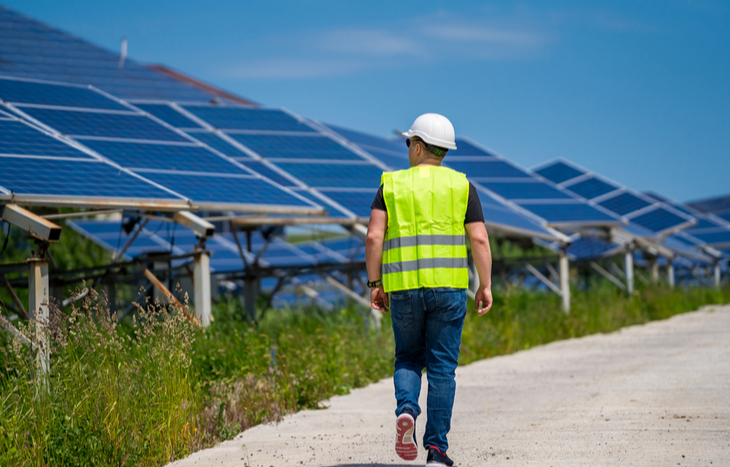 Best Solar Stocks
ReneSola (NYSE: SOL)
SolarEdge Tech (Nasdaq: SEDG)
Enphase Energy (Nasdaq: ENPH)
Solar Stocks to Buy
Enphase Energy
Enphase Energy is an American company with headquarters in California. It's an energy company that creates solar and energy storage solutions. It also makes software to control and watch your energy devices from the web.
It caters to homeowners, business owners and installation personnel. The website is also very useful. It offers a price estimator, community and network of installers. Plus, it has a course that comes with a certificate at the end.
Many analysts rank Enphase Energy as a "Sell." Although, this solar stock could easily surprise many of them. The business is growing rapidly…
Enphase has five-year historical sales growth of greater than or equal to 30%. This means sales have been growing by an average of 30% each year for the past five years. Usually, sales growth in larger companies have good sales growth rates at 5-10%. And smaller companies can more easily grow by 10%+.
But Enphase is a company with a $21 billion market cap. Thirty percent or more gain in sales, year over year, for five years is something to be very proud of.
The company's leadership also looks great. Everyone is competent with success in their own fields and backgrounds. They are all appointed to roles that match their experience. The CEO worked with Cypress Semiconductor for several years. (Check out these top semiconductor stocks.) He was even in charge of building Internet of Things businesses there.
On the valuation side, Enphase has a high P/E ratio right now but buying into this stock still might pay off. This company has a lot of room to grow with the solar industry.
SolarEdge Tech
SolarEdge Tech is a photovoltaics company. It's headquartered in Israel and provides solutions for power optimization, solar inverters and monitoring systems for solar arrays.
It also has a five-year sales growth history of 30% or better. As a result, investors have pushed up SolarEdge's stock price and its P/E ratio comes in around 100. That's high, and investors expect a lot more earnings growth. Although, investors might keep on pushing it higher.
Over the life of the stock, its price has come a long way. Since listing on a public market in 2015, it has gone up around 1,200%. It peaked at the beginning of January 2021 at $377. Since then, it had corrected back down close to $200, and is climbing back up now. It's closer to $260 today.
SolarEdge's leadership looks pretty good. Each leader is a good choice for the position. Keep your eye on SolarEdge, as it could continue to grow quickly and reward shareholders.
ReneSola
ReneSola is the best on this list. It's the only solar company listed on Zacks as a "buy" at the time of writing this.
Back in 2008, the company first listed on the market. Their stock soared to above $130.
It came back down, had a couple more peaks, then went into hibernation in 2017. It went all the way down to around $2. For about four years it slept, hovering back and forth between $1 to $2.
Then, in late 2020, it began rising again. January of 2021, it hit a peak of $35.77. It has corrected but might be coming back up again soon. Buying this solar stock right now could bring you huge returns.
ReneSola is a leading company in the solar power space. It does work on a global scale, in many countries. Those countries are part of Asia, Europe and North America. It's built "local professional teams" in 10 countries. And it's expanding beyond those.
The company offers solar project development, financing, management and maintenance. Also, leadership looks strong for much of the company.
In Q2 2021, net income is up over 125% year over year. Net profit margin is also up 218% year over year. Yet, revenue is down almost 30% from last year. This means it's doing a better job on making the sales it does have more profitable.
ReneSola has created a joint venture with Eiffel Investment Group. The company's called European Solar Energy Development and was created in May 2021. That new company has now acquired its first batch of solar projects, which totals 200 megawatts.
It also has lofty goals to develop 700 megawatts of solar projects in Europe in the next three years.
The company seems to work efficiently, too. In the span of four months, from June 2021 to September 2021, ReneSola acquired several large projects from Poland and Italy.
ReneSola is a great company in the solar energy space. It's helping to lead the solar industry higher.
Invest in Solar Stocks and More Opportunities
Solar stocks seem to be gaining popularity again. People are becoming more and more concerned about the environment. And solar power is a modern go-to for addressing the concern.
Investing in ReneSola, SolarEdge Tech and Enphase Energy might produce some nice returns. Buying in at the right time could give you even bigger returns on your investment.
Remember to do your due diligence on each company. And only invest what you can afford to lose. I wish you many big gains!
If you're looking for even better investing opportunities, sign up for Wealthy Retirement below. It's a free e-letter that's packed with tips and tricks. You'll hear directly from investing experts such as Marc Lichtenfeld. He's a bestselling author who literally wrote the book on getting rich with dividends.
---
Vanessa Adelman graduated with an Interdisciplinary degree. She majored in Entrepreneurship, Painting, Music and Film. Shortly after, she received a copywriting mentorship with Mark Morgan Ford. Then, she earned her AWAI Verification. Now, Vanessa freelances in the financial direct response industry. She's been investing since 2016. In her free time, she enjoys books about money and wealth. She loves being with her boyfriend, hunting, fishing and going on outdoor adventures.