If there is one thing people in the United States love, it's sports. And this is a great opportunity for investing in the best sports stocks. Whether it's football on Sundays, UFC fights, March Madness, college football, the NBA, NHL, MLB, NASCAR or individual sports like tennis or track, it seems as though Americans can never get enough sports.
Most professional sports leagues generate billions of dollars every year. However, the sports industry is also a little complex since so many companies take a piece of the pie. For example, media companies profit off of showing sporting events, apparel brands outfit teams, real estate firms own stadiums and so on.
If you've been looking for the best sports stocks to help give your portfolio a boost, don't worry. I've gone through and researched three of my favorite stocks to consider buying.
These are the top three best sports stocks to buy…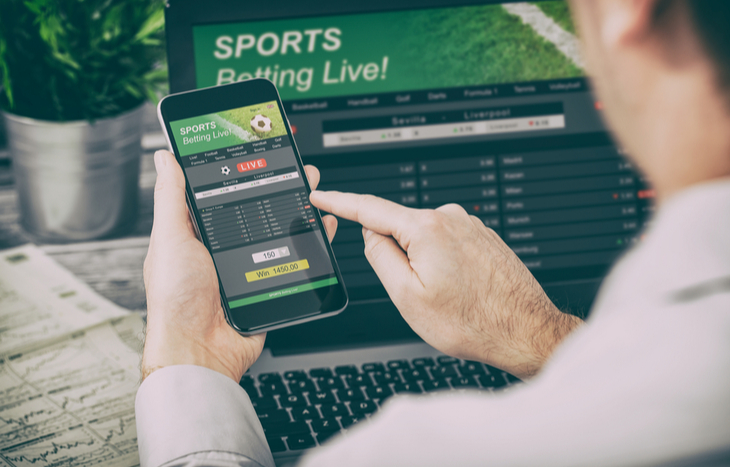 NOTE: I'm not a financial advisor and am just offering my own research and commentary. Please do your own due diligence before making any investment decisions.
Best Sports Stocks to Buy
Dicks Sporting Goods (NYSE: DKS)
Dicks Sporting Goods is America's largest sports retailer with 854 stores and over 50,000 employees. It's also one of the few retailers whose business wasn't entirely derailed by COVID-19. Since people weren't allowed to go indoors to places like restaurants or movie theaters, they flocked to the outdoors. To become properly equipped for outdoor activities, many of them visited Dicks.
Dicks reported 2020 revenue of $8.75 billion and earnings per share of $3.34, which was on par with previous years. However, it started 2021 very strongly with a Q1 119% year-over-year increase in net sales compared to Q1 of 2020. It's on pace to reach $12 billion in sales for the current fiscal year, which would be their highest by far in the past five years. Its executive chairmen, Ed Stack, stated that "We said that 2021 was going to be the most transformational year in our history, and so far, it certainly has been."
Dicks is also an excellent choice for a dividend stock. It recently announced a special one-time dividend of $5.50 per share. This is a sign of their leadership's commitment to rewarding their shareholders. It also recently increased its dividend to $0.43 per share.
Whether it's for their growth potential or dividend payment, Dick's is one of the top sports stocks to consider buying.
Peloton (Nasdaq: PTON)
Another one of the best sports stocks to buy is Peloton Interactive. This company recently went public in late 2019. It's best known for its stationary bikes that are equipped with touchscreens. Its standard Peloton Bike sells for $1,495 and the Peloton Bike+ goes for $2,495. The company went public at just $25 per share but has already climbed over 350% since then to over $100 per share.
One main thing to note about Peloton is that its revenues have grown by approximately 100% every year since 2017. Despite its first bike not being available until 2014, it's already hit $4 billion in sales in fiscal year 2021.
To enhance its workout experience, Peloton users are able to access live classes. They also have access to features like leaderboards, challenges and more. This create a sense of community as well as a family vibe "as strong as the most memorable sports teams you played for," according to one user. Its combination of sleek technology and intense loyalty from its community feels similar to the early days of Apple.
Also, Peloton has the potential to create an entire workout ecosystem around its bikes. The company has already added a treadmill product. This expanding ecosystem helps make it one of the top sports stock to consider buying. 
Penn National Gaming (Nasdaq: PENN)
Penn National Gaming is an operator of casinos and racetracks. It operates 44 facilities in the United States and Canada. You may also be familiar with it as the company that bought a 36% stake in the popular sports blog Barstool Sports. This purchase gave Penn National access to Barstool's audience of 66 million monthly users. Penn National has already capitalized on this purchase by releasing the Barstool Sportsbook app, which broke DraftKings' download record on the app store.
Although sports gambling is legal in just 14 states, Americans wagered a whopping $13 billion on sporting events in 2019. This number was nearly double from the year before it. And this rapid increase bodes well for almost any company that profits off of sports betting. It's creating a new wave of sports stocks.
Another interesting aspect of Penn National's business is how it will be impacted by the recent "Name, Image, and Likeness" bill that impacts college athletes. This bill gives student-athletes the ability to profit from their name image and likeness. Although this is still something of a free-for-all, Barstool is in a perfect position to take advantage.
Barstool Sports is already incredibly popular with younger demographics so the launch of Barstool Athletes was a no-brainer. Just two days after the bill was signed, CEO Dave Portnoy stated that they had received at least 75,000 applications from interested athletes.
While it's hard to say exactly how this will impact Barstool, it's never a bad sign that tens of thousands of college athletes want to rep your brand. A few years from now, the MVP of the NCAA football championship could very well be sporting a Barstool Sports T-Shirt instead of a Nike or Adidas one.
Penn National reported revenue of $1.27 billion and $1.55 billion in Q1 and Q2 of 2021. Since 2020 basically shut down their business, Penn National will likely see activity at their casinos and online platforms skyrocket in the coming months.
Its stock is up over 200% since the beginning of 2020. It peaked at around $130 per share but has since pulled back well below $100.
Sports Stocks and More Investing Opportunities
For a thorough breakdown of another online gambling stock, check out my analysis of DraftKings.
I hope you've enjoyed this breakdown of my top three best sports stocks to buy. As usual, only make investment decisions based on your own due diligence and risk tolerance.
Also, if you're looking for even more investing opportunities, sign up for Trade of Day below. It's a free e-letter that's packed with investing insight, tips and tricks.
---
A University of Miami grad, Teddy studied marketing and finance while also playing four years on the football team. He's always had a passion for business and used his experience from a few personal projects to become one of the top-rated business writers on Fiverr.com. When he's not hammering words onto paper, you can find him hammering notes on the piano or traveling to some place random.