We're getting closer to the Weber IPO. As people stayed home and cooked more meals instead of dining out during the pandemic, at-home barbecuing skyrocketed in popularity.
Now grilling companies are taking advantage of the sizzling IPO market and planning to go public. Is the backyard-grill staple a good investment opportunity? Here are the latest details…
Weber IPO: About The Business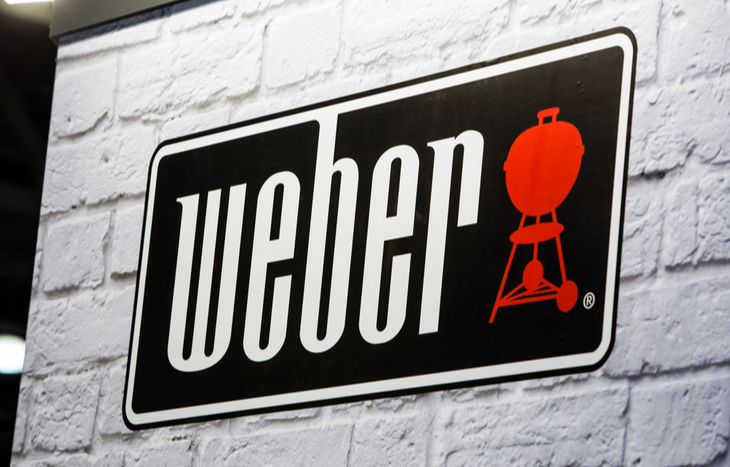 Weber manufactures and sells outdoor gas, charcoal, portable, electric and wood pellet grills. The company has revolutionized outdoor cooking since 1952. Weber's founder, George Stephen, invented the original charcoal grill nearly 70 years ago. Since then, the Weber name has grown to an industry giant.
Weber is an Illinois-based manufacturer. Every Weber grill and accessory is designed and engineered in its Chicago headquarters. And all of the company's products are manufactured in Huntley, Illinois. The company prides itself on being American-made and supporting the local communities it operates in.
Weber has products for every price range. The company's products range from portable charcoal grills that sell for less than $40, to smart gas grills that retail for $1,350. Weber even has models that top $3,000.
The Market
Weber is a leader in the outdoor cooking industry. The company has a global portfolio with products sold in 78 countries. In Weber's S-1 filing, the company stated…
We believe Weber is the only outdoor cooking brand with global scale and a vertically integrated manufacturing platform. Our track record of premium product innovation and the strength of our brand has led to a market-leading share of 23% in the U.S. and 24% globally in 2020, according to Frost & Sullivan. We are leaders in the largest and most attractive markets in outdoor cooking, including the U.S., Germany, Australia, Canada and France. Beyond these markets, we estimate that we have either the number one or number two brand position in each of the key geographies we serve.
Now that we have gotten a glimpse into the business and market, let's explore some financial data for the Weber IPO…
Financial Data
Detailed financial information is in the Weber IPO prospectus, allowing you to gain more insight into the company's finances. If you're in the market for WEBR stock, let's look at the details.
Weber highlights some key information for investors. The company's balance sheet data can be summarized as follows…
Revenue: The company recorded an increase in revenue. Weber recorded $1.3 billion in revenue for the 2019 fiscal year. In 2020, Weber reported an increase to $1.53 billion – representing year-over-year growth of 18%.
Gross Profit: The company's gross profit has grown. Weber recorded a gross profit of $502.7 million for the 2019 fiscal year. In 2020, the company recorded $609.7 million in gross profit.
Cash: Weber's cash flow has grown. The company recorded $45.7 million in cash as of 2019. The company's cash grew to $123.8 million in 2020. As of March 31, 2021, Weber has almost $380 million in cash. In just a year, the company's cash grew by over 170%.
Total Assets and Liabilities: As of March 31, 2021, the company reported $2.03 billion in total assets. And just under $2 billion in total liabilities.
Long-Term Debt: Weber's debt has grown over the years. At the end of 2019, the company's recorded debt was $594 million. In 2020, the company's debt lowered to $575.7 million. But by March 31, 2021, the company's recorded long-term debt grew to $1.21 billion – an increase of over 110%.
To get a better insight into the company's finances, you can check out the Weber IPO prospectus. And for those interested in the filing, let's look at the details.
Weber IPO Filing Details
The Weber IPO is set to take place on August 5. Shares are expected to price between $15 to $17 per share. The company is offering nearly 47 million shares for a $750 million deal size.
In the filing, Weber said it plans to use the funds to pay off its $220.1 million in debt and buy back shares from pre-IPO investors.
Shares are expected to trade on the New York Stock Exchange under the ticker WEBR. Weber has granted its investment underwriters the right to buy an additional 7 million shares if demand is sufficient. Weber could raise more than $916 million if shares price at the high end of the range and the underwriters exercise the option. This could give Weber a $5 billion valuation post listing.
Goldman Sachs, Bank of America and JP Morgan are leading the offering.
As always, make sure to research before you invest. IPOs can be volatile for the first few months. And share prices can change quickly. But if IPO investing interests you, check out our top recent IPOs and our IPO calendar. We update it daily to give you the latest news on upcoming and filed IPOs.
If you're looking for the latest investment opportunities, consider signing up for Liberty Through Wealth. This free e-letter is packed with market insights from leading experts. You'll hear directly from bestselling author and investment expert Alexander Green. He's also worked as an investment advisor, research analyst and portfolio manager on Wall Street for 16 years.
---
Aimee Bohn graduated from the College of Business and Economics at Towson University. Her background in marketing research helps her uncover valuable trends. Over the past year, her primary focus has been researching IPOs and other trends.