For those who are serious about building wealth, identifying which stocks pay dividends is a fantastic place to start. Keep in mind, in order for investors to see the most benefit from a dividend investment strategy, they will need to have a long-term approach.
If you're new to the investing world, you may not be familiar with the term "dividends." Dividends are payouts given to shareholders and distributed by companies on a regular basis, based upon the company's earnings over time. For example, some dividend stocks have payouts every quarter, whereas others pay monthly or yearly.
Dividends are one of the many ways companies incentivize investors to buy their stocks. This provides value to the shareholders in the form of a dividend and value to the company in the form of increased investor interest. You will typically see dividends offered by companies that have been around for a while and have strong financial stability.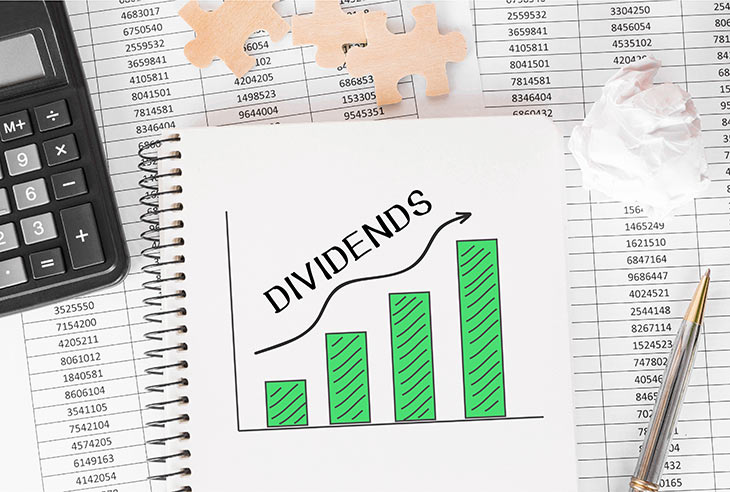 How to Invest and Reinvest in Dividend Stocks
Once you have identified which stocks pay dividends, you can start building a rich portfolio that generates payouts on a regular basis. There are many ways you can buy dividend stocks. Securities such as mutual funds and ETFs are great options, as some of them hold dividend stocks. Alternatively, you can buy dividend stocks individually.
After you have bought your shares, you can look forward to regular dividend payouts. There are, however, some considerations you'll want to be aware of when evaluating stocks that pay dividends. Dividend payouts can come in a variety of ways. Cash dividends are one option – and are by far the most common form of dividend payment.
However, you should know that cash dividend payments are taxed, lowering their total value. Alternatively, some companies pay dividends in the form of additional shares. And some dividends are given in the form of property. In this case, investors receive a tangible asset or product instead of cash or shares.
The Power of Compound Interest
Receiving a dividend payment in the form of cash can be exciting. However, instead of simply cashing out these dividend payments, many diligent shareholders opt to reinvest their dividends, buying more shares. Some companies offer to reinvest the dividends for you. However, if the company does not offer this, you will simply need to wait for your cash payment to go through. Then you can contribute that amount toward buying more shares, if you so choose.
As time passes, compound interest will allow you to buy more and more shares of the stock, which can prove extremely lucrative and set you up for a comfortable retirement.
Dividend investing is the greatest wealth-building tool that I know of in the markets, especially for long-term investors. – Marc Lichtenfeld, Income Expert
To learn more about how a dividend reinvestment plan can create growth through compound interest, check out our Dividend Reinvestment Calculator.
However, if you are a dividend investor who is further along with their savings, you may opt to use these dividend payouts as a form of passive income. This is called passive income dividend investing. If you are going this route, you should consider companies that are deemed "Dividend Aristocrats." A Dividend Aristocrat is a company that has increased its dividend consecutively for the past 25 years.
How Do You Know Which Stocks Pay Dividends?
Stock exchanges, investment websites, the SEC (Securities and Exchange Commission) website and brokerage platforms are just some of the places investors can find which stocks pay dividends. Dividend investing has been around for hundreds of years. The Dutch East India Company (VOC) was the first recorded (public) company ever to pay regular dividends, starting in the early 1600s.
In fact, nearly 84% of the companies in the S&P 500 index pay dividends. But how can investors know not only which stocks pay dividends, but also which dividend stocks will produce the best overall returns? For that, we turn to an expert…
Income Expert Marc Lichtenfeld has made a career out of finding the best dividend stocks on the market. His bestselling book Get Rich with Dividends: A Proven System for Double-Digit Returns was named Book of the Year by the Institute for Financial Literacy.
Each Wednesday, Marc's SafetyNet column looks at a particular stock to determine the safety of its dividend and predict future dividend cuts. With his proprietary tool, SafetyNet Pro, he helps readers predict some dividend cuts before they happen.
Throughout history, finding great dividend companies that increase payouts every year has been one of the great ways to build wealth. And with many dividend stocks so cheap, I expect them to outperform significantly in 2021. – Marc Lichtenfeld, Income Expert
Which Stocks Pay Dividends? Here Are Some to Get You Started
Below, you'll find a list of stocks that currently pay out a dividend. Keep in mind that you'll want to stay up to date with each of these company's financials. The same goes for any investment you make, for that matter. Continually increasing dividend payouts are a strong indicator that a company is in a great position financially.
Some people reading this may be asking, "Where are all the extremely high dividend yields?" While high-yield payouts may seem attractive, seasoned investors know to look at the bigger picture. A high-yield dividend could turn into no yield at all if the company is unable to continue making the payments. You'll want to keep track of not just the yield… but also the payout and consistency of stocks that pay dividends.
Johnson & Johnson (NYSE: JNJ) – Dividend yield: 2.56%
McDonalds (NYSE: MCD) – Dividend yield: 2.2%
AT&T (NYSE: T) – Dividend yield: 5.65%
The Clorox Company (NYSE: CLX) – Dividend yield: 2.95%
IBM (NYSE: IBM) – Dividend yield: 4.96%
Ternium (NYSE: TX) – Dividend yield: 6.46%
Exxon Mobil (NYSE: XOM) – Dividend yield: 3.97%
UGI Corp. (NYSE: UGI) – Dividend yield: 3.72%
The Procter & Gamble Company (NYSE: PG) – Dividend yield: 2.4%
Duke Energy Corp. (NYSE: DUK) – Dividend yield: 3.61%
Home Depot (NYSE: HD) – Dividend yield: 2.57%
Chevron Corporation (NYSE: CVX) – Dividend yield: 3.37%
PepsiCo (Nasdaq: PEP) – Dividend yield: 2.67%
More Dividend Stock Resources
Looking for more information about which stocks pay dividends? Check out the links below for more opportunities and tips.
10 High-Dividend Small Cap Stocks to Consider in 2021
How a Dividend Reinvestment Plan (DRIP) Works and Compounds Wealth
4 Monthly Dividend ETFs for Income Portfolios
How DRIP Investing Can Transform Your Retirement
10 High-Dividend Stocks for Yield Income in 2021
Still Need Help Finding the Right Stocks That Pay Dividends?
As a reminder, dividends are not a guarantee. They can be reduced or completely cut at any time, without warning. But if you are investing in the right companies, dividends can continue to be paid out over decades. Compound interest will help your investments increase in value and can provide much needed stability to your portfolio.
Another important consideration is when to sell. If you sell your shares before the "ex-dividend date," the company will not pay you a dividend for that time period. The ex-dividend date, or "ex-date," is the date when the stock begins trading without the value of its next dividend payment.
Again, it's often a good idea to reinvest your dividends. While a quick payout does seem enticing, thinking longer term is the prudent thing to do. Your retirement savings and future self will thank you for the extra funds. Now that you have a better understanding of which stocks pay dividends, you have one of the most valuable wealth-creating tools around. To learn more about how to build a sustainable dividend reinvestment plan that works, sign up for our free Wealthy Retirement e-letter today!
---