Investors often overlook dividend small cap stocks. When we think of small cap stocks, dividends don't usually come to mind. But some of these small companies not only pay dividends, they also pay big ones…
Below, I've included a list of some of the top high dividend small cap stocks. These companies don't have the same scale or deep pockets as Big Tech darlings, but they could offer you big returns.
Also, consider checking out our free Dividend Reinvestment Calculator. It shows how much your investments can grow over time.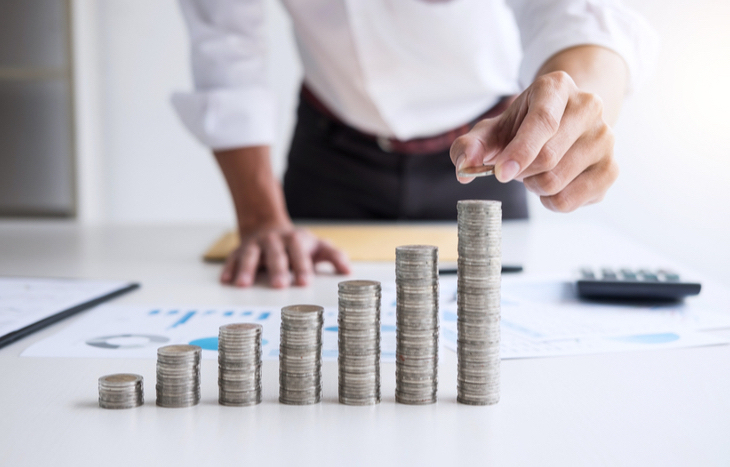 High Dividend Small Cap Stocks
Sixth Street Specialty Lending (NYSE: TSLX)
Oxford Square Capital (Nasdaq: OXSQ)
Crestwood Equity Partners (NYSE: CEQP)
NGL Energy Partners (NYSE: NGL)
Hercules Capital (NYSE: HTGC)
USA Compression Partners (NYSE: USAC)
Sculptor Capital Management (NYSE: SCU)
KNOT Offshore Partners (NYSE: KNOP)
Orchid Island Capital Inc (NYSE: ORC)
Frontline Ltd (NYSE: FRO)
If you're looking for high dividend small cap stocks, these companies are good to consider. Although, it's important to note that they come with higher risk. Some of these companies have already cut their dividends. So, always do your own research before buying. Here are some highlights to get you started…
Sixth Street Specialty Lending
Dividend Yield: 7.4%
Sector: Financial Services
Sixth Street Specialty Lending is a finance company. It delivers financial solutions to middle-market companies. And it's customers come from a wide range of U.S. industries.
The firm partners with companies to provide up to $300 million. It also has active portfolio monitoring. This helps the company construct a well-diversified, low volatility portfolio.
Investment experts make Six Street Specialty Lending's investing decisions.They've structured across 70 companies with a fair value of around $2 billion.
Oxford Square Capital
Dividend Yield: 8.8%
Sector: Financial Services
Oxford Square Capital is a management investment company. It provides capital to technology companies. The firm's investment objective is to maximize its portfolio's total return.
The company invests primarily in corporate debt securities. This includes bilateral and syndicated bank loans. The firm mainly invests in companies with annual revenue under $200 million and a market capitalization under $300 million.
Crestwood Equity Partners
Dividend Yield: 8.8%
Sector: Energy
Crestwood Equity Partners is a master limited partnership (MLP) that operates across the US. The company owns and operates midstream assets located in the Bakken Shale, Delaware Basin, Powder River Basin, Marcellus Shale and Barnett Shale. The firm operates in gathering & processing, storage & processing, and marketing, supply & logistics.
The firm's goal is to create long-term value for its shareholders. It aims to do this by increasing cash flow with development projects. The company is focused on growth opportunities while maintaining financial strength.
If you're interested in other energy investing opportunities, check out these energy penny stocks to consider.
NGL Energy Partners
Dividend Yield: 20.8%
Sector: Energy
NGL Energy Partners is another MLP that provides services to producers and end users.
NGL transports, stores, blends and markets crude oil, NGLSs, renewables, and water solutions. The company is growing through investments that increase volume, enhance its operations and generate attractive return rates. But with one of the highest yields on the list, NGL Energy Partners might be a greater risk for investors.
To see other oil and gas investing opportunities, here's 5 oil stocks to watch out for as prices surge.
Hercules Capital
Dividend Yield: 7.5%
Sector: Financial Services
Hercules Capital is a business development company. It is the largest non-bank source of venture lending in the market. The firm serves technology, life science, renewable and other industries.
Hercules Capital helps find solutions that match a company's existing capital structure. The firm maps to a company's business objectives and finds an innovative approach to solve problems. The firm has achieved more than $11 billion in capital commitments to over 520 companies since its inception.
USA Compression Partners
Dividend Yield: 13.1%
Sector: Energy
USA Compression Partners is one of the largest third-party providers of compression services in the oil and gas industry. The company partners with producers, processors, gatherers and transporters of natural gas and crude oil.
USA Compressions focuses primarily on large-horsepower applications. The company provides natural gas compression services to infrastructure applications. This includes high-volume gathering systems, processing facilities and transportation applications.
Sculptor Capital Management
Dividend Yield: 10.8%
Sector: Financial Services
Sculptor Capital Management is a global alternative asset management firm. It provides a range of products across multi-strategy, credit and real estate. The firm has a track record that generates attractive risk-adjusted returns across market cycles.
The company has a team of tenured professionals across North America, Europe and Asia. They collaborate across disciplines, asset classes and geographies to identify opportunities and market conditions. With this, the firm is always testing ideas and its portfolio to find the strongest risk-to-reward opportunities.
KNOT Offshore Partners
Dividend Yield: 10.8%
Sector: Industrials
KNOT Offshore Partners is a limited partnership that owns and operates shuttle tankers under long-term charters. The company engages in loading, transporting and storing crude oil under time charters and bareboat charters. The firm operates a fleet of seventeen shuttle tankers.
KNOT uses technology that includes dynamic positioning and offshore systems. This ensures safe and efficient offloading from installations no matter the weather or location. The vessels operate under charter with major oil and gas companies including Shell, Equinor and Transpetro.
Orchid Island Capital
Dividend Yield: 14.7%
Sector: Real Estate
Orchid Island Capital is a specialty finance company that invests in residential mortgage-backed securities (RMBS) in the US. The company's RMBS is backed by single-family residential mortgage loans (Agency RMBS).
The company's portfolio includes two categories of Agency RMBS: (i) traditional pass-through Agency RMBS, such as mortgage pass-through certificates and collateralized mortgage obligations, and (ii) structured Agency RMBS, such as such as IOs, IIOs and POs. For federal income tax purposes, the company qualifies as a real estate investment trust.
Frontline Ltd
Dividend Yield: 26.8%
Sector: Energy
Frontline is a shipping company that transports oil products across the sea. The company owns and operates oil and product tankers. The company currently operates a fleet of 68 vessels.
The company owns and operates one of the largest fleets in the industry, consisting of VLCCs, Suezmax tankers and LR2/Aframax tankers. The company also charters, buys and sells vessels. But with the highest yield on the list, this company carries the most risks. You should always do your own research and know the risks before investing.
Risks of High Dividend Small Cap Stocks
Stocks with high dividends aren't for the risk averse. High dividend small cap stocks can be attractive, but you should make sure they're sustainable and the company is in good financial health.
There are always risks with investing, and you should do your own research before you make a decision. To diversify your portfolio and minimize risk, here are some more high dividend stocks. Their yields aren't as high, but the payout safety is much better.
For more investing opportunities, sign up for Investment U. It's a free e-letter that's packed with tips and tricks. Whether you're a beginner or more advanced, there's something for everyone.
---