The Zomato IPO has arrived. Shares for the food delivery startup surged over 80% during the company's market debut on July 23. Here are the latest updates…
Zomato IPO: About the Business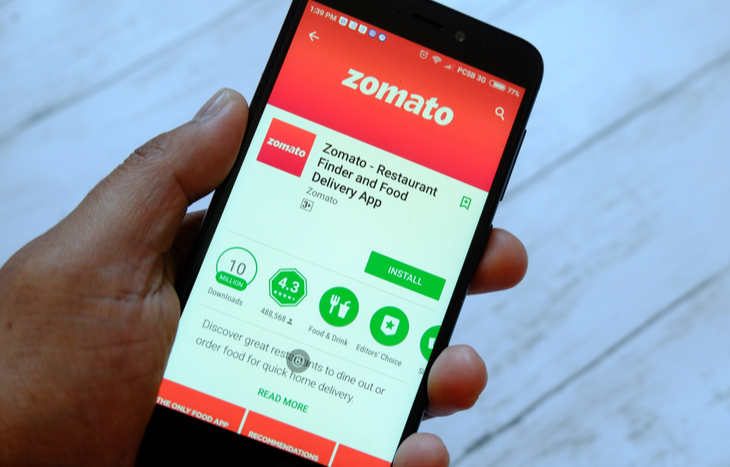 Zomato is an Indian-based online restaurant discovery and food delivery platform. Deepinder Goyal and Pankaj Chaddah founded the company in 2008. It features menus, user reviews and food delivery options from partner restaurants in a number of cities. As of December 31, 2020, the company operated in 526 cities in India and 23 countries around the world.
Customers, restaurant partners and delivery partners can connect through the technology platform. Using the platform, customers can find restaurants, view and upload reviews or photos, order food to go, book a table and make payments while dining out at restaurants.
Through Zomato's marketing tools, restaurant partners can get new customers, grow their business and deliver food. The company also created a supply platform named Hyperpure. The platform provides high-quality ingredients and kitchen supplies for restaurants.
We've gotten a glimpse into the business. ​​So, how does Zomato dominate the food delivery industry? Let's take a look…
The Market
Zomato and Swiggy are market leaders in online food delivery in India. Other players include Rebel Foods, JustEat and FoodMingo. But the race for No. 1 is between Zomato and Swiggy. The companies have a large user base and are backed by global investors.
Zomato is one of the top start-ups in India. In the Zomato IPO filing, the company stated…
According to RedSeer, we have consistently gained market share over the last four years to become the category leader in the food delivery space in India in terms of GOV from October 1, 2020 to March 31, 2021. We have experienced rapid growth in food delivery in India with our orders increasing by 13.2 times from 30.6 million in Fiscal 2018 to 403.1 million in Fiscal 2020.
Zomato IPO Finances
The numbers below come from Zomato's prospectus filing. It allows investors to gain key insights into the company's finances. For your convenience, I've converted the current exchange rate (₹ – Indian Rupee) to show you what the company's finances look like in USD. But you should be aware that the currency is always changing. One United States Dollar currently trades for ₹74.52.
Zomato's balance sheet data can be summarized as follows…
Total Income: The company recorded an increase in total income. Zomato reported ₹4.9 billion ($66 million) in revenue in operations for Fiscal 2018. The company's reported revenue grew to ₹27.4 billion ($368 million) in Fiscal 2020. (Page 70)
Total Expenses: Zomato's total expenses have grown over the years. The company recorded ₹5.9 billion ($79 million) in total expenses in fiscal 2018. The company's total expenses grew to over ₹36 billion ($484 million) in 2019. In 2020, the company's total expenses for fiscal 2020 were over ₹50 billion ($672 million).
Net Loss: The company has a history of net losses and expects it to continue. Zomato's recorded net loss for fiscal 2018 was ₹1.07 billion ($14 million). The company's net loss surged to a reported ₹10.1 billion ($136 million) in fiscal 2019. Zomato's net loss more than doubled to ₹23.8 billion ($321 million) in fiscal 2020. Zomato stated in its prospectus…
We expect our costs to increase over time and our losses will continue given significant investments expected towards growing our business. We have expended and expect to continue to expend substantial financial and other resources on, among others, advertising and sales promotion costs to attract customers and restaurant partners to our platform, developing our platform, including expanding our platforms offerings, developing or acquiring new platform features and services, expanding into new markets in India, and expanding our delivery partner network. These efforts may be more costly than we expect and may not result in increased revenue or growth in our business.
Cash: Zomato's cash flows have been turbulent over the years. The company recorded ₹2.1 billion ($28.6 million) in cash for fiscal 2019. The company's reported cash declined to ₹1.67 billion ($22.4 million) in 2020. But the end of the 2020 calendar year, the company's cash rose to ₹2.48 billion ($33.4 million). – page 54
But the future's looking up for the food service industry in India. Fear of catching the virus and the lockdown made people reluctant to eat out. In Zomato's prospectus, the company noted the impacts of COVID-19…
In the first quarter of Fiscal 2021, we saw a significant impact on our business, and our food delivery business in India hit its lowest in terms of GOV in a quarter in two financial years. However, since then, our food delivery business in India has recovered strongly, with GOV growth of 91.6% and 42.3% in the second and third quarters of fiscal 2021, respectively, over the immediately preceding quarters.
Zomato IPO Filing Details
The company filed a Red Draft Herring Prospectus (RDHP) in April. According to the filing, the proceeds will go toward expansion, which may include mergers or takeovers.
Zomato offered 1.23 billion shares, valuing the IPO at ₹93.75 billion ($1.3 billion). The company issued new shares worth up to ₹90 billion ($1.21 billion) as well as up to ₹3.75 billion ($50.4 million) worth of stock sold by existing shareholders.
The Zomato IPO price was set at 76 rupees a share. Zomato made its public debut on the National Stock Exchange of India (NSE) on July 23. The stock made its debut at ₹116, a premium of over 50% from its issue price. The company also issued shares on the Bombay Stock Exchange (BSE), opening at ₹115 per share. The premium valued the company at about ₹910 billion ($12.2 billion).
Shares rose more than 80% by July 27 to a record high of ₹147.80 on NSE. But shortly after the all-time high, the stock lost momentum and slipped into the red. Zomato is currently trading for ₹133 per share.
As always, make sure to research before you invest. IPOs can be volatile for the first few months and share prices are constantly changing. But if IPO investing interests you, check out our top recent IPOs and our IPO calendar. It's updated daily to give you the latest news on upcoming and filed IPOs.
If you're looking for the latest investment opportunities, consider signing up for Liberty Through Wealth. This free e-letter is packed with market insights from leading experts. You'll hear directly from bestselling author and investment expert Alexander Green. It's one of the easiest ways to stay on top of market news out there. All you need to do is enter your email address in the box below to get started.
---
Aimee Bohn graduated from the College of Business and Economics at Towson University. Her background in marketing research helps her uncover valuable trends. Over the past year, her primary focus has been researching IPOs and other trends.