For most of 2021, headlines of supply chain shortages dominated the news. At one point or another, almost every single company had some type of issue. In some cases, entire industries were forced to delay production or take similar action. These supply chain issues mainly stemmed from the effects of COVID-19. Moving forward, many companies are brainstorming alternatives to their supply chain. In a few industries, companies are considering making products in-house using 3D printers, which bods well for 3D printing stocks.
Since March 2020, factories have been forced to close at random times with little warning. Consumer demand has also skyrocketed for some products while slumping for others. These constant ups and downs have made it difficult for companies to forecast accurately.  In turn, investors are considering giving 3D printing stocks another look.
If you're not familiar, 3D printing works by laying down thin layers of a material. Each layer fuses with the previous one to create a product. The most common substances used are plastic, metal, or cement.
In general, 3D printing has still not really taken off. Similar to 3D TVs, Google Glass and the Segway, 3D printers generated tons of hype. They became fairly popular in the 2010s. The problem was that consumers just had no need for them. 3D printing technology was cool, it just wasn't useful. In fact, consumers still aren't really interested in it. But major corporations and manufacturers are.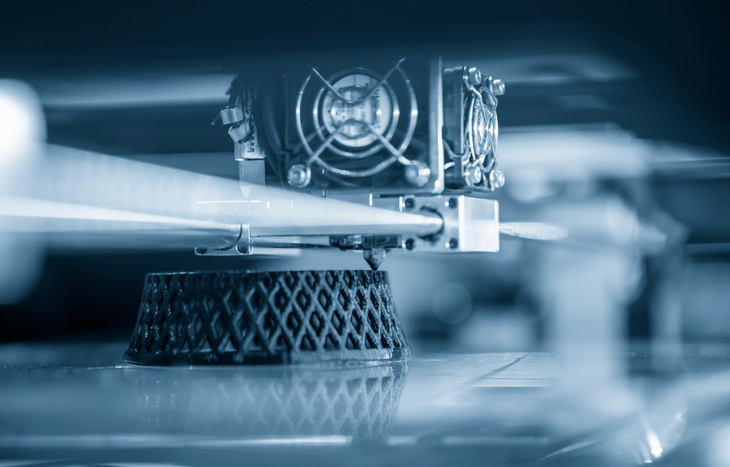 3D Printing Uses
Today, many different companies are revisiting the technology. For example, dental companies could use 3D printing to produce a set of dentures. Tesla could use it to create models or prototypes of the newest electric car. 3D printing could be used to create spare parts or uniquely shaped parts.
To be fair, some companies have been using 3D printing for years. The difference is that more companies than ever are looking for ways to reduce their reliance on the supply chain. This means that we could be at the forefront of another 3D printing boom.
With that said, let's take at three of the top 3D printing stocks to buy.
NOTE: I'm not a financial advisor and am just offering information and commentary. Please do your own due diligence before making any decisions.
3D Systems Corporation (NYSE: DDD)
One of the top turnaround 3D printing stocks is 3D Systems Corporation. 3D Systems has actually been listed on the NYSE since 1988. It peaked in the mid-2010s at almost $80 per share. Over the next few years, it came crashing back down to about $10/share. However, in the past two years, it has spiked almost 1,000%.
This spike could have to do with 3D System's recent transition. It recently dropped several business lines to prioritize high-growth markets. This announcement was mentioned in its Q3 2021 earnings report. Moving forward, 3D System's five main solutions are for industrial, healthcare, bioprinting, regenerative medicine and digital manufacturing.
3D Systems Corp. is also one of the oldest 3D printing companies. This has helped it amass almost 1,000 patents in the last decade.
I mentioned that 3D Systems is a turnaround 3D printing stock. This is mainly because its revenue has been falling for the past 3 years. In FY 2020, it posted revenue of $557.24 million. This was down 12% from the previous year. It also posted a net loss of $149.59 million. However, in 2021, it has posted 4th straight quarters of year-over year (YoY) revenue growth and profitability.
3D Systems stock is approximately 120% so far this year. It is also up 45% over the past five years.
Desktop Metal (NYSE: DM)
If you follow along with startups then you might already know Desktop Metal. That's because it was one of the fastest startups to reach a $1 billion valuation. It reached this valuation before ever even shipping a product. Desktop Metal received plenty of hype thanks to early investments from Google Ventures, Ford, and BMW. More recently, Desktop Metal became one of few 3D printing stocks to go public via a SPAC merger.
Desktop Metals sees lots of potential for 3D printing down the road. It expects the total addressable market (TAM) for 3D printing to reach $146 billion by 2030. This would mean that the market has to grow by 25% CAGR over the next 7-8 years. This is lofty. However, it's not out of the question if major companies start to entirely rethink their supply chains.
One good part of Desktop Metal's business is that it can charge companies twice. First, it sells them a printer, which tend to have high margins. From there, it sells them the necessary printing substance. This creates recurring revenue; which companies always strive for. Desktop Metal currently works with Raytheon, SpaceX, and Google.
Desktop Metal has only released a handful of earnings reports since going public. In 2021, its revenue has been growing at an alarmingly high rate. Desktop Metal reported revenue of $11.31 million (Q1), $18.98 million (Q2) and $25.44 million (Q3). Granted, these numbers are still relatively small. However, they represent YoY increases of 234%, 766%, and 906% respectively. Notably, in Q3 2021, Desktop Metals has earned more than it did in all of 2020.
Desktop Metal is still not profitable. However, this is usually expected with young companies focused on high growth.
Desktop Metal's stock is down about 40% since it went public.
Proto Labs (NYSE: PRLB)
Another one of the best 3D printing stocks to consider buying is Proto Labs. This is because Proto Labs boasts that it's "the world's fastest digital manufacturing business." By this point, supply chain issues have been going on for quite some time. If companies are unable to overcome them then they will need a fast alternative. When that time comes, there's a good chance they'll call Proto Labs. Proto Labs creates products for injection molding, CNC machining, and sheet metal fabrication.
In Q3 2021, Proto Labs posted a record quarterly revenue of  $125.34 million. This was a 16% YoY increase from 2020. During this quarter, It also received awards from the World Economic Forum and Leap Awards.
Proto Labs stock is down 65% so far in 2021. It is also down 3% over the past five years.
3D Printing ETF (BATS: PRNT)
With 3D printing stocks, the opportunity is mainly in the industry. If companies start using 3D printing technology more frequently then it could boost the entire industry. Due to this, many investors might prefer to simply buy an ETF that tracks the market.
An Exchange-Traded Fund (ETF) is a fund that tracks the prices of many different stocks within a single industry. For example, you can buy an ETF that tracks all of the stocks in the S&P 500. This diversifies your money and reduces your risk. If this appeals to you then you should consider the 3D Printing ETF.
The 3D Printing ETF tracks the prices of over 55 different 3D printing stocks. Its top 3 holdings are Desktop Metal, HP and Strauman Holding. It is also run by Cathie Wood's Ark Invest.
For more insight on the stock market and the latest trends, sign up for the Trade of the Day e-letter below. This free e-letter is full of tips and tricks from today's leading experts. Sign up today!
I hope that you've found this article valuable when it comes to learning a few of the best 3D printing stocks to buy. As usual, please base all investment decisions on your own due diligence and risk tolerance.
---
A University of Miami grad, Teddy studied marketing and finance while also playing four years on the football team. He's always had a passion for business and used his experience from a few personal projects to become one of the top-rated business writers on Fiverr.com. When he's not hammering words onto paper, you can find him hammering notes on the piano or traveling to some place random.