Before taking a look at the best 5G stocks to buy, it's important to discuss what 5G actually is. Many analysts expect 5G to be the biggest upgrade to internet networks ever. Just in case you're fuzzy on previous internet transitions, here are the major upgrades made in the past:
1G (1980s) – Analog voice
2G (1990s) – Digital voice
3G (2000s) – Mobile data
4G (2010s) – Increased capacity for mobile broadband
In recent years, video streaming has completely taken over. This requires much more data than simply sending text or even searching the web. Additionally, tech companies have big plans for initiatives like the Internet of Things. As you can imagine, connecting thousands of different devices will require lots of juice. 5G will also play a critical role in powering the metaverse, just as soon as Mark Zuckerberg is done building it.
As far as an official definition, Qualcomm defines 5G as a network that connects everyone and everything together including machines, objects, and devices. It will enable next-level "always connected" devices to operate smoothly.
As you might have guessed, this is expected to be a big money-maker for lots of companies. The 5G upgrade is not just limited to mobile network companies. Instead, this upgrade will impact tons of different industries such as automotive, eCommerce, gaming, and more. This is part of the reason why the 5G upgrade is expected to increase economic output by $13.1 trillion by 2035.
With that said, it's time to look at a few of the best 5G stocks to buy.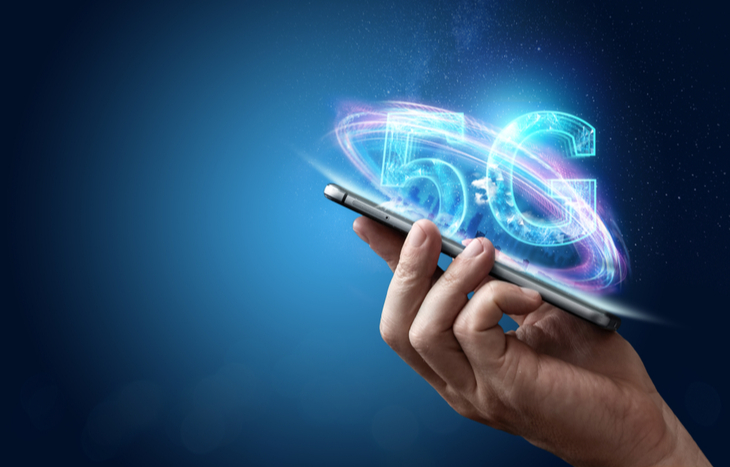 Best 5G Stocks To Buy
Qualcomm (Nasdaq: QCOM)
If anyone thinks that Qualcomm is one of the top 5G stocks to buy, it's Qualcomm's CEO.
Cristiano Amon has lots of faith in Qualcomm's portfolio of solutions, even if investors are skeptical. In a recent interview, Amon said, "Qualcomm is finally getting what Qualcomm deserves." He feels that Qualcomm is laying the foundation for several exciting technologies. However, it is not generally viewed as a highly-innovative company.
He might have a point. I'll be very honest with you, when I think of Qualcomm, pretty much nothing comes to mind. If anything, I think of the San Diego Chargers and Qualcomm Stadium. This is pretty bad considering the Chargers moved to LA a few years ago. That stadium hasn't even been called Qualcomm Stadium since 2017. Maybe Christiano Amon is right. It could be high time that the public perception of Qualcomm got a major makeover.
Qualcomm currently has solutions for tons of cutting-edge technologies. This includes 5G, VR, AR, automotive, wearables, IoT, smart home and even smart cities. Due to these new initiatives, Qualcomm expects its total addressable market (TAM) to expand by 7X in the next decade. Qualcomm currently has a hefty backlog of deals to support the metaverse and shift to 5G smartphones. It also has deals in place with several major automakers.
In FY 2021, Qualcomm pulled in about $5.1 billion in IoT revenue. It reported total FY 2021 annual revenue of $33.6 billion and net income of $9.04 billion. These numbers were up 42.65% and 73.97% respectively.
Qualcomm's stock is up 26% so far in 2021. It's also up 175% over the past 5 years.
Nokia (NYSE: NOK)
In early 2021, Nokia made the news for being part of the meme stock surge. It wasn't a major player, but its stock still surged 60% in the span of a week or two. More recently, it's making headlines as an emerging player in the 5G space.
Right now, Nokia is definitely struggling to overcome the global chip shortage. However, at the same time, it's laying the groundwork to emerge as a 5G stocks leader. It's doing this by securing 5G deals. Once the shortage has passed and it can fulfill these deals, profitability should come. So far, Nokia has supply deals with 204 commercial 5G dealers and 72 operator networks. These deals are all over the globe including the Americas, EMEA and Asia.
It's also worth noting that Nokia secured a 5G radio contract in China. Given the notorious difficulty of doing any type of business in China, this is a big win for Nokia. If it can continue to secure deals in China and other markets, it should continue to be considered one of the top 5G stocks to buy.
In 2020, Nokia posted annual revenue of $21.85 billion and a net loss of $2.52 billion. However, in 2021, it has achieved three quarters in a row of profitability.
So far in 2021, Nokia's stock is up 49%. It's also up 40% in the past 5 years.
T-Mobile (Nasdaq: TMUS)
The last company on this list of 5G stocks to buy is one that's actually getting people access to 5G coverage.
Honestly, it feels as if every wireless network provider self-proclaims themselves as "the leader" in wireless coverage. I can't tell you how many commercials I've seen with the main message of "X company has better coverage than Y company."
That said, it seems as if T-Mobile actually has a distinct lead when it comes to 5G coverage. A dozen third-party network benchmarking reports back this statement. OpenSignal, PC Mag, and Ookla all agree. When it comes to speed, coverage, and reliability, T-Mobile is the leader. As the leader in 5G coverage, T-Mobile is a great choice as one of the best 5G stocks to buy.
"America's Most Reliable 5G Stock"?
T-Mobile's network currently gives about 200 million Americans access to the internet. This is enough to put them comfortably ahead of competitors in the industry. T-Mobile also has a two-year head start on the competition, according to CEO Mike Sievert. Competitors like Verizon chose a different approach to building 5G initially and ran into regulatory trouble. Now, they are scrambling to catch up.
T-Mobile still has its foot on the gas in terms of increasing coverage. Due to this, Mike Sievert believes that its coverage 5G advantage will continue to widen in the coming years.
On top of that, T-Mobile's Q3 2021 results are very solid. It has also added an industry-leading 1.3 million new customers. It posted a record-high, industry leading Adjusted EBITDA of $6.0 billion. Free cash flow has increased to $1.6 billion, a 4X increase from last year. This increase was also (you guessed it) industry-leading.
In 2020, T-Mobile posted annual revenue of $68.4 billion and a net income of $3.06 billion.
So far in 2021, T-Mobile's stock is actually down 12%. However, it's up 117% over the past 5 years.
To find even more insight and opportunities, sign up for Profit Trends below. This free e-letter is packed with investing research, tips and tricks. And you'll hear directly from investing experts!
I hope that you've found this article valuable when it comes to learning a few of the best 5G stocks to buy. As usual, all investment decisions should be based on your own due diligence and risk tolerance.
---
A University of Miami grad, Teddy studied marketing and finance while also playing four years on the football team. He's always had a passion for business and used his experience from a few personal projects to become one of the top-rated business writers on Fiverr.com. When he's not hammering words onto paper, you can find him hammering notes on the piano or traveling to some place random.