Before diving into the best metaverse stocks to buy, let's look at the industry as a whole. And as it turns out, there's no official agreed-upon definition.
In general, the metaverse is a future version of the internet that is currently being developed. It will likely be the combination of the internet, virtual reality, augmented reality, digital worlds, cryptocurrency and NFTs.
This future internet will be made up of shared virtual spaces that are linked to a perceived virtual universe. Other popular ways to refer to the metaverse are The Mirror World, AR Cloud or Magicverse. I personally prefer The Mirror World.
One thing to note is that the metaverse isn't a real thing… yet. It's currently a combination of early-stage technology, high aspirations and hype. However, it's certainly easy to see why people get excited over such a concept.
As of 2021, the virtual reality market is worth just under $22 billion but is expected to grow at a rate of 15% over the coming years. This means that we're still in the early stages of mainstream VR adoption. It also means that using VR and AR to create some type of metaverse is probably still a few years away.
However, that isn't stopping the world's biggest tech minds from forging forward into the future!
There are a handful of companies that are taking initiative for developing the metaverse. Let's look at which of these companies are the best metaverse stocks to buy.
Metaverse Stock to Buy in Early Stages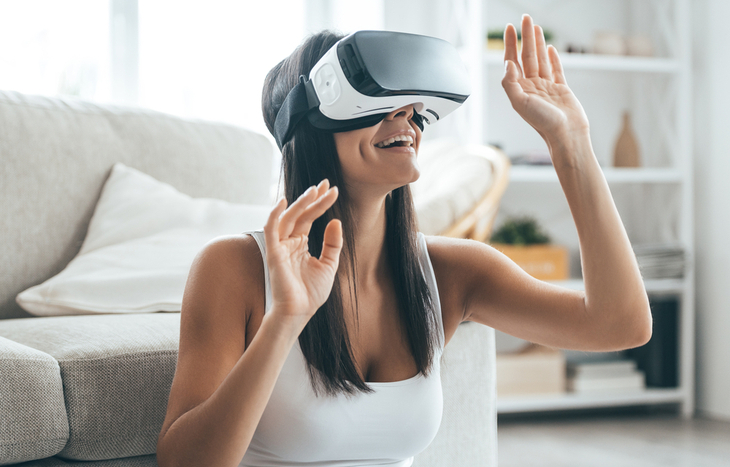 NOTE: I'm not a financial advisor and am just offering my own research and commentary. Please do your own due diligence before making any investment decisions.
Meta (Nasdaq: FB)
I'm sure you're not surprised that the first metaverse stock on this list is Facebook.
Whenever we're talking about anything related to cutting-edge technology, it feels like Mark Zuckerberg's name always pops up. The metaverse is no different. On July 2021, Facebook announced big plans to help build the metaverse.
Facebook is already leading the way in terms of virtual and augmented reality. It has sold as many as eight million pairs of its Oculus 2 VR headset. Since both AR and VR are precursors to the metaverse, this puts Zuck & Co. in a good position. Facebook can continue to build metaverse offerings that incorporate Facebook, Instagram and WhatsApp.
In Q1 2022, Meta reported $27.9 billion in revenue. Most of Meta's revenue comes from digital advertising.
Facebook recently announced Facebook Horizon, which is currently in an invite-only beta phase. To use its own words, Facebook Horizon is "a social experience where you can explore, play and create in extraordinary ways."
Facebook's stock is up about 11% over the past five years and is down over 50% so far in 2022.
Microsoft (Nasdaq: MSFT)
The next best metaverse stock to buy is Microsoft. Microsoft is included on this list due to the number of different ways that it can help create the metaverse.
Here are just a few of the projects that Microsoft is working on:
HoloLens – Its augmented reality headset
Microsoft Power Platform – Business intelligence, app development and app connectivity software
Azure AI & Autonomous Systems – AI and machine learning systems
Azure Synapse Analytics – Predictive data analytics
Azure Maps – An indoor private mapping system
Azure Digital Twins – A software that enables the creation of twin graphs based on digital models of entire environments
Azure IoT – a collection of Microsoft-managed cloud services that connect, monitor and control billions of IoT assets
Microsoft has been a technology beast since the internet was invented. Due to this, it just makes sense that Microsoft's software will help power the metaverse. When you eventually log on to the metaverse, there's a good chance that Microsoft tech will be powering the experience.
Microsoft's stock is up over 285% over the past five years and down about 20% so far in 2022.
Roblox (NYSE: RBLX)
Roblox is an American video game developer that is based in San Mateo, California. This platform is unique because it allows its users to create video games. Once a user creates a game, other users can sign up to play it.
If you're interested in seeing more investing opportunities, check out these top video game stocks.
Of these three metaverse stocks, Roblox would handle the "fun" portion. By this, I mean that Roblox would play a role in the actual design of a digital metaverse. Microsoft would like to handle the "software" portion. This involves making sure everything works. Facebook would handle a little bit of both.
Roblox has stated that its vision for the metaverse is to "create a platform for immersive co-experiences, where people can come together within millions of 3D experiences to learn, work, play, create, and socialize."
Right now, Roblox is also in the process of designing Spatial Voice. This is an invite-only beta program that allows Roblox users to communicate in a realistic way online. This program would allow users to mirror how they speak in real life. It could play a critical role in creating a lifelike digital environment.
In Q1 2022, Roblox brought in $537.1 million in revenue, up almost 40% year over year. In 2021, the company brought in $1.9 billion in revenue.
Roblox just went public in 2021 and its stock is trading just under $40 per share.
Roundhill Ball Metaverse ETF (NYSE: METV)
As always ETFs are a great investment opportunity for those looking to diversify their portfolios. This fund allows you to get a piece of the companies listed above, as well as other big metaverse players. The top five holdings are:
Roblox
Apple
Nvidia
Unity Software
Microsoft
It has over 40 holdings in total. With over 50% of them coming from the tech sector and 34% coming from communications. So, it's not the most diversified in terms of sectors. It also has a relatively high expense ratio of 0.59%.
You can read more about the breakdown of this ETF here.
The Bottom Line on Metaverse Stocks
In all honesty, there are so many moving pieces that go into the metaverse. This means that there are plenty of companies that have the potential to make great metaverse stocks.
Here are just a few other metaverse stocks that could have made this list:
We're still so early on in the creation of metaverse. It's hard to tell which companies will make creating the metaverse a company priority. Due to this, it's much easier to invest in an ETF that tracks the top companies that have a hand in creating the metaverse.
I hope that you've found this article on the best metaverse stocks to buy to be valuable! As usual, all investment decisions should be based on your own due diligence and risk tolerance.
---
A University of Miami grad, Teddy studied marketing and finance while also playing four years on the football team. He's always had a passion for business and used his experience from a few personal projects to become one of the top-rated business writers on Fiverr.com. When he's not hammering words onto paper, you can find him hammering notes on the piano or traveling to some place random.