The AbCellera IPO is right around the corner. People are excited about the news that this company is helping to produce a coronavirus treatment. And investors are looking for AbCellera stock to hit the market.
But should you invest in AbCellera? Here's what we know…
AbCellera IPO: The Business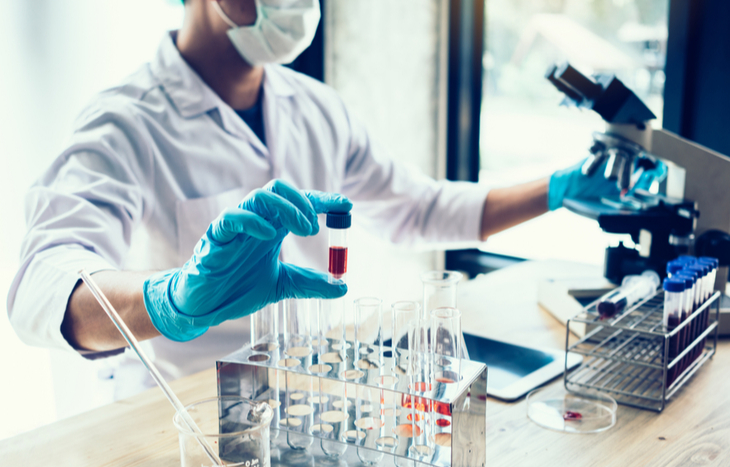 CEO Carl Hansen and Véronique Lecault co-founded AbCellera Biologics in 2012. Based in Vancouver, AbCellera is a biotech firm focused on antibody therapeutics for common diseases and pandemics. The company believes the future of health is in the advancement of technology. AbCellera uses a platform powered by artificial-intelligence (AI) to search and analyze a database of antibodies to discover which can be developed into drug treatments.
However, AbCellera doesn't make its own drugs. Instead, the company partners with drug developers, helping to accelerate timelines and cut costs. AbCellera says the company had 94 programs completed, in progress or under contract with 26 partners as of September 30, 2020.
And that's one reason the company is moving forward with the AbCellera IPO now. AbCellera recently partnered with a company that could help tackle the year's biggest problem: COVID-19.
AbCellera and Eli Lilly Produce COVID-19 Therapy
One of AbCellera's partners is Eli Lilly and Company (NYSE: LLY), an American pharmaceutical company. Together, they found an antibody to develop a drug to help treat COVID-19 patients. The process went from discovery to development in 90 days. On September 16, 2020, Eli Lilly released Phase 2 clinical data, showing a 72% risk reduction in hospitalization. Although the drug didn't prove useful in helping hospitalized COVID patients, the therapy can be useful to prevent patients from reaching that level.
Here are some notable events as a result of their achievement:
October 7: Eli Lilly submitted an Emergency Use Authorization to the FDA. It was granted on November 9.
October 28: Eli Lilly announced an agreement to supply 300,000 vials to the U.S. government for $375 million.
October 29: Eli Lilly announced a fixed price contract for $312.5 million with the U.S. Army Contracting Command.
November 24: Eli Lilly agrees to supply Canadian government with 26,000 doses for $32.5 million.
December 2: The U.S. government purchased an additional 650,000 doses for $812.5 million.
Due to AbCellera's partnership with Eli Lilly, the company is entitled to a percentage of the proceeds. The exact amount, however, is unknown. But the breakthrough is another step in battling the pandemic, and AbCellera says it's one example of how the company's technology can lead to therapeutic discoveries and breakthroughs.
One reason the company is offering AbCellera stock is to help deliver the product to more partners. And as the pandemic continues, it's great timing for an AbCellera IPO, as the year has favored biotech companies. But that also means there's a lot of competition.
AbCellera Stock: The Market
Antibody therapy is used in many therapeutic areas, such as oncology, inflammation and neurodegeneration. In 2019, antibody-based therapeutics accounted for more than $140 billion in sales, according to AbCellera's filing. By 2025, the market is estimated to reach $260 billion. AbCellera believes growth in the market will come from improved access to difficult targets, new therapeutic modalities and the increasing number of companies coming into the market.
In its prospectus, AbCellera states…
The life sciences and biotech platform technology market is highly competitive, and if we cannot compete successfully with our competitors, we may be unable to increase or sustain our revenue, or sustain profitability.
Some of that competition includes:
Berkeley Lights
Adaptive Biotechnologies
Atreca
HiFiBio
Ligand Pharmaceuticals.
But despite the competitive market, there's a word in there you might have noticed: profitability.
The Finances
According to the AbCellera IPO prospectus, the biotech company appears to go back and forth between profitability. Although that does put the company slightly ahead of unprofitable companies that went public this year, AbCellera needs to show growth.
In 2018, AbCellera's total revenue was $8.8 million. That increased to $11.6 million in 2019, for a growth of 31.8%. And that positive trend continued into 2020. For the first nine months ended September 30, AbCellera's total revenue was $25.25 million, an increase of 200% from $8.4 million in the same period a year before.
On the one hand, AbCellera recorded a profit of $309,000 for 2018. On the other hand, the company recorded $2.2 million in net loss for 2019. But for the first nine months of 2020, AbCellera saw a great increase in profit. The company went from a loss of $570,000 for the same time period in 2019 to a profit of $1.9 million in 2020. Although there's no guarantee AbCellera will stay on this path, it's a good sign for the company.
AbCellera believes the proceeds from AbCellera stock will be enough for two years of funding. In March 2020, AbCellera raised $105 million in a series B funding round from investors, including PeterThiel, PayPal founder and venture capitalist. The Bill & Melinda Gates Foundation is another investor in AbCellera.
So for those interested in investing in the AbCellera stock, let's take a look at the details.
AbCellera IPO Details: Date, Price and Symbol
AbCellera filed on November 20, 2020. The company set terms on December 7, and the AbCellera IPO date is set for December 11. The offering consists of 23 million shares with a price range of $14 to $17. If the IPO goes well, AbCellera will have a market cap of $4.9 billion. AbCellera plans to list on the Nasdaq under the ticker symbol ABCL.
If you're looking for the latest investment opportunities, Investment U is the place to be! Sign up for our free e-letter below to receive tips and research from our investing experts. Whether you're a beginner or an experienced investor, there's something for everyone at Investment U. And if you're interested in IPO investing, check our IPO Calendar to stay up-to-date.
Biotech companies have been a favorite in 2020, and it's likely that favor could extend to the AbCellera IPO. As an opportunity for investors to be a part of solving the pandemic, it's possible AbCellera stock could see a pop on its first day of trading.
---
Amber Deter has researched and written about initial public offerings (IPOs) over the last few years. After starting her college career studying accounting and business, Amber decided to focus on her love of writing. Now she's able to bring that experience to Investment U readers by providing in-depth research on IPO and investing opportunities.