Investors may be interested in learning more about Albertsons stock (NYSE: ACI). Albertsons is one of the largest grocery chains in the U.S. According to the company's most recent annual report, it operates 2,277 stores in 34 states. Readers may be familiar with Albertson's grocery stores. In addition, the company operates other popular stores. These stores include Safeway, Vons, Tom Thumb, Carrs, Jewel-Osco, Shaw's, Star Market and United Supermarkets. Albertsons does more than just groceries. The company also runs 1,727 pharmacies, 1.313 in-store coffee shops and 400 fuel centers.
The company locates its stores in attractive and growing cities. The annual report also notes that Albertson's boasts No. 1 or No. 2 market share in 67% of the metro areas where stores are located. Stores offer curbside pickup services. They also partner with outside service providers like Instacart and DoorDash for delivery.
Inside the company's stores, the customer will find the popular brands they know and love. In addition, Albertson's stores sell private-label goods. According to Albertson's last quarterly report, private label sales grew to over 25% of overall sales. The company plans to keep launching new private-label goods in the future.
Albertsons operates 22 distribution centers and 20 manufacturing plants. These facilities ensure shelves are stocked, and customers get the things they need.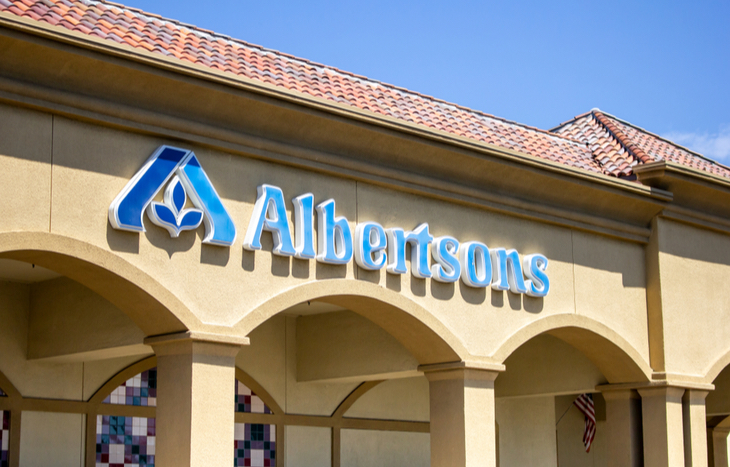 Albertson's Stock Earnings
In January, Albertsons issued a press release about its third-quarter 2021. The press release noted that sales grew to $16.7 billion during the quarter. The jump in sales resulted from a 5.2% increase in identical sales, higher fuel sales, and new stores.
The company also reported higher profits. Adjusted net income jumped to $457.2 million or $.79 per Class A share. Net income grew over $386.6 million or $.66 per Class A share in the previous third quarter. Third-quarter 2021 earnings per share were higher than Albertson's stock analysts' average estimate of $.59 per Class A share.
The press release quoted CEO Vivek Sankaran as: "We are pleased with our third-quarter results as we continue to execute against our transformation strategy. A favorable economic backdrop together with the heroic performance of our frontline retail, distribution, and manufacturing teams contributed to these better-than-expected results."
In addition, the company gave its outlook for the 2021 fiscal year. Albertsons now expects full-year earnings per share to be in the range of $2.90 to $2.95. The company's estimate is better than its prior estimate range of $2.50 to $2.60.
Managers hosted a webcast to talk about the third quarter of 2021 results further. Readers can find a link to the webcast replay here. The company will host a webcast discussing fourth quarter and full-year 2021 earnings on April 12 at 8:30 a.m. EDT. Readers can find a link to the webcast here.
Stock Forecast
On average, analysts predict Albertsons stock earnings per share for the full-year 2022 to be $2.87. the prediction would be a slight decrease from Albertson's 2021 earnings per share outlook of $2.50 to $2.60.
If earnings per share fall or remain flat, it could be due to inflation or supply chain issues that many companies have been facing recently. If inflation stays high or goes up, the costs Albertsons pays for its goods also go up. In many cases, grocery stores like Albertsons can also increase the price of goods sold to customers. Though, passing along higher costs cannot last forever.
Fortunately for Albertsons, gross margins in the company's pharmacy business are strong. For instance, the third quarter press release noted that inflation and supply chain costs hurt gross margins. Lower gross margins could mean that Albertsons can no longer pass higher costs to customers. Though, gross margins in the pharmacy segment were helped by COVID-19 vaccines, which may not continue this year.
On the Brightside, Albertsons sells food, fuel, and medicine. These are all things that customers need on a daily basis. Though, some may say that people may return to restaurants this year. If that is the case, customers may reduce trips to the grocery store.
Long-term investors may believe that inflation and supply chain issues won't last forever. If they're correct, Albertsons stock could be a good investment.
More on Albertsons Stock
In the company's third-quarter earnings report, management said that they would be paying a $.12 quarterly dividend. Annually, Albertsons stock pays a dividend yield of about 1.40%
Though the company has been in business for decades, Albertsons stock IPO'd in June 2020 at $16 per share. Currently, shares are around $34. More than doubled in about a year and a half since the IPO.
So, there isn't much information on the company. Though, financials go back a few years. Albertson's cash flow is much higher than its net income, typical for grocery stores. Higher cash flow happens because grocery stores like Albertsons receive cash from customers right away as they check out. Expenses related to sales are typically not due until well after money is received.
---
BJ Cook is a long-time stock nerd. He has held several roles in the equity research world and earned the right to use the CFA designation in 2014. When he's not writing for Investment U, you can find him searching for new investment ideas. Outside the investment community, BJ is a die-hard Cubs fan.