Yesterday, Alcoa Corp (NYSE: AA) saw a significant increase in options trading. Equity investors purchased 27,729 put options on the company. This increase is greater than 20% of the typical 23,068 daily put options the stock normally sees. But yesterday was not the beginning of a new interest in the company. Alcoa Corp stock has seen some significant spikes in trading volume in recent weeks. Even Reddit users are getting in on the action, as Alcoa has seen more than a 1,200% mention increase on the platform over the past 24 hours.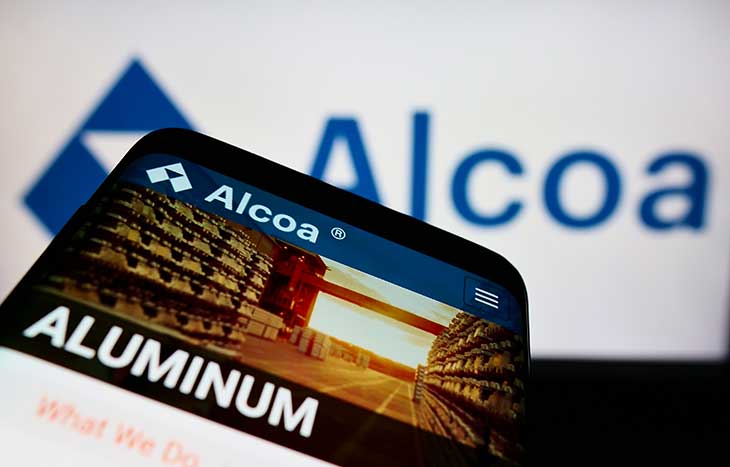 About Alcoa Corporation
Alcoa Corporation (Aluminum Company of America) is an American industrial company. In fact, it's the world's eighth-largest producer of aluminum, headquartered out of Pittsburgh, Pennsylvania. Alcoa operations take place in 10 countries. The company is a major producer of primary aluminum, fabricated aluminum and alumina combined. Alcoa is active in growing participation in all major aspects of the industry: technology, mining, refining, smelting, fabricating and recycling.
Key Points from Alcoa's Latest Investor Presentation
In the company's investor presentation earlier this month, Alcoa noted a "strengthened balance sheet coinciding with capital returns" as well as "strong financials and continued progress."
2022 Takeaways
▪ No fatal or serious injuries (FSI-As) in the quarter

▪ Alcoa Corp stock shows strong financial performance and returns to shareholders
– Net income attributable to Alcoa of $549 million; Adj. net income of $496 million
– Adjusted EBITDA excluding special items of $913 million
– FCF less NCI of $0.4 billion, proportional adjusted net debt at $1.2 billion
– Paid quarterly cash dividend and repurchased $275 million of shares
– Amended revolving credit agreement and increased buyback authorization

▪ Operating level adjustments including restarts and curtailments
– Alumar and Portland smelter restarts progressing
– San Ciprián refinery production decrease, Warrick smelter partial curtailment

▪ Announced new investments and contracts
– Investments to increase production at Mosjøen smelter and add casting capacity at Deschambault smelter
– Two new low carbon EcoLum™ aluminum sales contracts, as well as long
Current Market Volatility
Although the presentation cited current market volatility, the overall outlook for the future of Alcoa Corp stock remains positive. Some factors driving the volatility are supply chain issues out of China and Europe and demand uncertainty in the near term. Also, there is a concern about the impact of the China stimulus program, exports from Russia, near term economic growth and further energy-driven curtailments.
The company continues to monitor the overall risk to capacity as global energy prices increase further.
Alcoa Corp Stock Forecast
According to CNN Business, the 12 analysts offering 12-month price forecasts for Alcoa Corp have a median target of $55.50, with a high estimate of $75.00 and a low estimate of $45.00. The median estimate represents a +61.01% increase from its current price.
Additionally, many consider Alcoa Corp stock a buy with a strong five-year growth potential. The stock reached a yearly low yesterday of $34.47, making it even more attractive to those who believe in its long-term outlook.
And if history is any indicator, Alcoa's seasonality trend over the past four years has seen the stock make large jumps in the fall season through the following spring. Although this is no guarantee, as the current global state has not followed historical precedent at all.
When looking at Alcoa Corp as a whole, the company has many positive attributes. The company is obviously investing heavily into its business and that has produced a respectable return on investment, which continues to improve earnings.
Final Thoughts on Alcoa Corp Stock
Also, as I'm writing this, Alcoa Corp stock is already up around 2% at market open. Is this the beginning of a massive climb to a new high? To learn more about Alcoa Corp and other amazing investment opportunities, you need to subscribe to one of our free e-letters. Just visit our best investment newsletters page and select a subscription that fits your investing style. Join hundreds of thousands of subscribers and become a smarter, more profitable investor today.
---