To start out with an Amazon stock forecast, it's vital to look at the company's history before predicting the future…
Amazon in 1999 – "We sell books, but online!"
Amazon in 2030 (probably) – "Good afternoon Prime Citizen, please return to your Prime Home and prepare for Prime Dinner. An Amazon drone will deliver your meal at exactly 6:30 pm, while Alexa queues your favorite show on Prime Video."
If any company has been a masterclass in customer-centricity, it's Amazon. Despite being one of the world's biggest companies today, Amazon wasn't always the behemoth that we've come to know. In fact, in the early 2000s, there was plenty of doubt around Amazon's business model.
However, Amazon has always put customer experience at the forefront of everything it does. This has obviously paid off in a big way. These days, Amazon rakes in over $380 billion in annual revenue. It's also one of the world's only trillion-dollar companies. Alongside it on this list are goliaths like Apple, Microsoft and Google.
Amazon is also a darling of many major hedge funds. I was curious, so I checked out the main holdings of the world's top 10 hedge funds. Amazon was a top five position in all but four of them:
Blackrock Advisors – Third-largest position
AQR Capital Management – Third-largest position
Bridgewater Associates – Not a major holding
Renaissance Technologies – Fourth-largest position
Man Group – Third-largest position
Elliott Management – Not a major position
Two Sigma Investments – Not a major position
Millennium Management – Biggest position
Davidson Kempner Capital Management – Not a major position
Citadel Advisors (yes that Citadel) – Third-biggest position
So, does this impressive resume mean that Amazon is a must-have in your portfolio? Or has it grown just about as big as a company can grow?
Let's take a quick look at an Amazon stock forecast and find out…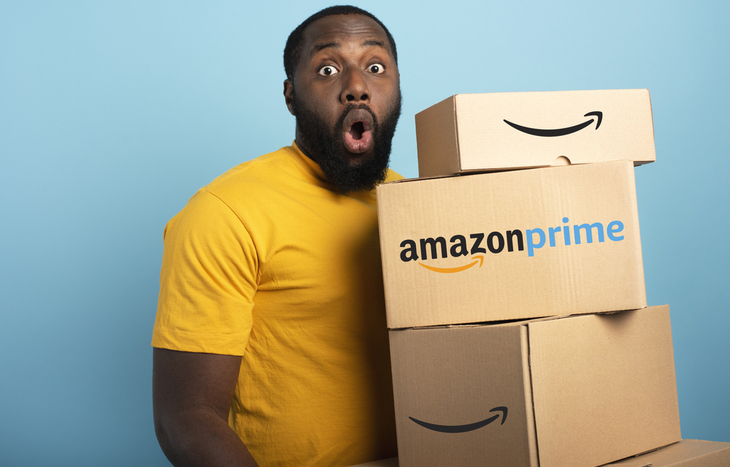 NOTE: I'm not a financial advisor and am just offering my own research and commentary. Please do your own due diligence before making any investment decisions.
Amazon Stock Forecast (Nasdaq: Amazon)
Amazon is expected to announce earnings on November 4th, 2021.
Amazon's been selling you everything from A to Z since 1997. Actually, that's not quite true. Jeff Bezos started Amazon as an online-only bookseller. Since then, he has expanded it to five major business divisions. Alongside its popular eCommerce platform (Amazon.com), Amazon operates the following sectors:
Artificial Intelligence – Alexa
Cloud Computing – Amazon Web Services
Groceries – Whole Foods
Video/Music/etc. – Amazon Prime
What's a little scary is that any of these divisions would be impressive as a standalone business. For example, of the five divisions, Amazon Web Services is actually Amazon's biggest profit puppy. In 2020, AWS generated $45 billion in revenue by itself. To put this in perspective, it's about $10 billion more than Coca-Cola reported for total revenue in 2020. This means that just one of Amazon's business divisions brings in more money than all of Coca-Cola.
Amazon's success is largely attributable to two reasons. First: it has built a logistics and fulfillment network that rivals UPS. Second: Amazon Prime is one of the world's largest membership networks and currently boasts over 100 million U.S. members. For an annual fee, Amazon Prime offers you free 2-day shipping, among other perks. However, once you've signed up, you have a much bigger incentive to do all of your shopping on Amazon. This is what enabled Amazon to grow at the rate that it has.
Right around the time Amazon Prime was introduced, Amazon was worth about $18 billion. On the other hand, eBay (its biggest rival at the time) was valued at $33 billion. However, today Amazon is worth over $1 trillion compared to just $45 billion for eBay.
Looking forward, its logistics network will likely be the reason it continues to dominate over the next decade. With this network, Amazon has built one of the world's biggest business moats of all time. It has raised the barrier to enter the market so high that even other massive corporations (like Walmart) struggle to compete.
Another big factor for Amazon's success is its Fulfillment by Amazon program. This program allows third-party sellers to list products on Amazon's site. For a small fee, Amazon will handle all the logistics involved when a product sells. This program encourages potential competitors to work with Amazon, not against them. Sellers get their products shipped quickly, customers get more options to choose from, and Amazon gets higher sales.
Over the past five years, Amazon has grown revenue by a yearly average of 28.8%. In 2020, almost all of its business divisions thrived during the pandemic. This allowed Amazon to bring in a record $386 billion in annual revenue as well as a record $21 billion in net income.
Amazon's stock is up about 300% over the past five years. Despite rising about 70% during 2020, it has been largely flat through 2021.
Amazon Stock Price Prediction
Amazon is expected to announce its next earnings report on November 4th. If you are planning to trade around this call then you should know that Amazon routinely beats its earnings expectations. It has beaten its last four EPS expectations by an average of 63.5%. It has also beaten three of its last four revenue expectations.
What's particularly impressive is that Amazon has continued to report revenue growth so far in 2021. In Q2 it reported growth of about 27%. I say that this is "particularly impressive" because people were basically forced to shop online during the COVID-19 lockdowns in 2020. This was a huge boost for Amazon's core business and resulted in higher-than-average numbers. The fact that Amazon is still blowing away these numbers is impressive.
However, despite all of this positive news, Amazon's stock has hardly moved over the past year. At the time of this writing, it's actually down 0.29%. This is during the same period that the overall market is up by about 26%. What's interesting is that the four other FAANG stocks are all up double digits over the same time period.
A Few Things to Watch
With all of that being said, no company is superman. One potential red flag for Amazon's stock moving forward is that the founder, Jeff Bezos, recently stepped down as CEO. He was replaced by Andy Jassy, who has been with Amazon for a long time. Bezos is still serving as Executive Chairman and holds power over Amazon's long-term decisions. However, the day-to-day is now handled by Jassy.
Another risk factor for Amazon is that major retailers like Walmart and Target have bolstered their own eCommerce platforms. Walmart is still the world's biggest retailer by revenue. If it continues to offer online services that are on par (or better than) Amazon's then it will erase some of Amazon's advantage.
The final risk factor for Amazon is worker unionization and government regulation. Amazon has fended off several employee attempts to unionize in the past. However, this is a battle that will likely never be truly over. If workers succeed in unionizing, it could lead to higher wages and other demands, which could hurt Amazon's (already slim) margins.
Also, many politicians have spoken out against Amazon for its treatment of workers. In particular, Alexandria Ocasio-Cortez has been particularly anti-Amazon for "corporate greed and worker exploitation." Having negative sentiment brewing in Washington D.C. is never a good thing. This could come back to haunt Amazon if any major anti-competitive legislature is ever brought to vote.
I hope that you've found this Amazon stock forecast valuable in deciding whether or not to buy Amazon stock. As usual, all investment decisions should be based on your own due diligence and risk tolerance.
If you're looking for even better investing opportunities, sign up for Liberty Through Wealth below. It's a free e-letter that's packed with tips and tricks. You'll hear directly from investing experts.
---
A University of Miami grad, Teddy studied marketing and finance while also playing four years on the football team. He's always had a passion for business and used his experience from a few personal projects to become one of the top-rated business writers on Fiverr.com. When he's not hammering words onto paper, you can find him hammering notes on the piano or traveling to some place random.