The latest AMC stock news has investors at the edge of their seats as moviegoers return to theaters.
Imagine this – you wake up in the year 2021 with no recollection of the past two years. But someone tells you, "Can you believe AMC stock is up over 1,800% this year?" What are your first thoughts?
Well, for one, you might not know what a "meme stock" is or how it got to be so popular. Or how powerful social media can be for investing. And yet, here we are. AMC just reported Q3 earnings, and the 'Apes' on Reddit are looking for another short-fueled rally.
The beloved movie chain is nearly back to pre-pandemic levels, with 100% of theaters in the U.S open and 99% internationally.
And on top of this, AMC saw its highest monthly admissions sales in October since before the pandemic.
Can AMCs run continue? Keep reading to find the latest AMC stock news that could push the stock higher.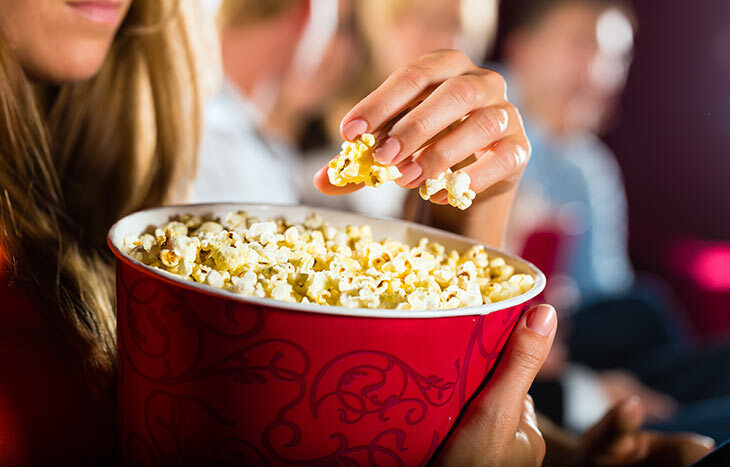 1. AMC Stock News – Surprise Q3 Earnings
The company's latest earnings report indicates AMC is on track with its pandemic recovery plan. But, the movie chain isn't completely out of the woods yet. It still has a ways to go in improving its financial situation.
With this in mind, AMC is taking the right steps to get the company where it needs to be. Although the world's largest movie chain reported a net loss of $224.2 million, it's a significant improvement from where the company was a year ago.
Additionally, with revenue climbing to $763.2 million, AMC was able to lower debt and improve its cash position.
The company ended the quarter with $1.8 billion in liquidity. Not only that, but the company also mentioned it doesn't anticipate borrowing under its line of credit in the next 12 months.
All in all, the quarter showed solid growth for a company desperately needing it. The retail support has helped fund the business through equity offerings, helping the company stay afloat.
Now let's get into the latest AMC stock news that could boots its revenue stream.
2. A New Venture: Popcorn
Okay, I have to admit, when I first read this headline, I questioned its legitimacy. But, believe it or not, popcorn can be a lucrative business.
Now being viewed as a lightweight, low-calorie snack, popcorn sales are expected to continue rising. In fact, new research shows the popcorn industry is growing and is expected to reach $6.24 billion by 2028. That's billion with a "B." And being that AMC is the largest freshly popped popcorn supplier in the U.S, they know a thing or two about the snack.
Additionally, the company plans to tackle the growing ready-to-eat popcorn market with pre-packed AMC Perfectly Popcorn. Even more, AMC will offer delivery, pickup and takeout options.
Starting in 2022, the company plans to roll out the products. Not only will you be able to pick up your Perfectly Popcorn from AMC locations, but they plan to expand into mall kiosks to further the promotion.
If the new business venture turns out to be a success, it can create a significant revenue stream. And on top of this, it can help lower costs if AMC doesn't buy its popcorn from 3rd party suppliers. As a result, the higher margins can help AMC further improve its debt position.
3. AMC Crypto Coins? NFTs?
In an interesting twist of events, AMC is exploring its cryptocurrency options. Earlier this year, the movie chain said it would accept Bitcoin, Bitcoin Cash, Litecoin and Ethereum as payment methods. And then, after CEO Adam Aron ran a Twitter poll asking if the company should also accept Dogecoin, followers decided that was the right move.
But, the latest AMC stock news suggests the company is getting more involved with cryptocurrencies. On AMCs earnings call, Aron mentioned they are looking into launching its own crypto or if it would be worth doing so.
What's more, he also noted AMC is in talks with major Hollywood Studies about NFT options relating to hit movies. Will the movie chain move in this direction?
If they do, it could be a huge success with both crypto and NFTs maintaining their popularity. In fact, NFT sales are surging at a record pace, with over $10 billion in sales in the third quarter.
That said, the talks are very early, and nothing is guaranteed. But, the idea is intriguing, especially given AMCs biggest supporters.
Does the Latest AMC Stock News Suggest It's Time to Buy?
AMC has been through a wild ride this past year. And the latest AMC stock news indicates it won't be slowing its roll anytime soon.
With impressive Q3 earnings, AMC is improving its financial position with better cash flow. In addition, the reemergence of moviegoers this fall is a huge indication the company's efforts are paying off.
And with big plans to enter the popcorn industry, AMC might be onto something. Not to mention the intriguing crypto/ NFT projects the company is working on.
And on top of this, a slate of new hit films is set to hit theaters this coming year as production companies are back in full swing. Upcoming movies like the new Jurassic World, Scream, and several Marvel movies should continue attracting big crowds.
However, it's not all perfect when it comes to AMC stock. The company is still losing money, and its low institution adoption is concerning with only 26%.
With this in mind, if AMC can continue at the rate it's at, it can prove Wall St wrong. On the other hand, if growth slows, the debt can be troubling for investors.
To stay up to date with the latest AMC stock news, sign up for Trade of the Day below. Trading experts, Bryan Bottarelli and Karim Rahemtulla uncover the most critical trading information, delivered right to your inbox. Check it out today!
While this may be true, AMC seems to be doing everything it can to get back on track and succeeding in many ways. Look for AMC stock to continue trending with the retail crowd as its latest moves seem to align with their values.
---
Pete Johnson is an experienced financial writer and content creator who specializes in equity research and derivatives. He has over ten years of personal investing experience. Digging through 10-K forms and finding hidden gems is his favorite pastime. When Pete isn't researching stocks or writing, you can find him enjoying the outdoors or working up a sweat exercising.