Advanced Micro Devices (Nasdaq: AMD) stock has been a huge winner since the beginning of 2016. Sales and profits have grown every year since then. The company makes microprocessors for computer and electronics customers.
Gaming consoles have been growing with the popularity of online gaming for many years. Many of AMD's microchips go into personal computers, gaming consoles and data center servers. In addition, the growth of cloud computing has increased the demand for data center servers and AMD chips.
The chips that AMD makes are often designed specifically for a customer. So, the customers are happy to do business with AMD for the long-term instead of going with a competitor and spending time and money to redesign a chip.
Gaming and cloud computing shows no signs of slowing their growth. AMD should benefit if the trend continues. AMD stock reached its 52-week high of over $164 per share in November 2021. Interestingly, AMD stock is down dramatically to about $100 per share. With everything seeming to be going in AMD's favor, why is the stock down so much?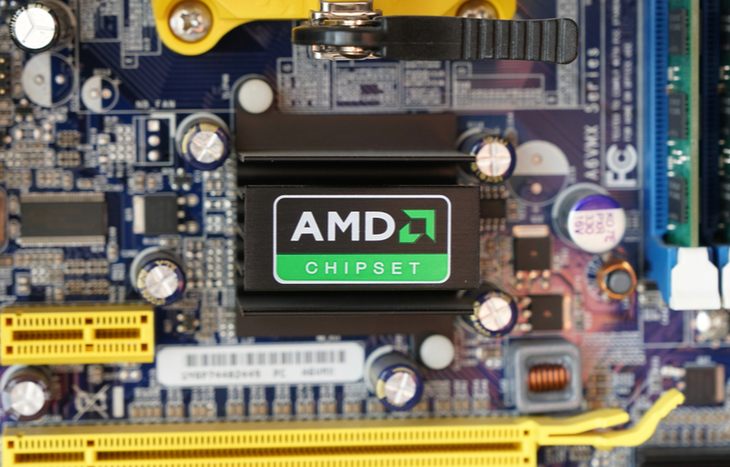 Why is AMD Stock Dropping?
Because of AMD's growth in revenue, profit and stock price, many of the investors holding AMD stock are growth-style investors. To put it lightly, growth stocks have suffered for the last several months. For instance, the Vanguard Growth Index Fund ETF (NYSE: VUG), which tracks growth stocks, is down over 26% this year to about $238.
Growth investors expect their stocks to continue growing to generate returns on the stock. These investors may think growth will slow in 2022 because companies will have a hard time rising above 2020 and 2021 levels. Many growth stocks had banner years in 2020 and 2021 as consumers used stimulus checks and savings from staying at home during COVID-19 to buy products.
On top of that, the Federal Reserve said that it would likely increase interest rates in 2021. Rising interest rates mean lower stock valuations. Often, investors use interest rates in their stock valuation process.
Investors may also be concerned with a potential recession in the U.S. There are multiple reasons for those concerns. First, inflation in 2022 has been at the highest levels we've seen in 40 years. Inflation can lead to recessions. The tensions between Russia and Ukraine have also played a role. Not only does the conflict add to inflation fears in the U.S., but also in countries globally.
These fears have caused growth investors to sell off many growth stocks. Even with so many things going well for AMD, the stock may be down due to a general sell-off in growth stocks.
Is AMD Stock a Good Buy?
AMD may continue to grow revenues and profits for the foreseeable future. As we've seen over the last few months, that doesn't mean the stock will go up. Even after the stock has fallen, AMD stock trades at a P/E ratio of over 35x. It does not pay a dividend.
Another concern for growth investors is the issues in the global supply chain, especially with chip companies like AMD. Many chips are made in countries like China and Korea. Some countries that make chips have imposed more COVID-19-related lockdowns than we've seen in the U.S.
Most recently, China has shut down many places due to a rise in the Omicron variant earlier this year. The lockdown orders made it hard for chip makers to make enough chips to meet orders from around the globe. When these supply chain issues work themselves out, that might be a great time to jump into AMD stock.
AMD Stock Forecast
When AMD put out a press release about its first-quarter 2022 results earlier in May, the press release said the company thinks second quarter 2022 sales will be about $6.5 billion, plus or minus $200 million. If sales are in that range, they will have increased about 69% over the second quarter of 2021. The increase in sales will be mostly due to AMDs purchase of chipmaker Xilinx and increased sales from server chips.
The press release went on to say that AMD has increased its full-year sales guidance and now believes sales will be about $26.3 billion for the year. If the sales forecast is correct, AMDs sales will have grown 60% over full-year 2021 sales. Before the company increased its guidance, it thought sales would only grow 31%.
On average, industry analysts think that AMD will report earnings per share of $.93 for the second quarter of 2022. In addition, they think that earnings per share for the full year will be $3.98.
If interested, you can follow up on AMDs progress during the company's Financial Analyst Day on June 9. During the Financial Analyst Day, managers from AMD will present information about the company and take questions from the audience. You can learn more about the presentation on AMD's Investor Relations website.
Earnings Report
In the press release about the first quarter 2022 results, AMD said that it had sales of $5.9 billion. At that level, sales grew 71% over the first quarter of 2021. In addition, gross margin came in at 48%.
Net income for the quarter was $786 million. The net income translated to earnings per share of $.56. After adjusting for one-time items, earnings per share for the quarter was $1.31. Part of the growth in sales and net income was due to AMDs purchase of Xilinx.
Industry analysts had forecasted earnings per share of $1.02 for the quarter. So, AMD stock beat the analysts' forecasts.
In the press release, CEO Dr. Lisa Su said, "The first quarter marked a significant inflection point in our journey to scale and transform AMD as we delivered record revenue and closed our strategic acquisition of Xilinx."
After AMD put out the first-quarter results to the public, managers from AMD hosted a webcast to talk about the results. When the managers finished with their talk, they took questions from listeners. You can find a link to the full webcast here.
AMD's Acquisition of Xilinx
On October 27th, 2020, AMD said it would acquire Xilinx in an all-stock transaction. That means AMD issued additional shares that went to Xilinx's owners to pay for the deal. On February 14, the deal finally closed.
Xilinx is a chipmaker focused on graphics and System-on-a-chip (SoC) products. AMD said that the deal would add to non-GAAP earnings per share right away after the deal closed.
In a press release about the closing, Dr. Su said, "The acquisition of Xilinx brings together a highly complementary set of products, customers and markets combined with differentiated IP and world-class talent to create the industry's high-performance and adaptive computing leader."
---