Crypto
ApeCoin Price Prediction
Followers of ApeCoin have had a wild ride over the last month. The cryptocurrency launched in mid-March 2022. Since then, it's seen no shortage of volatility and enough volume to put it at No. 21 across all crypto assets changing hands. Early, eager interest in the coin has many examining a potential ApeCoin price prediction. The question is how high could it go? Of course giving enough time to gain traction and stabilize.
As we look ahead at a potential ApeCoin price prediction, it's worth delving into this hot new cryptocurrency. This will allow us to better understand the momentum behind it. Here's a closer look at ApeCoin and its potential price predictions based on the key drivers. As well as chief obstacles facing this fledgling crypto asset.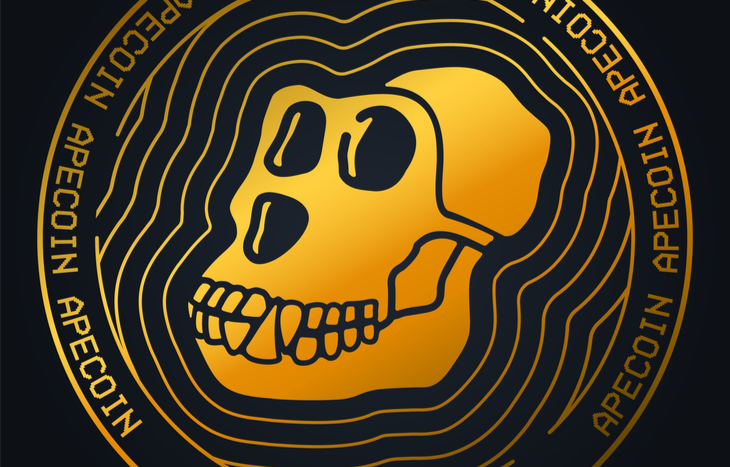 What is ApeCoin?
The early popularity of ApeCoin has less to do with what it is and more to do with who it's associated with. Those familiar with the surging emergence of Non-Fungible Tokens (NFTs) well-know the Bored Ape Yacht Club. This is a series of 10,000 unique ape-inspired NFTs built on the Ethereum blockchain. Yuga Labs, the company behind the successful (and controversial) Bored Ape NFTs, is heavily linked to ApeCoin. The official creator is ApeCoin DAO.
ApeCoin's surge into the limelight largely has to do with the way it's being distributed. Over the first 90 days of the coin's launch, holders of a Bored Ape NFT are entitled to 10,094 APE (per NFT). According to recent analytics, of 15,397 eligible addresses, 15,216 (~99%) have claimed their tokens. This amounts to 136,851,968 APE. This is, effectively, free money, which is part of the massive surge in popularity of the coin over its first month.  
For those who aren't Bored Ape NFT holders, ApeCoin is relatively accessible and a somewhat stable coin. Like many new Ethereum-based tokens these days, ApeCoin is an ERC-20 token. It has a total capped supply of one billion tokens. And this gives it some semblance of stability over other coins that have supplies in the trillions (or higher). 
Keep reading for more on ApeCoin price prediction.
ApeCoin Price Prediction and its Performance So Far
It's difficult to gauge the true performance of ApeCoin as of April 2022. The cryptocurrency has been publicly available for roughly a month. And in that time, has been nothing short of volatile. After debuting at $1 on March 17, ApeCoin kicked up to an intraday high of over $27.50 as investors flooded in to capitalize on its links to Bored Ape Yacht Club. However, it quickly fell back to earth and settled at ~$8.50. 
Since exploding onto the scene, ApeCoin has languished. The coin has ping-ponged between $10 and $14 through the end of March and into April. The average hold time for the coin is a mere 12 days. While the coin has strong volume and plenty of traction across social media, sentiment has nevertheless shifted toward bears. 
Key Drivers and Chief Obstacles for ApeCoin
Aside from its implied association with Bored Ape Yacht Club, ApeCoin has several positives sparking investor interest in the coin. Right now, ApeCoin stands primarily as a governance token with few practical applications. However, this could change as the Metaverse comes into focus and cryptocurrencies find their place within the ecosystem. From in-game currency to tokens for digitally inspired projects, Yuga Labs has hinted at making ApeCoin the de-facto currency for its foray into the Metaverse. A leaked pitch deck from Yuga Labs also supports the idea that ApeCoin will become central to blockchain transactions as the ecosystem grows. 
Despite the buzz around ApeCoin, there are several red flags currently suppressing the price as well as an ApeCoin price prediction. The lack of real, practical applications for the coin has led many to view it as a novelty. Moreover, the obfuscated relationship between ApeCoin DAO and Bored Ape Yacht Club has fueled distrust among investors, especially since Bored Ape Yacht Club founders received some 80 million APE at launch. So long as this relationship remains concealed and clandestine, even speculative investors can find reason to avoid the coin. 
How High Will ApeCoin Rise in 2022?
A unique combination of opportunities and struggles makes ApeCoin an interesting crypto prospect in 2022. At current prices, ApeCoin is still in its fledgling state and has the potential to appreciate tremendously as the crypto market rebounds and the Metaverse becomes more and more an inevitability. 
What's a theoretical ApeCoin price prediction in 2022? Realistically speaking, ApeCoin could optimistically spike back to $20 before the end of the year. Bearish outlooks put the coin at $10 and trading flat through year-end. 
ApeCoin is currently hovering around $12 and trading down in a tight channel, with a variance of about 4-5% between peaks and valleys. Technical indicators suggest that it could continue to fall until it finds support at $10. If it can establish support and capitalize on positive news in Q2 and Q3, some analysts speculate that the price could experience a sustained surge until it meets resistance at $19-$20. If the coin can't entice investors with news in the coming quarters, however, it's likely to stabilize and stay at $10. 
Regardless of where it settles in 2022, ApeCoin is likely to remain somewhat volatile in the interim. 
Is Now a Good Time to Invest in ApeCoin?
While it's the new kid on the block, ApeCoin has drawn a massive following in a short amount of time due to its origins. ApeCoin has already proven that there's demand for it as a cryptocurrency and with positive prospects springing to life as the Metaverse grows, it's likely to find sustainable growth as its reach grows. For believers in the Metaverse and crypto's role in powering its ecosystem, now's an opportune time to invest in ApeCoin. Just make sure to temper your expectations as applications begin to emerge. 
---