The best apps for trading stocks have a variety of tools and resources for all investors. There's an app for anyone and everyone, no matter your experience level within the stock market.
Mobile investing applications have become extremely popular. And they're attracting more young investors than ever before.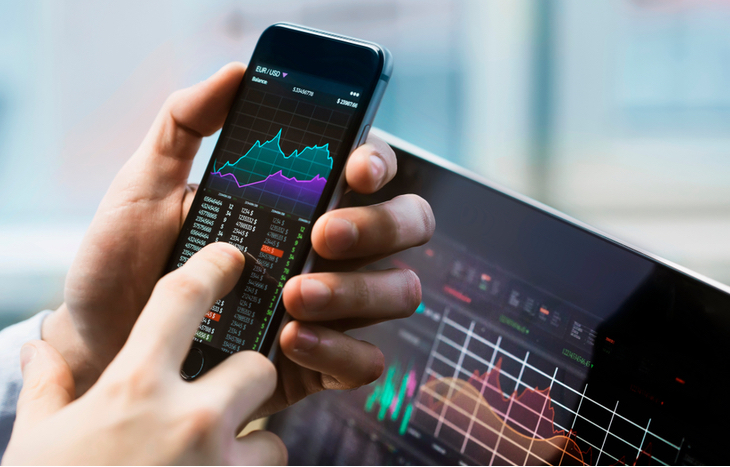 Popular Apps for Trading Stocks
Mobile investing presents a wide range of benefits. It's quick, easy and available to everyone for minimal fees. And in some cases, it's commission-free with no fees at all.
These apps are consistently topping the Apple and Android charts as investing grows in popularity amongst young people. The time of delivery is a marvel.
It shouldn't take more than a few minutes to buy your first stock after downloading an app. Setting up an account and verification is similar across the board and most apps allow instant transfers. You can quickly scavenge the market for your first investment within a few minutes of signing up.
This is modern day trading and it's become the new standard for investors. Most investing is now done electronically. So, let's look at some of the best in the business.
For example, the best apps for trading stocks include:
Robinhood
Acorns
Betterment
Stockpile
Wealthbase
As you can see, these are not your typical brokerages. I purposely left out the household names, such as E*TRADE, Fidelity and TD Ameritrade. That is because these are traditional online brokerages that converted their products into mobile-friendly versions.
They all come with more advanced tools and resources. However, their services can be more expensive and more easily accessible through a computer. While their mobile apps are a great addition, they're not the primary source of activity for users.
These five apps for trading stocks are built around mobile investing. It's how they made their name and continue to change the investing landscape. According to a recent CNBC report, young people are investing at higher rates than ever before. And investing apps are leading the charge.
5. Wealthbase
Wealthbase is one of the newest investing apps available. However, it deserves a spot as one of the best apps for trading stocks due to its creativity.
Wealthbase essentially merges social media and investing. It adds a unique social experience compared to the other apps. You can set up games with your friends on the app to see who's doing the best. There's also a feed that shows each of your friend's recent stock picks.
Games can go for a single day or a few weeks. The choice is yours. Yet, it's an interesting take on stock trading that fuels investing through friendly social competition.
4. Stockpile
Stockpile is the best app for buying fractional shares. This is a way for investors with small portfolios to invest in higher priced stocks. For instance, you can buy fractional shares of blue-chip stocks such as Apple (Nasdaq: AAPL) or Microsoft (Nasdaq: MSFT).
There's no monthly fees or account minimums. However, there is a charge of 99 cents per trade.
You can also open an account for your children and build assets in their name. Your child will own the stock, while you will be legally responsible for the account. Once they become of age, they will have control of the assets.
3. Betterment
Betterment is one of the best apps for trading stocks because of its robo-advising benefits. For a low cost, you will have your own robo-adviser at your fingertips.
This app can do a lot of the work for you if you want to take a hands-off approach. Betterment offers professionally managed portfolios that you can select. These include a selection of ETFs with varying levels of risk.
Management fees are much smaller than traditional financial advisers at just 0.25%. So, it will cost you $25 for every $10,000 you invest.
2. Acorns
Acorns is the old veteran on this list. It's been around the longest and comes at a modest cost of $1 per month. Acorns' greatest strength is usability. It's a simple application that is easy for anyone to use.
You can quickly link a debit or credit card to your account and begin trading. And Acorns will round-up your total for each purchase and invest the difference in one of its ETF portfolios.
1. Robinhood
Robinhood should make any list as one of the best apps for trading stocks. In this case, it's the bell of the ball. Robinhood offers commission-free trading with an intuitive application that is well beyond its competition.
You can trade stocks, ETFs, crypto and options for no fees at all. The application itself is a thing of beauty and very safe. Its search feature is simple, and each stock overview gives you access to recent news, charts and vital data.
Robinhood gives you every feature to help you make informed stock picks. And they recently added fractional trading to the app.
Robinhood's dominance on the market is continuing to grow with over 22 million users currently signed up on the app. Millennials are eating it up as registered users have a median age of 31.
Discover the Best Apps for Trading Stocks
Mobile apps are the new norm in the investing world. And, in general, electronic trading has taken over the market. So, you don't want to miss out on this opportunity to build your own portfolio and learn as you go.
Quick, easy and affordable is the name of the game. The best apps for trading stocks will give you a great range of features at little to no cost at all.
---
Corey Mann is the Content Manager of Investment U. He has more than 10 years of experience as a journalist and content creator. Since 2012, Corey's work has been featured in major publications such as The Virginian-Pilot, The Washington Post, CNN, MSNBC and more. When Corey isn't focusing on Investment U, he enjoys traveling with his wife, going to Yankees games and spending time with his family.