For the past 76 years, companies catering to Baby Boomers have proved good investments. That's still true as that generation starts heading off into the sunset. Assisted living stocks should do well in the next decades as demand increases, but as with all sectors, much depends on the individual company. Also keep in mind that for the first time in U.S. history, the number of older people is projected to outnumber children.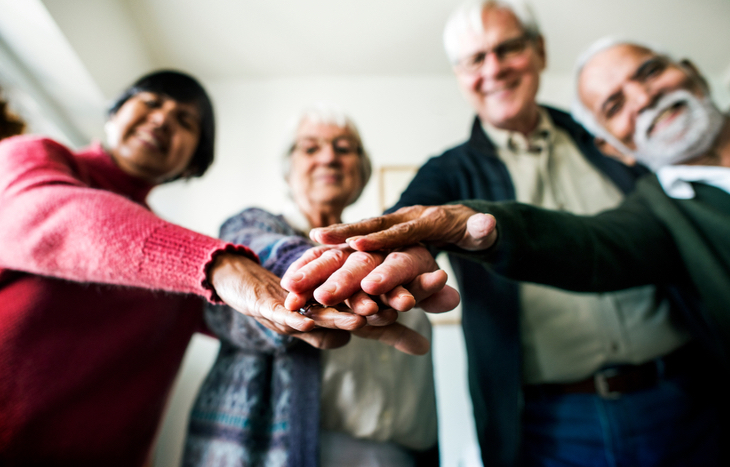 What is Assisted Living?
Assisted living occupies a specific niche in the eldercare industry. The National Institute on Aging defines assisted living as housing for those needing help with daily care, but not as much help as is needed in nursing homes. In most cases, assisted living facilities offer levels of care. The more care necessary, the more residents must pay.
In a typical assisted living facility, residents have their own apartments or rooms. They share common living spaces and are provided with up to three meals daily. Social and recreational activities are available. Residents may receive help with housekeeping, medications, and some personal care, but they can still function relatively independently.
Some assisted living facilities are in association with Continuing Care Retirement Communities. In CCRCs, where residents live depends on the services they need. In most CCRCs, independent adults start out in houses or apartments but move to assisted living if the time comes.
Assisted Living Stocks
Here is a sampling of some of the major companies owning and operating assisted living facilities.
No. 3 Brookdale Senior Living (NYSE: BKD)
Tennessee-based Brookdale Senior Living Inc., founded in 1978, is the nation's largest operator of senior housing. It operates independent living, assisted living and Alzheimer's and dementia care communities. Most of the company's campuses are located near hospitals, shopping, restaurants and places of worship.
In July 2021, another Tennessee-based corporation, HCA Healthcare, bought 47 Brookdale Health Care Services agencies in 22 states for $400 million. HCA Healthcare then announced the sale of these assets to Louisiana-based LCH Group in September.
On May 5, Brookdale announced its results for the quarter ending March 31, 2022. Its first-quarter consolidated revenue per available unit rose 11% year-over-year (YOY). The first-quarter consolidated revenue per occupied unit increased 5.3% YOY. The consolidated weighted average occupancy rose by 380 basis points when compared to 2021's first quarter. In addition, the company's net hires almost doubled from the fourth quarter.
Total first-quarter revenue for this assisted living stock came in at $749.4 million, a decline of 26% YOY. The stock's 52-week high and low ranged from $4.64 to $8.95. The share price has proved volatile, but the report that pandemic-related expenses should decrease by 50% in the second quarter is a positive sign.
No. 2 Ensign Group Inc. (Nasdaq: ENSG)
Founded in 1999 and headquartered in San Juan Capistrano, California, the Ensign Group provides a broad spectrum of assisted living and skilled nursing services through its independent operating subsidiaries. These facilities are based primarily in the West, Midwest and South.
In its first-quarter 2022 results, Ensign reported consolidated GAAP revenues and adjusted revenues of $713.4 million. That's an increase of approximately 13.5% YOY.
The company reaffirmed its annual 2022 earnings guidance of $4.01 to $4.13 per diluted share, as well as annual revenue guidance of $2.93 billion to $2.98 billion.
No. 1 Senior Living REITs
Senior living real estate investment trusts (REITs) are another assisted living stock investment option. One such REIT is Welltower, Inc., the world's largest healthcare REIT. It was one of the first companies to invest in senior housing. Its market cap is $36 billion.
Welltower reports that its first-quarter 2022 investment activity is strong. Approximately 1.3 billion in capital deployment is complete, making this quarter one of the most active starts to a year in company history. Since October 2020, approximately $7 billion in capital deployment has been complete.
As of April 1, 2022, "Old Welltower" will complete a holding company reorganization. The "New Welltower" is the new publicly-traded parent company while Old Welltower becomes an LLC as an Umbrella Partnership REIT (UPREIT). This should allow the UPREIT an improved ability to acquire properties on a tax-deferred basis, giving it an advantage in future acquisitions.
CareTrust REIT (Nasdaq: CTRE)
Founded in 2013 and headquartered in San Clemente, California, CareTrust REIT acquires and leases senior housing and healthcare properties nationwide to operators of various sizes. Currently, only about 17% of its properties consist of assisted living facilities, while 71% consist of skilled nursing facilities. CareTrust REIT owns 226 properties in 28 states with 22 operators. The Ensign Group is its top operator, leasing 98 facilities.
For the first quarter of 2022, CareTrust reports a net loss of $43.3 million and a per-share net loss of $0.45. President and CEO Dave Sedgwick reports 95% of contractual rents being collected in the quarter in the midst of post-COVID-19 disruptions. The historically tight labor market, dwindling of stimulus funding and lingering pandemic effects contributed to an operating environment in which "both the strengths and weaknesses of operators are magnified."
As of May 6, 2022, the company's 52-week high and low stock price ranged from $24.58 to $16.01. CareTrust REIT announced a dividend of $0.275 per share.
Assisted Living Stocks Considerations
The pandemic definitely made an impact on assisted living stocks. Costs for personal protective equipment, cleaning, sanitation and disposable foodservice supplies significantly affected the bottom line. Many are still working to rebuild revenues lost due to COVID-19. Such facilities have often experienced staffing issues, and companies have needed to raise wages and increase benefits to attract and retain staff. Investors should recognize that these stocks are particularly sensitive to further COVID-19 outbreaks.
---