A Bakkt IPO is coming to market. As cryptocurrency grows in popularity, so do cryptocurrency platforms. And Bakkt stock could be the first opportunity for investors to get involved in the market.
But is Bakkt a good investment opportunity? Here's what we know…
Bakkt IPO: The Business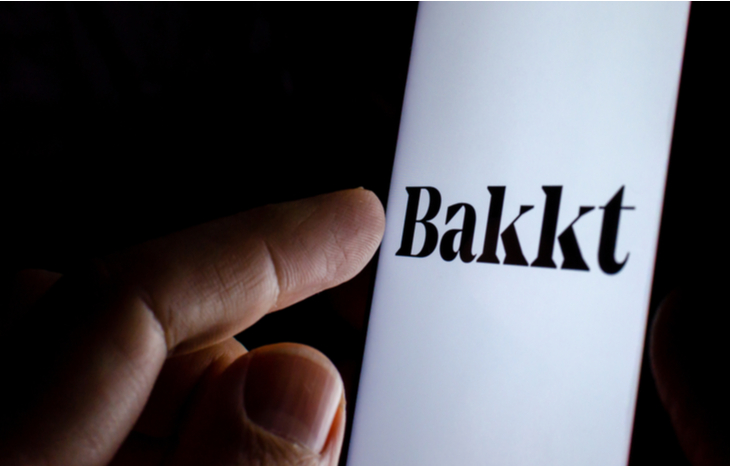 Intercontinental Exchange Inc. (NYSE: ICE) founded Bakkt in 2018. Its headquarters are in Atlanta, Georgia. Bakkt is a platform that gives people access to digital assets such as cryptocurrency, loyalty points, in-game assets and gift cards. It also aims to help merchants and loyalty program sponsors create better customer engagement and deliver cost savings. It supports more than 30 loyalty programs and over 200 gift card merchants. Starbucks (Nasdaq: SBUX) integrated Bakkt cash as a payment method.
On Bakkt's site, it claims:
We began in 2018 with the vision to bring trust and transparency to digital assets. Through the Bakkt Warehouse and Bakkt Bitcoin Futures and Options contracts, we serve institutional clients in an end-to-end regulated market with true price transparency. For consumers, Bakkt aggregates digital assets to enable instant liquidity and to empower users to trade, transfer and pay however they want. Merchants within the Bakkt ecosystem see a lower cost of payment acceptance, enhanced customer engagement and decreased loyalty liability through a variety of redemption options.
The company announced on Monday that a Bakkt IPO is officially coming to market. Although competitor Coinbase filed confidentially in December, Bakkt could end up being the first cryptocurrency platform to go public. But why is Bakkt stock coming now?
Bakkt Stock: Why Now?
Companies don't go public for no reason. And that's true of Bakkt also. For those keeping up with the world of digital money, Bitcoin, one of the best cryptocurrencies, just surpassed $40,000 before falling again. And as the digital era continues to rise, some think crypto could be the future. But there are other reasons investors are getting a Bakkt IPO.
Gavin Michael Announced as New CEO
In the company's press release, Bakkt announced a new CEO effective Monday. Gavin Michael is the former head of technology for Citi's Global Consumer Bank. His position involved the strategic planning, management and day-to-day operations of Citi's technology organization. Before that, he served as chief technology innovation officer for Accenture and headed the digital team for Chase.
He commented about his new role:
The average consumer holds a wealth of digital assets but rarely tracks their value and lacks the tools to manage and utilize them. I'm excited to join the management team of a company, at this important time in its expansion, whose vision is to bring trust and transparency to digital assets through innovation and technology and, through that process, unlock trillions of dollars currently held in customer and loyalty accounts and allow consumers to put them to work.
Given his career history, he brings a lot of technical experience for Bakkt's next announcement…
Coming Soon… the Bakkt App
The Bakkt App is coming to Google Play and the App Store. Although the app isn't out yet, the company states more than 400,000 consumers applied for early access. Bakkt expects the app to be available in March 2021. It will offer a number of options for consumers:
Digital Wallet. Consumers can link multiple digital asset accounts to the Bakkt App. They can view loyalty points, rewards programs, gaming assets, gift cards and cryptocurrencies in one place. And the app shows how much the consumer's portfolio grows.
Loyalty Redemption. The Bakkt App allows consumers to convert any, or all, of their digital assets into cash. Consumers can also use other rewards, such as airline miles, to make purchases by converting the rewards.
Crypto Trading. Bakkt provides a secure trading platform for cryptocurrency and encourages consumers to give it a try. The company claims its platform is easy to learn and easy to use for beginning and experienced investors alike. It also uses the same security as its parent company, Intercontinental Exchange, does for the New York Stock Exchange.
Payments. Similar to payment apps such as Venmo or CashApp, Bakkt App lets you pay your friends by using your cash balance, loyalty points, gaming assets or crypto. Bakkt also provides the digital Bakkt card, which consumers can load their cash balance onto. It can be used to pay in-store or in-app wherever Apple or Google Pay is accepted.
The Growing Crypto Market
Not only is Bakkt a growing company and platform, but its market is a fast-growing industry. In the Bakkt IPO investors presentation, Bakkt claims the serviceable addressable market in 2020 was about $1.6 trillion. This includes…
$703 billion in gift cards
$564 billion in cryptocurrency
$316 billion in loyalty points/miles
$50 billion in in-game assets.
But Bakkt estimates the market will see growth of about 26% by 2025. The estimated total addressable market for 2025 is $5.1 trillion. The breakdown looks like this:
$3 trillion in cryptocurrency
$1.4 trillion in gift cards
$599 billion in loyalty points/miles
$88 billion in in-game assets.
When you look at all the information, you'll find it's no surprise the Bakkt IPO is coming now. But Bakkt stock isn't coming via a traditional IPO. Instead, the company chose to go public with the latest trend.
Bakkt Chooses SPAC
A SPAC IPO is when a special purpose acquisition company (SPAC) acquires a private company. As a result, the newly combined company is publicly traded. The SPAC goes public in order to raise funds. It then has two years to use the funds to make an acquisition. In this case, Bakkt is the acquiree. And VPC Impact Acquisition Holdings (Nasdaq: VIH) is the SPAC.
VPC Impact Acquisition Holdings' sponsor is an affiliate of Victory Park Capital (VPC), a global investment firm. It has a long track record of debt and equity financing for some of the largest global fintech companies. John Martin, CEO of VPC Impact Acquisition Holdings, stated…
With VPC Impact Acquisition Holdings, our aim was to identify a high-growth fintech company with competitive differentiation and significant white space, and we are pleased to have found a great match in Bakkt. The company has a strong position in one of the most well-funded and fastest-growing areas of technological expansion, as evidenced by its diversified revenue generation model and pathway to near-term profitability. We thank Jeff, David and the ICE team for their vision and look forward to working with Gavin and the Bakkt team to grow its market-leading position in digital assets.
The Intercontinental Exchange is also excited for the future of its crypto venture. In regard to the Bakkt SPAC IPO, Intercontinental Exchange founder, Chairman and CEO Jeffrey Sprecher said…
For the past 20 years, I've been privileged to work with great people to bring one great company to the public markets and watch it grow from there, and today I'm equally proud to see another great idea born within ICE, and shepherded by another great team, enter into a transaction that will allow it to become publicly traded. I'm thrilled we were able to partner with the fintech experts at VPC on this pathbreaking deal and look forward to watching Gavin and his colleagues bring Bakkt to the next level.
Cryptocurrency is one of the most exciting things for investors for its unlocked potential. And Bakkt stock could give investors an opportunity to invest in a rapidly growing market. So, for those interested in the Bakkt IPO, here are the details.
Bakkt SPAC IPO: The Details
The Bakkt merger values the company at $2.1 billion. It's expected to give more than $500 million to the new company. That includes up to $207 million from VPC Impact Acquisition Holdings' IPO funds and $325 million in a PIPE priced at $10 a share. The Intercontinental Exchange committed $50 million to the PIPE. Bakkt's existing shareholders and management will roll 100% of equity into the new company. If no VPC Impact Acquisition Holdings shareholders redeem their equity, Bakkt will own 78%, VPC Impact Acquisition Holdings 8%, VPC 2% and PIPE investors about 12%.
The newly combined company applied to trade on the Nasdaq under the ticker symbol VIH.
If you're looking for the latest crypto investment opportunities, we suggest signing up for our Manward Press e-letter below. It's full of useful tips and research from our investing experts. Whether you're a beginner or an experienced investor, there's something for everyone.
The Bakkt IPO brings a new investment opportunity to investors, as no cryptocurrency platform has gone public before. According to the press release, investors can expect Bakkt stock as early as the second quarter of 2021.
---
Amber Deter has researched and written about initial public offerings (IPOs) over the last few years. After starting her college career studying accounting and business, Amber decided to focus on her love of writing. Now she's able to bring that experience to Investment U readers by providing in-depth research on IPO and investing opportunities.