Warren Buffett's Berkshire Hathaway stock has been one of the most consistent producers for more than four decades. In fact, Berkshire Hathaway (NYSE: BRK.A) has only had seven losing years in its 42-year history. So far, 2022 has been a rare down year. Will Berkshire Hathaway stock turn around or continue to fall?
Year-to-date, Berkshire Hathaway Inc Class A is down just over 5%. However, the stock has seen signs of recovery recently, rising 3.3% over the last month.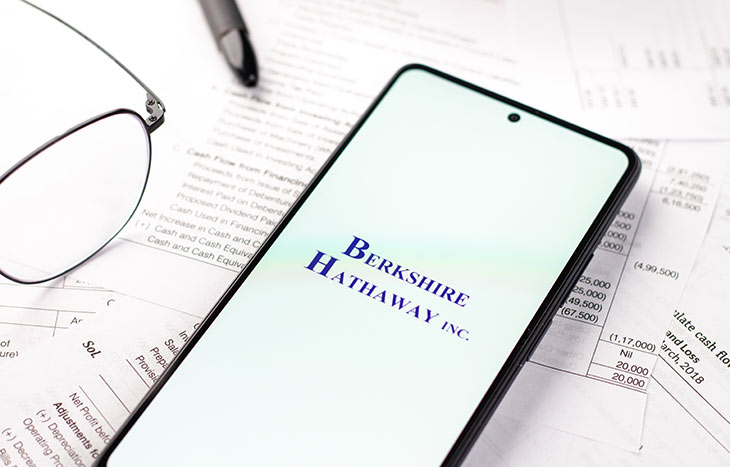 Berkshire Hathaway Stock – What is Buffett Investing in Lately?
"Whether we're talking about socks or stocks, I like buying quality merchandise, when it is marked down." – Warren Buffett
Warren Buffett continues to invest in undervalued companies. And while the majority of the world is heavily focused on renewable energy, Buffett has doubled down on fossil fuels. The famed investor has been buying up large amounts of shares of two major oil stocks in 2022. Based on recent moves, Buffett owns close to 20% of Occidental Petroleum (NYSE: OXY). Berkshire Hathaway also owns $10 billion of Occidental Petroleum preferred stock and 83.9 million warrants.
In addition to Occidental, Buffett has quadrupled his shares of Chevron Corporation (NYSE: CVX), spending around $17 Billion on the oil stock. These investments highlight Buffett's confidence in the oil industry, which has remained pretty consistent over the past few decades.
Recent Buffett quotes on the oil industry:
"When you buy into a huge oil production company, how it works out is going to depend on the price of oil to a great extent. It's not going to be your geological home runs or super mistakes or anything like that. It is an investment that depends on the price of oil." – Warren Buffett (2020)
"It wasn't that long ago, that the idea that anybody produced a barrel of oil was, somehow, something terrible. I mean, just try doing without 11 million barrels a day and see what happens tomorrow. If we were to try and change over, in three years, or five years, nobody knows what would happen. But the odds that it would work well are extremely low. For now, most people feel that it's nicer to have some oil in this country than not have it." (2022)
Berkshire Hathaway stock holdings: In addition to Occidental and Chevron, Buffett has large stakes in many companies, including Davita Inc (38.2%), Kraft Heinz Co (26.6%), Liberty Sirius XM Group Series A (20.4%), American Express Co (20.1%) and Liberty Sirius XM Group Series C (19.6%).
Making up more than 41% of Berkshire Hathaway's total portfolio, Apple (NASDAQ: AAPL) is by far the company's largest holding. Berkshire's Apple shares are currently valued at more than $140 Billion.
Here are some of Buffett's top holdings:
Apple (NASDAQ: AAPL)
Bank of America Corp (NYSE: BAC)
Coca-Cola Co (NYSE: KO)
Chevron Corporation (NYSE: CVX)
American Express Company (NYSE: AXP)
Kraft Heinz Co (NASDAQ: KHC)
Occidental Petroleum Corporation (NYSE: OXY)
More on Berkshire Hathaway Stock
Since the 1960's, Berkshire Hathaway investors have seen average annual returns of around 20%. That's nearly double the return of the S&P 500. And as mentioned earlier, the stock's history is beyond impressive.
With over $600 billion in market cap, Berkshire is one of the largest U.S. owned public companies.
"If you aren't willing to own a stock for 10 years, don't even think about owning it for 10 minutes." – Warren Buffett
Without a doubt Buffett is a buy and hold investor. As it is with many good things in life, investors should be ready to hold onto stocks for the long haul in order to see big returns. Not only does Buffett looks for value stocks, but he also focuses on companies who can beat out their competitors and outperform in key metrics and fundamentals over long periods of time.
When you invest in Berkshire Hathaway stock, you're leveraging all of Buffett's years of experience and track record.
But which Berkshire stock should you buy?
Berkshire Hathaway's stock comes in two options: BRK.A and BRK.B. Originally there was just BRK. But in 1996, Berkshire Hathaway issued 517,500 shares of Class B shares, giving investors the ability to buy in for 1/30th the price of Class A shares.
Today that parallel still exists, as Class A shares are currently selling for more than $434,000. On the other hand, Class B shares can be purchased for under $289, so they're much more obtainable for the average investor.
It is important to know that BRK.A shares are not only way more expensive, but they also come with significantly more voting rights. BRK.A shareholders can also convert their class A to class B shares at any time. Whereas, you cannot convert class B shares into class A
Final Thoughts
As energy companies like Chevron and Occidental increase supply to meet demand, Berkshire Hathaway stock could see a nice return. And its track record with large positions in blue chip stocks like Apple continue to help mitigate risk. Keep an eye on Buffett's buying activity throughout the rest of 2022. As always, Buffett tends to buy highly profitable, time-tested stocks at a discount.
To stay up-date-with with all the latest investment news, subscribe to one of our free investment newsletters today.
---