There's a long history leading up to some of the best drone stocks today. You might be surprised to hear that the first unmanned aerial vehicle dates all the way back to 1938. This was the year that The Good Brothers developed the Big Guff, the world's first remote control airplane. However, it wasn't until relatively recently that businesses and the miltary started realizing the potential in remote control technology, unmanned vehicles and drones.
In more recent years, drone technology has accelerated. Today, there are about 372,000 commercial drones and 500,000 non-commercial drones registered with the FAA. Also, the unmanned aerial vehicle (UAV) market is expected to reach $58.4 billion by 2026.
Drone technology has a wide range of applications and is used by consumers, corporations and the military alike. Consumers mainly want to use drones for entertainment and to record awesome videos at 400 feet. Corporations want to use them to cut costs and deliver products more efficiently. And the military is interested in using drones to gather intel and conduct important missions without risking human life. With all of these different uses, drones are definitely one of the coolest branches of modern technology.
However, when it comes to finding drone stocks to buy, it can be a little challenging. This is because most consumer drone companies are not publicly traded. In order to find the best drone stocks, we'll have to focus on defense contractors or tech companies that use drone technology.
Let's take a quick look at some of the best drone stocks to buy…
Best Drone Stocks to Buy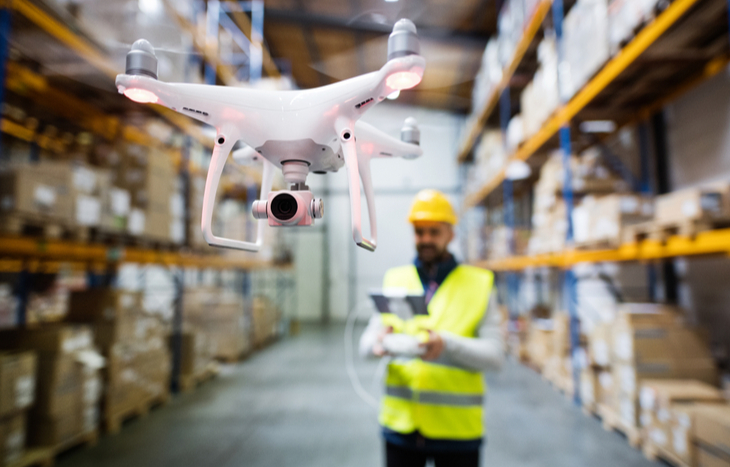 NOTE: I'm not a financial advisor and am just offering my own research and commentary. Please do your own due diligence before making any investment decisions.
Also, before we dive into the drone stocks, you might be interested in the best agriculture stocks. It's a growing industry as well and farmers can use drones to improve their yields. There are some great opportunities for investors.
AeroVironment (Nasdaq: AVAV)
When making a list of the best drone stocks to buy, you could build a solid case for any major defense contractor. For the most part, Boeing, Raytheon, Lockheed Martin and others all either create drones or are investing in drone technology. However, these are also massive companies. This means that any money they make from producing drones will be a tiny percentage of their total revenue.
If you're looking for a defensive contractor that's much more of a pure drone stock play then AeroVironment is probably your best bet.
AeroVironment is headquartered in Arlington, Virginia, and is currently the Pentagon's top small drones supplier. It specializes in unmanned aerial vehicles and its three main products are the Raven, Wasp and Puma models. In total, it has 10 UAV solutions.
AeroVironment does have a few drones available for commercial use, however, the bulk of its sales come from the military. By buying stock in AeroVironment, you're betting that the military drone market will grow over the coming years.
Its revenues have been growing consistently over the past five years. In 2020, it posted total revenue of $367 million and a net income of $41 million. From its most recent earnings call (Q2 2021) it has also successfully secured a record backlog of $258 million. If you're not familiar with the term "backlog," this means that it has received $258 million worth of orders but have not completed them yet.
AeroVironment is also a company on the move, as it recently acquired Telerop, one of the leaders in ground robotic solutions.
AeroVironment's stock was up about 40% in 2020 and is up 291% over the past five years.
Alphabet (Nasdaq: GOOGL)
Next on this list of drone stocks to buy is Alphabet, the parent company of Google. Google is mainly known for its search tool, which brings in the majority of its revenue. However, Google also likes to push the boundaries of technology and invest in tech that could change the world. Recently, Google has been making a big push into drones. By "big push" I mean that Google actually owns the largest drone delivery service in the world.
This delivery service is known as Wing and, by downloading an app, users can get goods delivered to their homes by drone. If you're wondering why you haven't seen drones flying all over your neighborhood yet it's because Wing mainly operates in a small suburb of Australia. However, it just crossed the 100,000 deliveries milestone which means that Google may start rolling it out elsewhere.
Google's revenues have been growing consistently for the past five years. In 2020, it posted total revenue of $182 billion and net income of $40 billion.
This drone stock was up about 30% in 2020 and over 250% in the past five years. It's also one of the FAANG stocks. You can click on that link to learn more about these top tech giants. The stock below also makes that list…
Amazon (Nasdaq: AMZN)
When looking at the best drone stocks to buy, it's hard not to include Amazon on this list. Amazon made headlines several years ago with big promises to incorporate drones into its massive delivery fleet. Since it's one of the biggest delivery companies in the world, this was an exciting proposition.
Right now, Prime Air still only operates in a small suburb of Cambridge, England. Amazon is fine-tuning the tech. According to this promotional video, customers will place an order and have a fully autonomous electric drone deliver their goods. Prime Air's main goal is to cut package delivery time from 1-2 days to 30 minutes. Amazon hasn't given any timeline on when this service will be rolled out to other markets. However, if it's successful, this could give it another huge leg up over retailers like Amazon and Target who have since caught up to Amazon with their own 1-2 day delivery promises.
Since Amazon is considered one of the best stocks to buy already, it makes sense that it's one of the top drone stocks to buy.
In 2020, Amazon brought in an incredible $386 billion in total revenue as well as $21 billion in net income. Its stock has been accelerating rapid-fire recently and drone technology could be yet another key reason that consumers prefer to order online instead of in person.
Amazon's stock was up about 70% in 2020 and is up well over 300% over the past five years.
Nvidia (Nasdaq: NVDA)
Nividia is an American technology company whose website claims that it is the leaders in artificial intelligence computing. It is known for designing graphics processing units and computer chips that are used in a wide variety of industries. Among the industries that their chips are used? Drones.
One of the main companies that use Nvidia's technology is Aerialtronics. Aerialtronics is one of the leaders when it comes to making advanced commercial drones that are used for power line and wind turbine inspections (among other things). Nvidia's Jetson technology is the brain that powers these drones. Jetson allows drones to use deep learning algorithms to understand and react to the world around them.
Except for a minor setback in 2020, Nvidia's revenues have been growing consistently over the past five years. For full fiscal year 2021, it has already posted its highest revenue ever of $16 billion and net income of $4 billion.
This drone stock was up about 120% during 2020 and is up over 1,300% during the past five years.
Best Drone Stocks and Beyond
If you're the type of investor who likes to mimic successful traders, you'll be pleased to hear that most of these stocks are favorites of U.S. politicians. In particular, the Speaker of the House of Representatives, Nancy Pelosi, has been known to outperform the average return of the stock market. She currently owns large stock and option positions in drone stocks like Nvidia, Amazon and Google.
I hope that you've found this list of the four best drone stocks to buy to be valuable! As usual, all investment decisions should be based on your own due diligence and risk tolerance.
If you're looking for expert picks, consider signing up for Profit Trends below. It's a free e-letter that's packed with investing tips and tricks. You'll find some of the biggest investing trends and opportunities.
---
A University of Miami grad, Teddy studied marketing and finance while also playing four years on the football team. He's always had a passion for business and used his experience from a few personal projects to become one of the top-rated business writers on Fiverr.com. When he's not hammering words onto paper, you can find him hammering notes on the piano or traveling to some place random.