I put together my first research report on marijuana stocks in 2017. Since, the cannabis industry has made big strides. That's why it's well past due for an update.
Going into 2021, it's full steam ahead for the cannabis industry. At the end of last year, Arizona, New Jersey, South Dakota and Montana all passed legislation to allow weed for adults. That brings the total to 15 states with recreational use. And more will follow suit…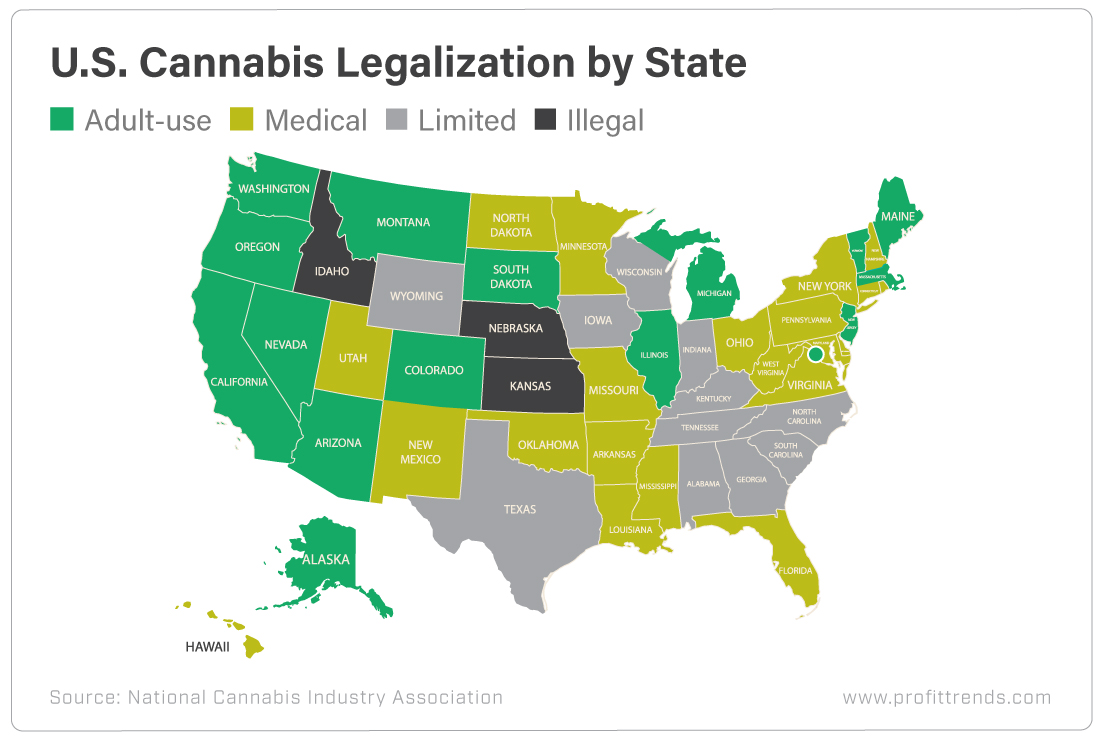 It's only a matter of time before the U.S. government takes the hint. Whether that takes a year, three years or longer, there are some great investing opportunities.
If and when federal legalization happens, that will unleash even more investment capital. Getting ahead of that can lead to some healthy profits.
After the marijuana stocks list below, you'll also find some valuable insight into the cannabis industry. One of our experts here at Investment U, Matthew Carr, has spoken with some key executives in the industry.
List of Top 10 Marijuana Stocks
Canopy Growth (Nasdaq: CGC)
Altria Group (NYSE: MO)
GW Pharmaceuticals (Nasdaq: GWPH)
Cronos Group (Nasdaq: CRON)
Aurora Cannabis (NYSE: ACB)
Scotts Miracle-Gro (NYSE: SMG)
Tilray (Nasdaq: TLRY)
Molson Coors (NYSE: TAP)
Aphria (Nasdaq: APHA)
Curaleaf Holdings (OTC: CURLF)
This list covers a wide range of cannabis companies. Some are pure plays and others are less direct with more diversified business models. Let's look at a few of the companies in more detail…
Company Highlights
Canopy Growth is a Canadian-based company, formerly known as Tweed Marijuana. It was the first marijuana company to list publicly in North America. That was in 2014 on the Toronto Stock Exchange, and in 2018, it listed on the New York Stock Exchange.
Canopy is helping to build up a wide range of brands such as Tweed, Spectrum Pharmaceuticals, Martha Stewart, CraftGrow and many others. So this marijuana stock provides some useful diversification in the industry. Constellation Brands (NYSE: STZ) bought into the company a few years back and increased its stake last year. It now owns close to 40% of the company.
GW Pharmaceuticals is leading the way with cannabis-based treatments. It was the first company to get approval in any country for a natural cannabis derivative treatment. This was a big move, and the company isn't resting on its laurels. The following quote comes from the CEO, Justin Gover…
GW's vision is to be the leader in prescription cannabinoid medicines, developing and commercializing pharmaceutical products which address clear unmet needs.
Scotts Miracle-Gro isn't a direct play… but it still gives good exposure to the cannabis industry. I consider it a "picks and shovels" play. For example, during the gold rush, selling picks and shovels created many fortunes as well. The same was true for the saloon owners.
Scotts Miracle-Gro sells a wide range of supporting equipment. It has been acquiring and building out hydroponic products. This presents a great growth opportunity as many marijuana growers use hydroponic systems.
Curaleaf Holdings is the world's largest cannabis company by revenue. It produces and distributes cannabis products across North America. The company has a presence in 23 states and owns and operates 96 dispensaries, 23 cultivation sites and 30 processing sites.
Curaleaf is a great marijuana stock to consider. It's a direct play, and it's continuing to grow. As more states legalize weed, Curaleaf should be able to push sales and profits higher.
An Inside Look at the Marijuana Industry
As mentioned, we have an expert here at Investment U who's closely tied into the cannabis industry. He's been researching the industry and watching marijuana stocks to find the best opportunities as well as speaking with other experts in the field.
Going into 2021, here's his forecast…
In 2021, I think we will see the inklings of major changes at the federal level – like the Marijuana Opportunity Reinvestment and Expungement (MORE) Act, Secure and Fair Enforcement (SAFE) Banking Act or Strengthening the Tenth Amendment Through Entrusting States (STATES) Act passing. And I think as many as five more states will legalize cannabis markets this year! I'm watching Connecticut, New Mexico, New York, Pennsylvania, Rhode Island and Virginia.
There are many reasons to be optimistic about the industry. However, Matthew Carr is a veteran trader and knows the biggest cause for caution heading into 2021 is euphoria. There's the threat of overheated optimism inflating prices too quickly, and the fear of missing out could lead to a bubble.
So he takes a pragmatic approach to finding the best marijuana stocks… For more insight from Matthew Carr, sign up for the free Profit Trends e-letter. It's packed with investing research.
With that e-letter, you'll find some of the best investing opportunities in the market. And for a list of smaller opportunities in the industry, check out my list of penny stocks from last year.
---