With the stock market struggling so far in 2022, many investors have begun shifting their thesis from growth stocks to safer, more consistent investments. For many, dividend stocks have emerged as something they can feel good about putting their money in. The question is, what are the best performing dividend stocks in 2022?
Evaluating a well-performing dividend stock means looking past the dividend percentage. It also needs to have a consistent dividend or dividend growth, share price appreciation (EPS) and the ability to resist some of the turbulence affecting the broader stock market. To that end, here's a look at 10 of the best performing dividend stocks in 2022 (so far).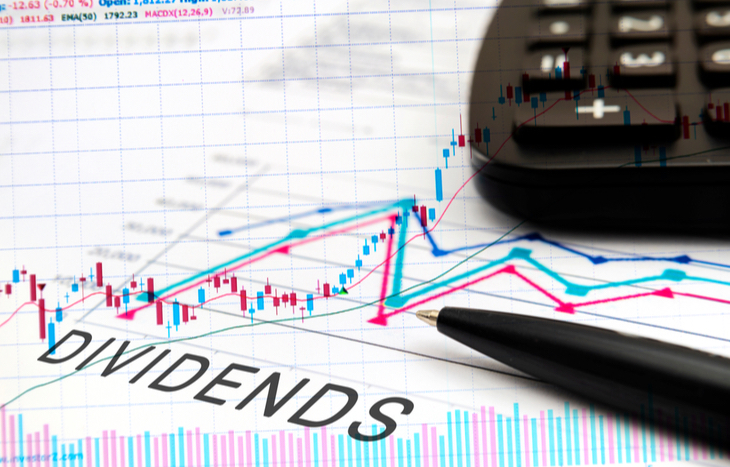 1. Exxon Mobil Corp. (NYSE: XOM)
Like most oil and gas stocks, ExxonMobil is having a banner year in 2022, which is great for dividend investors. Not only is Exxon a 38-year Dividend Aristocrat, it has one of the highest dividend payouts of this exclusive list (4.28%). With the stock's price cresting above $80 in April, dividend investors should feel great about owning this stock.
2. Wells Fargo & Co. (NYSE: WFC)
Wells Fargo & Co. doesn't have the largest dividend on this list, but the company is nonetheless an extremely attractive buy. At 1.79%, the dividend has room to grow, and is likely to thanks to much improved free cash flow over the past few years. Despite a dividend cut in 2020, WFC has rebounded well since the pandemic and looks attractive at a P/E of just over 9.
3. Citigroup Inc. (NYSE: C)
The banking and financial sector as a whole is down in 2022, but that's all the more reason for investors to look at Citigroup Inc. The stock is down less than its peers (JPM, GS) and maintains a very attractive 4.06% dividend. To understand why this stock is a long-term buy-and-hold candidate, investors only need to look at its balance sheet, where margins speak for themselves.
4. Realty Income Corp. (NYSE: O)
With the real estate market surging, REITs have come back in vogue. Among the many real estate stocks out there, few match the consistency and appeal of Realty Income Corp. Its 4.12% dividend is an attractive draw by itself, bolstered by a steady post-pandemic uptrend in share price. Great margins ensure long-term stability for this dividend-paying stock.
5. Caterpillar Inc. (NYSE: CAT)
Caterpillar Inc. has been one of the best performing dividend stocks for decades. A Dividend Aristocrat, CAT has paid a dividend for 28 consecutive years and doesn't show signs of slowing. With massive reinvestments in American infrastructure coming down the pike, now's a great time to jump into CAT stock and ride strong EPS to an extremely healthy dividend payout.
6. AbbVie Inc. (NYSE: ABBV)
The past 12 months have been nothing short of prolific for AbbVie Inc., and the long-term trends favor this stalwart dividend-payer. The stock has an attractive 3.61% dividend payout, with cash flow and margins that are rare among drugmakers. With 50 years of dividends, investors should be excited about the potential for ongoing dividend growth based on recent performance.
7. McDonald's Corp. (NYSE: MCD)
Often considered a defensive investment because of its inflation-resistant fare, McDonald's Corp. is consistently one of the best performing dividend stocks. While the company has been up and down in 2022, its margins and free cash flow continue to signal consistency in operations. With macroeconomic factors bearing down on the rest of the economy, MCD is a strong buy.
8. CubeSmart (NYSE: CUBE)
Another defensive investment, CubeSmart pays a healthy 3.36% dividend and stands to benefit from current macroeconomic factors such as inflation. Strong margins and competitive market share—CubeSmart is the fourth-largest self-storage provider—position the company to continue paying dividends in the near-term. The company's five-year growth is an enticing sign.
9. Whirlpool Corp. (NYSE: WHR)
Whirlpool Corp. is flashing several buy signals in 2022. The company pays 3.74% to shareholders, and the dividend remains safe so long as WHR retains healthy sales and margins: something it doesn't seem to have a problem doing in any market. With strong EPS growth expected, WHR could become one of the best performing dividend stocks of the year.
10. SYSCO Corporation (NYSE: SYY)
Food production has faced challenges in 2022, but that hasn't deterred SYSCO from returning value to shareholders. The company pays a 2.14% dividend and is on pace for exceptional EPS this year and over the next five years. While the company is priced high thanks to a recent run-up of its share price, it's nonetheless an attractive buy for long-term dividend-focused investors.
What Makes a Top Performing Dividend Stock?
Each of the above 10 stocks are a safe investment not only because of the dividends they pay, but because the stocks themselves are thriving. They have strong balance sheets, consistent cash flow, good leadership and market share that allows them to thrive in almost any market condition. All of this contributes to much-desired consistency when it comes to selecting dividend-paying stocks. After all, the key value of these stocks is their ability to continue paying (and growing) the dividend.
Looking for more tips on safe haven investments as we weather stock market turbulence in 2022? You can discover some of the leading investment newsletters to learn more about the best performing dividend stocks and how to build a dividend portfolio that enables steady, consistent income.
---