Solar energy was already on track to become a major growth industry over the coming decade. This really started once President Joe Biden took office. Biden immediately established a goal for the U.S. to generate 100% carbon-free electricity by 2035. He has also extended hefty tax credits and subsidies to accelerate the country's transition to renewable energy sources. Since then, the average cost of gas has risen to over $5 per gallon. This will likely add to the country's urgency to speed up the transition. With that said, let's dive into the three best solar stocks to buy in 2022.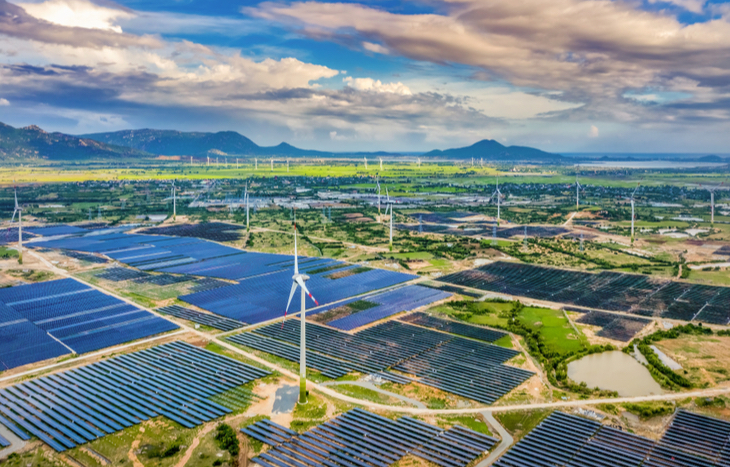 Best Solar Stocks to Buy in 2022
No. 3 Enphase Energy (Nasdaq: ENPH)
Enphase Energy is an energy technology company that focuses on solar generation, home energy storage and web-based monitoring and control. This is one of the top solar stocks to buy in 2022 mainly because of its stellar performance in 2021.
In FY 2022, Enphase Energy reported annual revenue of $1.38 billion and a net income of $333.7 million. These numbers were up 78% and 109% respectively. This performance marked a record year of profitability for Enphase Energy. It has carried this momentum into 2022 so far. In Q2, it reported revenue of $530 million and a net income of $77 million. These numbers were up 68% and 96% respectively.
To date, Enphase Energy has sold over 2 million systems in 135 countries. And this top solar stock should continue to grow as more people make the switch to clean energy.
No. 2 First Solar (Nasdaq: FSLR)
First Solar is one of the best solar stocks to buy due to a newly-uncovered competitive advantage.
Over the past year, COVID-19 ravaged the world's supply chains. This, along with record inflation, is leading to massive price increases for raw materials such as aluminum and lithium. Many companies rely on these raw materials to build their products. For them, these price increases are a massive hurdle to overcome. First Solar, on the other hand, uses cadmium telluride to produce its panels. It's one of the few companies to use this resource.
Using cadmium telluride was already a competitive advantage for First Solar. This is because First Solar's cadmium telluride panels are much easier to manufacture. First Solar can produce CdTe panels can in a matter of hours while also using just 2% of the semiconductor materials used in traditional panels. This means that it does not rely on more expensive raw materials like aluminum and polysilicon.
This unique product is actually not anything new. First Solar has been developing it for 20+ years. But, it's the economic timing that is finally turning First Solar's use of CdTe into a massive advantage. Other companies will have to deal with rising material costs while First Solar can leverage a material that has a much lower demand.
The Best Solar Stocks No. 1 Tesla (Nasdaq: TSLA)
Most investors tend to focus on Tesla's vehicles. Each quarter, the main discussion is related to how many EVs Tesla produced and delivered. This intense focus makes it easy to forget that Tesla actually has other product lines. Tesla isn't just a top EV stock. It's also one of the best solar stocks out there. Right now, Tesla sells two solar products: solar roofs and solar panels.
Tesla's solar roof is like one gigantic solar panel. Instead of mounting heavy solar panels on your roof, Tesla will just replace the entire roof with one, durable sheet of solar tiles. Tesla has installed 400,000 solar roofs so far. This is the equivalent of 10 million traditional solar panels, which Tesla also sells. In addition to the solar roof and panels, Tesla also sells an energy storage product called Powerwall.
Powerwall acts as a solar-powered backup generator for homes. It allows solar-powered homes to feel confident that they won't lose power during a storm. In Q1, deployments for Powerwall grew by 90%. Management stated that the demand for this product is more than Tesla can currently produce. It's limited by bottlenecks in the supply chain. In general, "too much demand" is a good problem to have. The Powerwall could turn into a major growth area after Tesla is able to increase production.
On the other hand, Tesla's solar deployments decreased by 48% in Q1. Tesla attributed this decline to import delays that were outside of its control.
Tesla doesn't report directly on its solar revenue. However, it reported total Q2 revenue of $17 billion. Of this, it attributed $14.6 billion to electric vehicles. This leaves $2.4 billion left over that we can assume is from solar and other products.
Why Tesla?
As mentioned, most investors don't view Tesla as one of the top solar stocks. This is mainly because its core business is EVs. Despite this, Tesla has one massive advantage over most solar companies: size.
Since it's a young industry, many solar companies are still in a fairly young stage of growth. They're trying to raise money and establish their share of the market. Tesla, on the other hand, reported $53 billion in revenue in 2021. It also had a net income of $5.52 billion. This is all just free cash flow that Tesla can invest directly back into its business. On top of that, Tesla already has top engineers, factories and a massive supply chains in place for manufacturing. Additionally, a lot of the tech that Tesla uses for EVs can be repurposed for its solar products.
Tesla is reaching a size where it can start introducing new product lines and instantly be a major competitor. It's a little bit like when Amazon introduced AWS in 2006. Up until then, Amazon was still mostly just an eCommerce company. But, it had top talent, good leadership, and cash flow that set it up for success. Today, it dominates cloud computing. Over the coming decade, Tesla is in a position to do that same thing for solar energy, batteries, and storage.
The Bottom Line on the Best Solar Stocks in 2022
I hope you've found this article valuable when it comes to learning about the three best solar stocks to buy this year. Please remember that I'm not a financial advisor and am just offering my own research and commentary. As usual, please base all investment decisions on your own due diligence.
---