We are currently witnessing one of the biggest technological transitions since the industrial revolution. In the 1700s, the world migrated to fossil fuels. Now, we are in the early stages of transitioning to electricity. Almost every major automaker has already pledged to electrify their fleets over the next decade or so. While this is good news, it also presents new problems. Mainly, where will people charge their new electric vehicles? Luckily, a handful of companies are tackling this problem head on. Due to the size of the total addressable market, the companies on this EV charging stocks list could be in for a very lucrative decade.
Keep in mind that most of these companies are still building out their infrastructure. Right now, it is a race to build charging stations, develop tech, form partnerships and acquire funding. However, there are not currently enough EVs on the road yet for them to really turn a profit. For this reason, most of the companies on this list are unprofitable.
This EV charging stocks list is presented in no particular order. To skip ahead and find out my top four picks, check out my more in-depth article.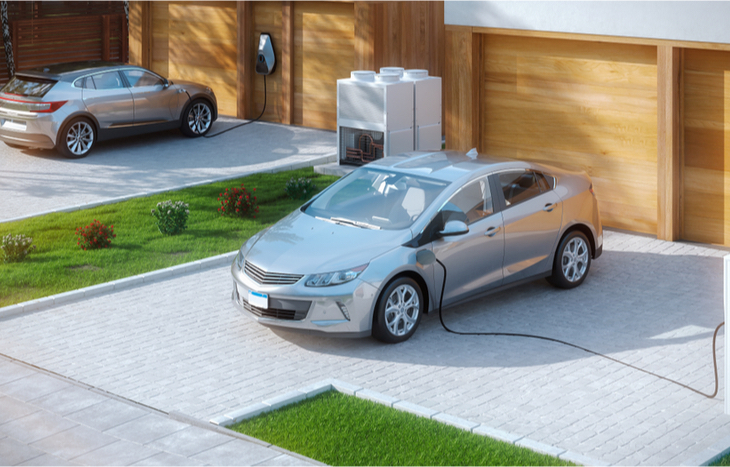 EV Charging Stocks List
No. 11 Tritium Charging (Nasdaq: DCFC)
Tritium is an Australian charging company that has 6,700 chargers in 41 countries around the world. The company has been around since 2001. But, it just began trading on the Nasdaq in 2022. Tritium manufactures both hardware and software for EV charging. Its main selling point is designing chargers that can withstand harsh conditions. Tritium chargers remain effective even in temperatures from -31 (F) and +122 (F). For countries like the U.S. that experience a range of weather conditions, this could be a big selling point.
No. 10 Nio (NYSE: NIO)
Nio is the only Chinese company to make this EV charging stocks list. In addition to vehicles, it also creates its own charging stations. What's interesting about Nio is that it offers its customers four different ways to charge.
First, it has traditional charging stations. Second, it has an option called the Power Swap. The Power Swap is a patented technology where Nio swaps an exhausted battery for a fully-charged one. This process takes just 3 minutes and is a much better alternative than waiting for a dead battery to charge. Third, Nio offers Power Mobile charging. Power Mobile is a roving van that carries a charging station. By using the app, Nio owners can essentially order a charge directly to their hope. Finally, Nio also offers a 24/7 charging valet. This is a service where a Nio attendant will collect your car and take it to a charging station for you.
As of April 2022, Nio has 888 active power swaps and 729 charging stations. Keep reading for your complete EV charging stocks list.
No. 9 ChargePoint Holdings (NYSE: CHPT)
ChargePoint is one of the leaders in North America and offers a range of solutions. Its portfolio of products includes hardware, subscription software, and services. It also provides charging solutions for both personal and commerical vehicles. In fact, over 50% of the Fortune 500 uses ChargePoint.
Right now, Tesla boasts the biggest network for fast chargers. However, ChargePoint is the market leader for Level 2 AC chargers. It currently has 174,000 and 11,500 charging stations in the U.S. and Europe respectively.
No. 8 Blink Charging Co. (Nasdaq: BLNK)
Blink was founded in 2009 and generates revenue in four different ways: energy sales, hardware sales, network management services, and advertising. It is also a U.S.-based company, with headquarters in Miami. This has helped it win approximately $26.5 million in grants.
Blink could be a big funding recipient from President Joe Biden's infrastructure bill. So far, Blink has sold approximately 30,000 chargers.
No. 7 Beam Global (Nasdaq: BEEM)
Beam is another company on this EV charging stock list that is U.S.-based. It has headquarters in San Diego and Chicago. On top of that, Beam also sets itself apart by building its products here in America. Its products include EV charging, energy storage, energy security and outdoor media.
Additionally, Beam recently acquired AllCell. Now, it is one of the only EV storage companies with a proprietary energy storage solution. It also has no debt and enough cash to fund its operations for four years.
No. 6 Volta Inc (NYSE: VLTA)
Volta Inc is another major EV charging company. It's stations are compatible with a wide range of plug-in hybrid and electric vehicle types. One thing that sets Volta apart is that it's able to offer charging services completely free. If you are an EV owner, "free charging" is an incredibly strong reason to use Volta.
Volta is able to offer free charging because its main revenue source is advertisements. Each Volta charging station comes with a massive digital screen. For this reason, Volta also places a huge emphasis on choosing the location for its chargers. It wants to put its chargers where  consumers live, work, shop and play. Doing so benefits the consumer, the brands and the real estate host. So far, Volta has about 2,000 charging stations.
No. 5 Evgo (Nasdaq: EVGO)
Evgo was founded in 2010 and currently has 850 fast-charging stations in 35 states. It also has ambitious plants to triple in size over the next five years.
One thing that sets Evgo apart is that it has already implemented a loyalty program. Evgo users get five points for every dollar that they spend charging up at an Evgo location. Once the customer reaches 2,000 points they get a free charge. Customers can also win points by interacting with Evgo on social media.
At first, this might not seem like a huge deal. However, rewards programs can be incredibly valuable. For example, American Airlines AAdvantage program is nearly more valuable than the airline itself.
Right now, no other EV charging company offers a rewards program. This fact could help Evgo win market share early on.
No. 4 Rivian Automotive Inc (Nasdaq: RIVN)
Rivian was one of the most talked about EV IPOs of 2021. Despite only delivering a handful of cars, it still reached a valuation of approximately $66 billion. Since then, it's shares have fallen in value. However, it's still worth nearly $35 billion. Clearly, investors clearly have high expectations for this startup.
Like Tesla, Rivian is a combination of an EV manufacturer and a charging station company. Rivian has big plans for its charging network. Minaly, it plans to build 3,500 fast chargers at 600 U.S. sites by 2023. It is also building 10,000 level 2 chargers. This network will be reserved for Rivian customers.
No. 3 Proterra (Nasdaq: PTRA)
Proterra is one of the few companies on this EV charging stocks list that operates as a triple threat. By this, I mean that it offers EVs, batteries and charging solutions. It also only goes after the commercial sector. So far, it has sold 1000+ EVs, 300 batteries and 46 charging stations.
It is also in a great position to benefit from Biden's American Jobs Plan. This is because Proterra is one of the main providers of electric school buses and diesel transit vehicles. In fact, Montgomery Country Public Schools ordered over 300 electric school buses in Q4 2021.
To meet the needs of its commercial clients, it also offers industrial charging solutions. One of its chargers can refuel up to 20 EVs at once.
No. 2 Wallbox (NYSE: BX)
Wallbox is an electric vehicle charging and energy management provider. It takes pride in diversifying the way that its clients can charge up. This includes options like vehicle-to-home, vehicle-to-grid, energy storage, peer-to-peer energy transactions, energy trading, energy as payment and more. However, not all of these solutions are consumer ready yet. Wallbox currently has clients in over 80 countries and is based in Spain.
No. 1 Tesla (Nasdaq: TSLA): EV Charging Stocks List Superstar
Tesla is the one company on this EV charging stocks list that doesn't need an introduction.
In addition to being a top EV manufacturer, Tesla also boasts the largest global fast-charging network. This network consists of over 30,000 chargers. Tesla is also testing a pilot program to let other EVs use its charging network. This decision could allow tesla to tap into government funding like grants, tax credits, rebates and green energy credits.
Tesla also has another distinct advantage over other EV charging station stocks: the fact that it's already a profitable company. In 2021, it posted $53.82 billion in annual revenue and $5.52 in net income. This income gives it plenty of capital to rapidly expand its charging network.
I hope that you've found this EV charging stocks list to be valuable! Please remember that I'm not a financial advisor and am just offering my own research and commentary. As usual, please base all investment decisions on your own due diligence.
---